By using advanced AI technology, legal professionals can enjoy various advantages such as – cutting down on expenses, saving time, ensuring full confidentiality of client information, and ultimately enhancing the precision and efficiency of legal operations. Legal document scanning services from a professional provider can provide valuable support in this regard. With the support of Natural Language Processing (NLP), AI technology enables legal practitioners to simplify even complex legal jargon, accelerate contract processing, and identify particular loopholes in legal agreements.
AI tools can help legal firms make informed decisions and deliver superior quality results. Other major benefits of AI in the legal industry are – it helps with quality improvement and risk assessment. AI solutions can be tailored to a law firm's unique processes and databases, allowing them to maintain their expertise while enhancing their efficiency. This empowers legal teams to utilize their time more inventively and effectively, especially when dealing with various aspects of a case.
Ways in Which Lawyers Can Take Advantage of AI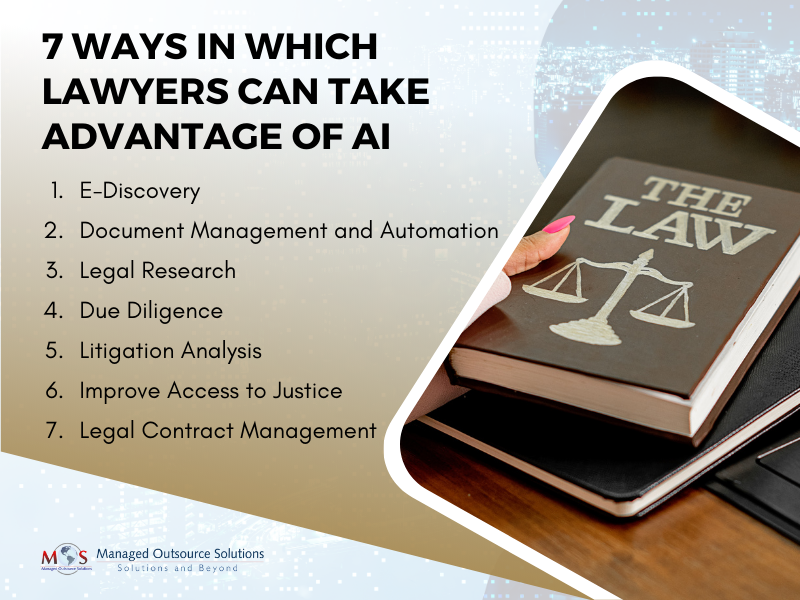 AI in law firms can provide considerable efficiency and cost-saving advantages for a practice by automating routine tasks such as legal research and analysis, document management, and billing. Legal firms can partner with a trustworthy legal process outsourcing company to execute various business processes more rapidly and effectively.