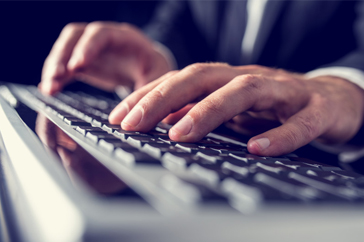 Today business organizations are dependent on computers and other electronic devices to store, share and retrieve information quickly, but all this information may lack accuracy. Accurate data entry is essential for smooth and efficient operations in the industry. It requires specific skills and focus to ensure successful entry of data with minimal errors.
Typographical errors can have serious consequences. A misspelled comma cost the US government $1 million in revenue in 1872 and a backlash mistakenly marked as a blacklisted symbol by Google virtually blocked most sites on the Internet for more than an hour on January 31, 2009. Data processing is a difficult task and manual data entry is time consuming, hectic and error prone. Following are some of the simple hacks to ensure precise data processing.
Developing a Ergonomic desk: A study by the American Journal of Preventive Medicine identified that women who spent more hours sitting at work, driving, lying on the couch and indulging in other leisure pursuits have a greater chance of dying soon from heart disease, cancer and other health conditions. Data processing operators spend many hours working continuously to finish their project. Due to huge workload, workers have to limit their break time and focus more on their work. This work system can cause severe health problems to them in the long run. Therefore, it is important to create an employee-friendly environment. The health problems associated with a sedentary lifestyle can be lessened if workers are provided with ergonomic chairs, tables and computer systems.  This will help data entry operators to work efficiently. Use of dual monitor has also proven to be beneficial by reducing errors and speeding up the tasks.
Acquiring data from reliable sources: Industries deal with a large amount of data from various sources that should be verified and checked. Getting data from reliable resources and double checking the data ensures accuracy of information. For academics data from government statistical data, academic journals, country census data etc are reliable sources of information. Optical Character Recognition can be used to convert PDF files and image files into digital format. These can be edited as required. OCR output must be double checked to ensure accuracy.
Understanding data entry tools: Microsoft Excel is an essential tool for data entry operators. Many spreadsheet hacks can be found online that help data processing operators to auto complete entries. Hacks like Excel's Autofill feature and Flash fill feature enable easy entry of data. The data copied and pasted from sites to nifty notepads helps in eliminating formatting. Editors like Ultra Edit have advanced features like multi- caret editing, column or block mode editing, bookmarking etc for better editing.
Avoid distractions and follow a schedule: Working in the office without any distraction helps data processing operators to finish their work quickly. Following a schedule everyday helps the workers to focus more on achieving the goals of the organization and it also trains the body to work at these schedules. Many time management styles and tools like task list, tomato timers, and calendar alarms help in prioritizing the activities that need to be completed before the deadline. Distractions may occur, but there are many ways of dealing with them like using noise-cancelling headphones or playing white noise etc. Blocking your view from constantly moving people helps in limiting visual distractions.
Proofreading of data: Mistakes can happen in both manual as well as automated data processing but the final output should be error free. Many online articles and publications have errors that can lead to confusing reading materials. Therefore it is important to proofread all data before uploading. Proofreading data ensures that the information is error free and reliable.
For ensuring accurate data, the ideal option is to utilize reliable data entry services. They are scalable and customizable according to the client's requirements. They help companies to focus on core competencies which results in higher operational profits and improved business efficiencies. They use the latest technology to provide high quality and speedy services, helping client companies to keep ahead of the competition and take better business decisions. Outsourcing also helps in lowering operational costs related to infrastructure, labour, and technology.