Do you run a business or manage a company? Then it's very important for your organization to perform spring cleaning, to tidy up your office and surroundings. In spite of the effort taken to keep business offices clean and tidy throughout the year, it can beat us sometimes. Many business organizations find this time of the year to be a great opportunity for organizing their cluttered and messy office. You can set aside some time for your staff to clear out the clutter and sanitize their working space, or partner with a professional data cleansing companies that can help businesses spring clean their outdated data.
Benefits of Spring Cleaning
Though spring cleaning your office can feel like a hard chore, giving this process a little time and energy can benefit you in your professional life. For instance, a study finds that a clean office can increase productivity by at least five percent.
This is because a clean and clutter-free workspace provides the following benefits: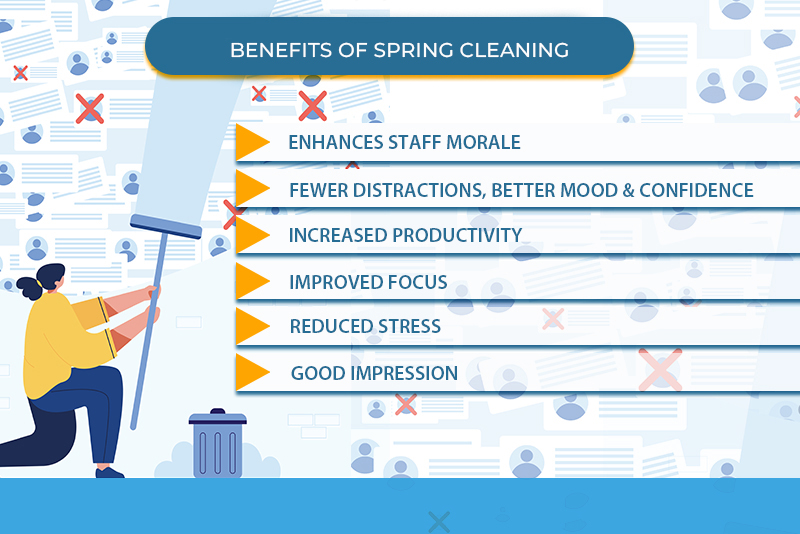 5 Must Dos for Spring Cleaning of Your Office
Embrace the following 5 must-dos in office spring cleaning to give your office a more pleasant environment, and to keep your employees healthy this spring.
1. Create A Checklist: Before you start cleaning your office, the first and foremost thing you should do is create a checklist of what has to be cleaned within your office. For that, give yourself a few hours and tailor the checklist according to your office and its needs. You can also set a reminder of when you will start.
2. Clean Down All Surfaces: Start your spring cleaning with the office desks, wipe down your desk, removing every item and putting only the essential things in an organized form. Keep the items you frequently use close by – at an arm's length – such as sticky notes, paper and pens. Then wipe down any surface you come into contact with, such as door handles, your screens, vents, keyboard, mouse and any other area. Make sure to clean your air filters – which should be replaced approximately every 12 weeks, as it helps to avoid allergens from spreading through your office.
3. Declutter Your Drawers: A common issue many people come across is having necessary and unnecessary items in their drawer. For instance, many of us have that one drawer that is filled with random pens and other office supplies. Declutter your drawers and organize them one at a time and separate the items you plan to keep, while discarding any items you do not need. While digging out your drawers, see and decide what supplies you might need. You can also note down any other supplies that you may notice you are short on while cleaning.
4. Take out the Old Documents and Keep the New: Look through your old financial records or other documents and determine what you need and don't need. According to the IRS, most tax records can be shredded after three years. So, first sort significant documents that you need to keep from ones you no longer need, lock up the ones you decide to keep or scan them, store your digital files in a secure place and then shred the unwanted physical documents. Proper document shredding ensures that the documents that you no longer need are destroyed completely. To keep the new and important documents with you, choose an experienced document scanning company. They will help in bulk scanning of the documents that you need to keep.
5. Take Care of Your Cords & Cables: Having a clutter of cables beneath a workstation is a common headache in every office. While cleaning, this has to be taken care of first. To organize a tangle of cords, secure them to the back of your desk or along baseboards so they aren't dangling all over the place. You can also make the cords and cables easier to access by labeling the important ones. For this, grab a bread clip and write down the electronic device that each cord belongs to. This will help avoid tugging at cords and guessing which one needs to be unplugged. Tidying the clutter of wires and cables secures the office from possible injuries to employees, damages, fires and other inconveniences.
These above-mentioned tips can help you spring clean your office proficiently and it gives you the opportunity to renew the workspace, increase efficiency and make it a productive space. However, while cleaning your office, you might need some help with data management. Partner with experienced data cleaning companies, as it is a practical option to clean your office and handle data management projects safely.
Now that you have your workspace looking fresh after spring cleaning, it's time to mark your calendar for regular weekly cleanups to take advantage of the benefits of a spring cleaned, neat, orderly office all year long. Stay dedicated to the system you've set up for physical paperwork, digital files, and emails. Follow the above-mentioned tips as a habit as it will help persuade you to tidy up your workspace on a weekly or monthly basis.