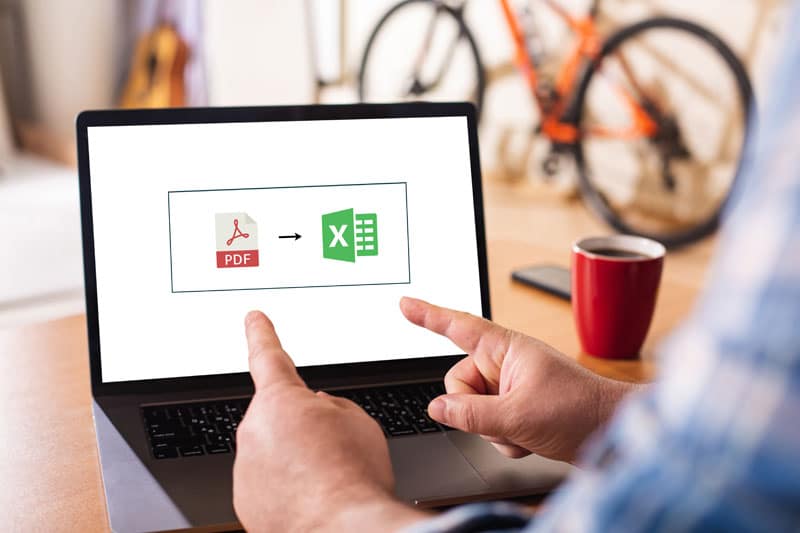 In this digital world, Portable Document Format (PDF) is the most commonly used file format, but to make the data more useful, PDF is converted into Word or Excel formats. To perform this conversion, companies use PDF data entry services. They help to convert PDF documents into accessible formats.
Converting data from PDF to Excel format offers the following benefits:
It saves time
Data can be made more usable
Data accuracy is maintained
Data analysis becomes easier
Can create visually appealing data by including effective charts and graphs. If it is in PDF format, it is not possible.
There are many software tools available in the market for PDF to Excel conversion, but businesses prefer to outsource PDF conversion when they lack in-house expertise and technology for the same. They need expertise that can ensure that the data converted is as consistent as the source. Businesses need human resources to cross-check and confirm that the conversion doesn't involve any information loss. When businesses outsource PDF conversion to experts, they can focus on important business activities.
There are several options to perform PDF to Excel data conversion. They are:
Adobe Acrobat: Adobe is the inventor of PDF and it has a PDF to Excel converter software named Acrobat. It is the best and original PDF converter tool and can be downloaded from Adobe's website with payment information. They provide 7 days free trial. The conversion with Acrobat is quick and the quality of Excel is great. It is more than exporting files; you can create, edit, export, sign, and review the documents being worked on collaboratively. It includes any spreadsheets that you export from PDF format. The tool is not easy to use with its UI design and so many functions, and to have the full version it is very expensive.
PDFelement Pro: It is a popular PDF tool that is available in the market. It allows you to convert files with one click and edit your documents easily. You can convert multiple PDF files into Excel, Word, HTML, and more file formats. Batch conversion of PDF files is possible here which saves you much time. This tool is an all-in-one solution for creating, editing, combining, etc. Trial version is available for it but it has limitations and the OCR quality is not that great.
Nitro Pro: It is another useful PDF to excel converter. Its user interface is easy to follow, even beginners can find their way around the program and perform PDF conversion. The program extracts all data from PDF and chooses the way you want to export them to Excel. It can convert the PDF files to other formats, can be used to edit any PDF documents, it also has an OCR feature to allow editing and conversion of scanned PDF documents.
PDFZilla: The majority of PDF to Excel conversion apps out there are only available in English, but PDFZilla is a multilingual app that is useful if you run or work at a company with a global reach. It supports more than 20 languages that include German, Italian, Spanish, and French. The software is fast and easy to use by letting you convert PDF files with just three clicks. Within a single platform you can turn the PDF documents into Word, Excel, JPG, and more file formats. To convert multiple documents, there is also a handy batch conversion mode.
SmallPDF: It is another good instance of a versatile PDF management tool. The tool lets you convert PDF documents into a range of different file types like Excel, Word, and PowerPoint. SmallPDF is easy to use and is cloud-based, so that you can access the PDF conversion through the website from wherever you may be (if you are online). For those who want to work offline, there is also a downloadable app. This converter lets you compress, split, and merge documents, as well as add signatures. This solution will delete your files one hour after they have been processed, and thus ensures security, So, you don't have to worry about the safety of your documents.
Corel PDF Fusion: A complete PDF solution to easily edit, create, and manage PDFs. Most file formats are supported here, and it has an easy user interface for users of any experience level. It supports multiple modes to view PDFs. There is no OCR tool available in this converter.
PDF2XL: For people who have difficulties in conducting data analysis, this tool could be the best option. The tool helps to convert PDF documents to .xlsx or.xls format and reduce human error. The conversion speed is 500 PDFs per minute; it supports more than 130 languages. You can scan paper documents and convert them into Excel files and the tool supports data extraction from files. Trial version is available but you can convert only 10 pages of each document.
TalkHelper PDF converter: It is one of the best software tools for PDF to Excel conversion. It is primarily a converter and can therefore be used to convert PDF to various formats including Excel, Word, EPub, TXT, HTML, and Image. One of the main advantages is that it will maintain the original document's formatting, which means that you won't have to spend more time formatting the resultant Excel document. This easy-to-use tool has an OCR feature for the conversion of scanned PDF documents. The tool won't help if you want to edit PDFs.
UniPDF: It is one of the best PDF to Excel conversion tools that can be called as "minimalist". It may not have some fancy features that other tools have, but still is very useful for PDF to Excel conversion. It is specifically designed to focus on converting PDF to other formats, therefore its purpose is focused on improving this function. UniPDF is a free and very easy-to-use converter, it doesn't have editing features, OCR function, and cannot convert multiple PDFs simultaneously; but it can convert PDFs to a few popular formats like Word, HTML, Text, and Image.
ILove PDF: This PDF to Excel converter is available online and offline. It is simple to use; you have to simply upload the file into the program and the conversion process begins suddenly. It also let users upload documents from cloud storage solutions such as Google Drive and Dropbox. The converted file can be uploaded to Dropbox or Google Drive. This converter has no OCR feature, no PDF editing features, and may not be useful for multiple PDF file conversions.
With these converters, you can do data conversion from PDF to Excel; but when you need to convert large volume PDF files, it is best to outsource to a reliable data entry company.