This is an update to the blog "Know the Pros and Cons of the PDF File Format"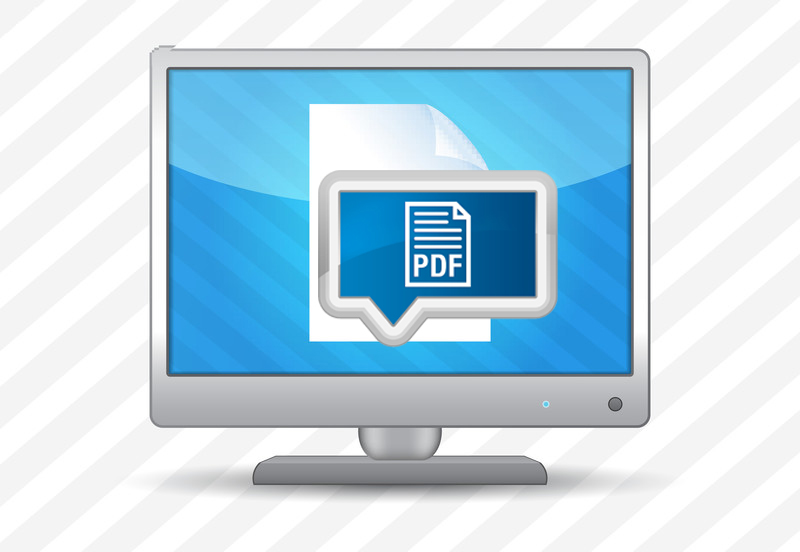 Data can come in different file formats and may be hard to access. Organizing and streamlining data is important in any business organization. Data conversion services are available to convert your data into a preferred format and make it easily accessible.PDF is a universally accepted file format that is portable, smaller and easier to use. This format can be used across different platforms. It allows anyone to open, view and also take a print of it.  Sharing of files becomes easy with PDF.  It is unique in that it is independent of the application software, operating system or hardware used to create it.
Most companies are using PDF files for invoicing clients; maintaining customer records in a systematic format and also for sending important memos. Legal briefs, product manuals, sheet music, phone-bills, articles, construction drawings, all may be faithfully represented, integrated and exchanged with PDF. That is why PDF is the world's most favoured electronic document format.
Following are some of the advantages of PDF:
Keeping documents safe and secure is essential for any business. PDF files can be protected with password. Protecting with a password or encryption prevents the files from going into the wrong hands.
One of the main advantages of PDF file is that it is compressible. Hundreds and thousands of paper-based data can be converted into small-size PDF files, and managed easily.
Sometimes when sharing files with other computers, the format of the document tends to change every time. Change in the format of the file can cause confusion to the one who reads it. But with PDF, all files will retain its original format even after sharing. PDF is the ideal software for sharing documents.
PDF files work on any operating system – iOS, Android or Windows. It works effortlessly on all operating systems and on mobiles.
PDF allows you to have a visually pleasing layout and insert any links, images, notes or figures easily. You can also make use of links that will open up in the viewer's web browser when viewing the document on a computer or mobile device.
PDF files can be compressed to a small size that allows easing sharing of files. PDF files are self-contained and helps to easily transmit data from one computer to another without damaging the look or texture of the document.
The main disadvantage of PDF files is that it is difficult to edit PDF files when compared to Microsoft Word. However, with a good PDF editor you can edit your PDF file. If you are considering using a PDF editor, here are some of the reliable ones:
Small PDF: It can be used on any device using an internet browser. It has a simple interface that makes editing easy. Using drag and drop, you can add or remove content as required. It also has a PDF to Word editor, which means if you need to make more detailed edits in a Word doc you can, and even better is that formatting can be preserved. It is a powerful and compact software that helps to fill in forms, e-sign, unlock, or protect a PDF.
PDFescape: This is an online editor suitable for Chrome, Firefox, Edge, Internet Explorer, Opera and Safari, and will probably work fine on other Chromium-based browsers too. PDFescape's free PDF editor allows you to create new text boxes on the page. You have to upgrade to the full desktop software to edit existing text. You can create simple geometric shapes and add white rectangles to obscure parts of the document when it is printed.
Sejda: It provides various tools with additional security of files. It helps to add text, images and links, sign documents, add annotations, and insert ellipses and rectangles. There's also a 'whiteout' option which doesn't remove any data. After editing you can save the file by clicking Apply Changes.
PDF-XChange Editor: It allows you to retype, delete, and reformat text, and adapts well if the document uses a font that isn't installed on your PC. It also helps to attach comments, split PDFs, and extract pages. One of the best features of this software is that it has the ability to use OCR to recognize text in scanned document.
Adobe Acrobat Pro DC: It has a combination of creation, editing, reviewing and security features. Its recent design interface makes it easier to navigate. It also has cloud subscription option so that it can be accessed by more than one person at a time.
Nitro Pro 12: This is better than its previous version Nitro Pro11. It has full integration with Nitro Cloud which helps to collaborate documents and secure signature easily. It can perform common editing tasks right in a browser rather than having to toggle over to the desktop program. This makes document workflows simpler and more seamless.
pdfforge PDF Architect Professional: It is a customizable PDF editor and the latest version is PDF Architect Professional 7. The application can be purchased as a series of modules, each with a specific range of functionalities. You can choose to download only certain modules, which makes this software a highly cost-effective proposition. The free version allows you to read files. To access other features, you have to purchase the paid version.
If you wish to convert your business documents into PDF files, the ideal option is to approach a reliable document conversion company that can meet your turnaround time and other requirements.