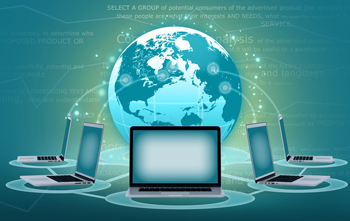 Data is important for strategic decision making and in determining the way in which a business did business. Today, most organizations prefer electronic data processing (EDP) to gain advantages such as better control, better response, better customer service, and to save time and money. Electronic data processing is a generic term that signifies the gathering, intelligent analysis, and manipulation of data that is put to work.
Warehouse stock monitoring and logistics system is one of the most common examples of EDP in the modern age. With incoming orders, bulk quantities of data are inputted into the system. It is then processed to transform to a picking order and then transmitted into the warehouse. The stock is then picked from the warehouse and the item is deducted from the database.
As the world is getting increasingly digital, every business and organization is developing endless streams of data about their customers, their competition, and their market. When the volume of data is massive, an automated mechanism is needed to process it and gain great insights out of the same. Irrespective of the scale of data processing requirements, generally four elements are involved in EDP.
Components of Electronic Data Processing
Hardware
All the physical parts, including the devices or peripherals involved in data processing constitute the hardware. Increased digitization of documents has made almost all electronic data processing to be done on a variety of digital devices including:
Personal Computers – including laptops, desktops, smartphones, and tablets for performing operations such as data capture and data entry.
Servers – To gather and process data, coming from connected devices.
Cash Registers – Point-of-sale registers are usually used in retail settings to collect data about transactions.
Video and Audio Equipment – Allows data to be recorded in multimedia format.
Medical Devices – Medical devices collect data about patients, and their diagnosis in hospitals and home care settings.
Scanners – Used for conversion of hard copy data into digital format.
Software
Software is something that makes the hardware work. It includes a set of instructions that tells the computer what all actions to perform to achieve a specific output. EDP software is highly customized and available in the following categories.
Data Entry Software – Applications for data entry can range from usual spreadsheet applications such as Excel to extremely customized point-of-sale programs.
Scheduling Software – Applications that track the activities, movements, and involvement of employees/entities in projects.
Accounting Software – Software designed to track financial or numerical transactions. It also helps to apply formulas to the tracked data and is used to link with other analytical devices for predictive or historical modeling purposes.
Analytics Software – Designed specifically for the purpose of data analysis, this software can accept large volumes of specific data and produce customizable, flexible reports.
Apart from this, ancillary software packages such as OCR (Optical Character Recognition) are available to cull text and other data from the resulting image file.
Data Processing Procedure
Certain basic steps are often followed in digital data processing, regardless of the industry or the type of data being collected.
Data Capture – Acquisition of data in some format
Data Conversion – Transforming data into digital format
Data Validation – Evaluation of data to ensure whether it is in the correct format
Sorting – Grouping similar data streams
Aggregation – Combining data streams
Data Analysis – Processing of the data using formulas and other transformative techniques
Reporting – Creation of human-readable reports
Personnel
People who create, administer, and feed the EDP system constitute the final element. They include:
Programmers – Creating EDP systems or individual components, such as spreadsheet macros or formulas
Technicians – Those involved in installing and maintaining hardware
Data entry specialists – Those entering data into the system
EDP solutions are necessary for the long term survival of any business. Apart from the advantages of cost-effectiveness, efficiency and speed, the solution helps to better understand their market, their business, their resources, and to gain optimum productivity.
Are you struggling with manual data processing and looking for a better solution?
We provide customized EDP solutions to meet the unique needs of your business.