This is an update to the blog – Significance and Benefits of Healthcare Chatbots.
In the light of the increased complexity in assisting patients (particularly during the pandemic), the healthcare sector is turning to digital healthcare services. Reports suggest that about 1 in 20 Google searches is about health and this clearly demonstrates the need to receive proper health care advice digitally. In an attempt to engage patients round the clock and improve their experience, healthcare providers are increasingly turning to artificial intelligence (AI) technology. Regarded as a game-changer for the industry, healthcare chatbots are enhancing the way healthcare providers take care of their patients. Playing a crucial role in the healthcare industry, chatbots help enhance efficiency in no time. They help effectively manage patient requests with instant responses and boost their experience and satisfaction. Experienced business process outsourcing companies can help apply innovative AI chatbot technology effectively to power healthcare business in the long run.
Usage Areas of Chatbot in Healthcare Sector
Undoubtedly, chatbots have immense potential to transform the healthcare industry. They can substantially boost efficiency and improve the accuracy of symptom detection, preventive care, post-recovery care, and feedback procedures. Here discussed are some of the top use cases of chatbots in the healthcare industry –
Managing Population Health During Global Pandemics – The COVID-19 pandemic has widened the global usage for chatbot technology, particularly in healthcare. Predicting an infection or illness requires analyzing various parameters and symptoms. During a global pandemic, wherein a life-threatening virus is spreading rapidly, the first thing that people want to do is contact their physician. However, handling an influx of inquiries and managing appointments for those with symptoms is challenging. Having a virtual agent in place to offer these services can make the process safe, easy, and efficient. Patients can simply share their symptoms and the bot can analyze them to provide accurate information or educate them on further actions to take. On the other hand, if the condition is serious, it can escalate the issue to a human representative or request emergency assistance.
Easy Scheduling of Appointments– Scheduling and managing medical appointments is a common and challenging operation in the healthcare industry. Despite scheduling systems, many patients challenge themselves to navigate the scheduling systems. As per reports, about 30 percent of patients leave an appointment due to long wait times and 20 percent of patients permanently change their healthcare providers for not being serviced fast enough. A well-designed healthcare chatbot can overcome this challenge by scheduling appointments based on the physician's availability. Chatbots are integrated into the medical facility CRM systems to extract information about suitable physicians, available slots, clinics, and pharmacies working days. This also helps the medical staff track visits and follow-up appointments for every individual patient, while keeping the information handy for future references. In addition, an AI healthcare chatbot can also be used to collect and process co-payments to further streamline the process.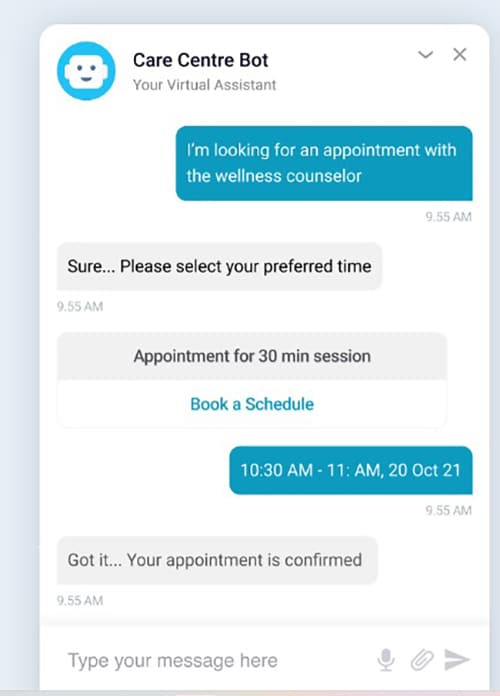 Image Source –
Collect Patient Data – Acquiring patient data is one of the key healthcare chatbot use cases. AI-powered bots can be deployed to extract key information by asking simple questions related to the patient's name, address, contact number, symptoms, current consulting physician and insurance information. The chatbots then, through EDI, store this information in the medical facility database to facilitate patient admission, symptom tracking, doctor-patient communication, and medical record keeping.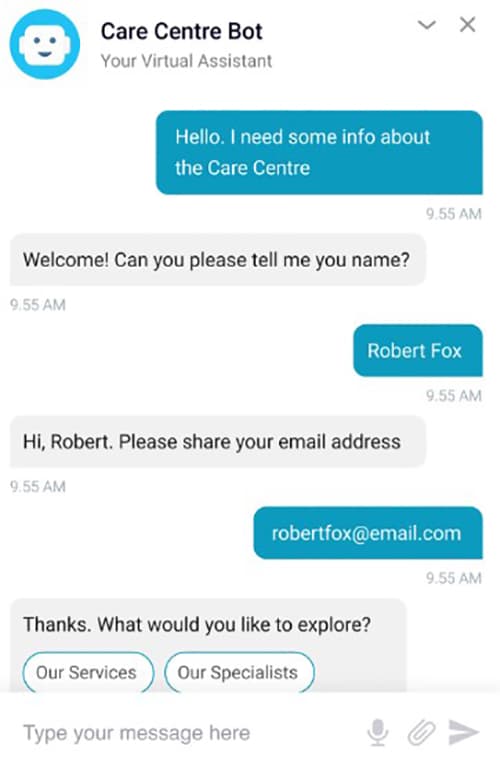 Image Source –
Quick and Instant Response to Common Queries – The frequently asked questions (FAQ) section is one of the common features of most websites. Deploying chatbot in healthcare is very beneficial as it acts as an all-in-one solution to answer all general questions of patients within seconds. Chatbots can proficiently handle simple questions like –

What are the working hours?
What documents are required to get the treatment done?
How much cost will be covered by insurance?
What are the payment tariffs?
In fact, many healthcare service providers are transforming FAQs by incorporating an interactive healthcare chatbot to respond to users' general questions. It helps people in fetching immediate responses to common queries. Being available round the clock, these bots engage customers by identifying and understanding the patient queries and provide personalized responses.
Assist Patients with Self-care or Urgent Care – Nowadays, many patients tend to rely on digital assistants to take their medications on time and provide personalized nutritional information. Healthcare chatbots are fully equipped to check vital signs, monitor patients' health conditions, and make the right healthcare recommendations. Apart from this, these bots can also identify patients that need urgent medical attention. They pass on all the chat transcriptions to the physicians, so patients don't need to repeat themselves and get the care they need; when they require it urgently.
Effective Patient Engagement – It is estimated that patients who are not engaged in their healthcare are three times as likely to have unmet medical needs and twice as likely to delay medical care than more motivated patients. Automating connection with a chatbot builds trust with the patients by providing timely answers to questions and delivering health education. AI-enabled patient engagement chatbots provide both current and prospective patients with specific and accurate data that help to improve patient care and services.

Here are three ways healthcare chatbots can enhance the patient outreach –

Automate a Personalized Experience – Chatbots help healthcare providers connect with the patients using an online chat conversation. This can be either via text or text-to-speech, in lieu of providing direct contact with a human agent. In short, the patient receives the data they tend to search for with no one-on-one human interaction.
Connect Meaningfully with Patients – Chatbot access is delivered to patients via SMS text messaging, email, QR codes, websites, and more. This flexibility to connect patients in the communication channel increases the likelihood of engaging and benefiting from the interaction.
Deliver Engaging Content – All patients may have varying concerns, interests, and attention spans. Providing the right information at the right time in an easy to understand format can benefit both healthcare providers and patients. Chatbots provide the mechanism to route patients to the answers they need in multiple formats.
Recommendation of Wellness Programs– Boosting patient enrollment is one key aspect in the healthcare sector. Medical chatbots are the best option, when it comes to raising awareness and increasing enrollment for different types of healthcare programs. A well-built healthcare chatbot with natural language processing (NLP) can understand user intent with the help of sentiment analysis. Based on the understanding of the user input, the bot can recommend appropriate healthcare plans to the patients.
Handle Insurance Inquiries – Chatbots can provide insurance services and healthcare resources to patients and insurance plan members. Integrating RPA or other automation solutions with chatbots allows for automating insurance claims processing and healthcare billing.
Collect Patient Feedback – Acquiring real-time patient feedback is an important aspect to enhance healthcare services. Leveraging the use of a healthcare chatbot helps to know what the patients think about a hospital, physicians, treatment, and overall experience through a simple, automated conversation.
Easy Scalability of Service Hours – There are circumstances when the website traffic increases suddenly, then handling the rush with the same support infrastructure in place is quite challenging. However, by adding a healthcare chatbot to the customer support, these challenges can be handled effectively. It provides the scalability to handle conversations in real-time. Customer service chatbot for healthcare can help to enhance business productivity without any extra costs and resources.
Managing Care for Chronic Conditions – Digital assistants are an asset for care management as they help deliver vital information to those patients with chronic illnesses. For instance, if a patient has an upcoming colonoscopy, the bot will deliver educational materials to the patient and address any queries or concerns that he/she may need about the procedure or illness. Deploying these bots help prepare patients for several treatment procedures and reduce the number of invasive medical procedures that are canceled at the last minute.
AI-powered healthcare chatbots are gradually changing the dimensions of customer communication. Healthcare chatbots can automate all the lower-level and repetitive tasks that otherwise a representative would perform and provide 24*7 assistance to the patients. It also enables patients to avoid waiting in a queue for hours for a representative to look at their queries. Business process outsourcing solutions provided by reputable providers can utilize these technologies to carry out various healthcare processes in a quick, simple and efficient manner.