Scanning business cards is important for individuals and businesses to efficiently manage and organize contact information. Traditional methods of storing business cards, such as keeping them in a physical address book or filing cabinet, can be time-consuming and prone to loss or damage. Business card scanning is the process of capturing the information printed on a physical business card using a digital device, such as a smartphone or scanner, and converting it into a digital format that can be easily stored, managed, and shared electronically.
There are a variety of tools and apps available for business card scanning, ranging from standalone scanner devices to mobile apps that use the camera on a smartphone or tablet to capture the information. Using business card scanner apps is an efficient and effective way to manage and organize contact information. These apps use advanced technology, such as OCR (Optical Character Recognition), to automatically capture and extract the relevant information from business cards, eliminating the need for manual data entry. It saves time and reduces the risk of errors when entering contact details.
Professional document scanning companies can provide the required business card scanning support. By scanning business cards and storing them electronically, they become easily searchable and accessible from any device with internet access. This can save time and streamline communication with contacts, especially in a professional setting where keeping track of numerous contacts is essential. Additionally, the ability to add personal notes and save contacts to other platforms such as Salesforce can further enhance organization and productivity. With scanner apps, users can convert paper business cards to digital with a single tap.
Best Business Card Scanner Apps 2023
ABBYY Business Card Reader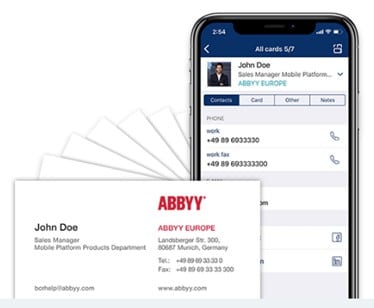 Image source
This versatile tool can be used on iOS and Android devices, and the web version can be accessed on a PC. With this app, users can avoid the hassle of carrying multiple small pieces of paper and manually inputting contacts. The app recognizes contact data and saves it to either the Cardholder or the smartphone's Contacts app. Furthermore, the captured business cards can be grouped by tags, allowing users to easily categorize them by event or other criteria. Digital business cards have the added benefit of not getting lost, crumpled, or damaged, and even if the user's device is lost or damaged, the sync feature enables to restore all contacts. This feature will help keep the contacts as long as users need them.
All contacts are stored in a cloud and synchronized across devices, allowing access from smartphone, tablet or computer. Sending an e-mail with this digital business card will now only take a few seconds. Users can also export data from scanned business cards to Salesforce Leads, MS Outlook, Google Contacts and MS Excel in .CSV format.
HubSpot Business Card Scanner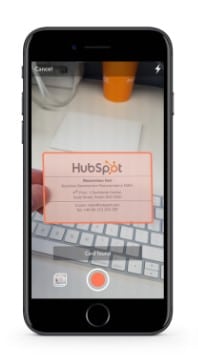 Image source
With this scanner app, users can create and enrich contacts and companies instantly.
Once users click "create contact", HubSpot will automatically parse the data on the card and map it to the right HubSpot fields. HubSpot's scanning technology uses machine learning to predict which data point should match to which property. It gets even smarter over time. This scanner is free forever, and there are no arbitrary limits and hidden fees. Popular features of this business card scanner include: Automatic data entry into CRM, increased competence and intelligence for the AI scanner with every business card scanned, and Email sequences and automation functionality to make sure leads never slip through the cracks.
ScanBizCards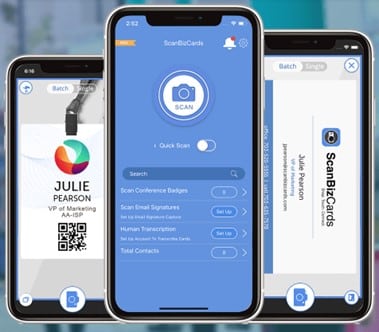 Image source
The ScanBizCards business card scanner, available for both iOS and Android smartphones, is a powerful tool for maximizing event marketing ROI. By streamlining lead capture, this app can help businesses capture more leads and ultimately close more deals.
With this software, users can scan business cards & export directly to Salesforce and other CRMs & marketing automation systems. It also helps capture B2B leads during your events and meetings in real time. ScanBizCards provides top-notch business card and conference badge scanning services along with CRM export, email follow-up, and other valuable features that help achieve maximum return on investment from the marketing events. The company provides a free 14-day trial.
Haystack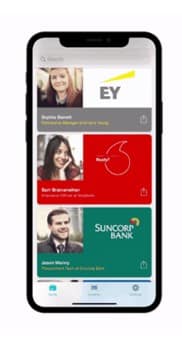 Image source
Haystack digital cards can improve sales efficiency, build quality connections and reduce environmental footprint. This software also assists in automating the management of business cards throughout the employee life-cycle, including new hires, restructures, promotions, and departures. Their team is equipped to handle both small-scale pilots and large rollouts, providing priority support to ensure a successful transition.
It also acts as a smart marketing tool to drive traffic to your website, social media platforms, and important company links. Users can also personalize their company template with images and links to whitepapers and industry reports to further enhance branding. Haystack apps integrate with the user's CRM system to ensure that the main database is always updated.
Evernote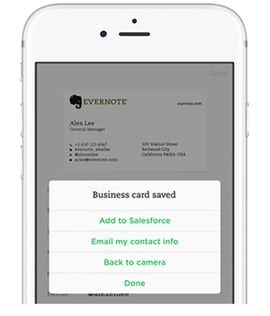 Image source
Evernote scans business cards into separate contact notes. The scanned information includes names, titles, company names, and a picture of the card, all of which can be saved and easily searched within Evernote. In addition to this, users can also add personal notes about the contact, save them as a Salesforce Lead or Contact, and communicate with them directly by phone, email, or SMS by clicking on the corresponding links within the contact note.
For optimal performance, the automatic capture feature of Evernote works most effectively when business cards are placed on a contrasting background. Evernote also captures the details of where and when users create notes, so it's advisable to scan business cards soon after meeting someone to ensure easier searchability later on.
Business card scanning can save time and effort by eliminating the need to manually enter contact information from business cards into digital address books or other contact management systems. To scan a huge volume of business cards, bulk document scanning services provided by professional document scanning companies will be of great support.