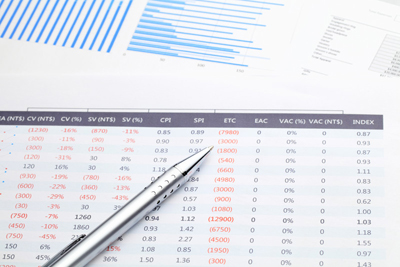 Data entry is one of the most important processes essential for managing information in any business organization. Business data may be in various forms and may include both paper based and digital data. A data entry company helps businesses convert their paper-based data into digital format which facilitates safe storage and quick retrieval of documents. Microsoft's Excel Spreadsheet is a valuable format for storing business data. The finance and accounting departments of corporate organizations use Excel spreadsheets for outlining financial results, budgets, forecast etc that are required for business decision making. Microsoft Excel gives businesses the tools they need to make the most of their data. Excel has advanced tools that will help turn the spreadsheets into valuable databases for customer data, basic financial records, employee scheduling worksheets or a great tool for recording sales and forecasting future income for business planning. Following are some of the uses of Excel spreadsheets.
Store customer data: Customer data like names, contact details, and so on can be stored in Excel spreadsheets. It allows creation of additional columns for new types of customer data and sorting of customer information based on purchasing habits or geographical locations.
Scheduling employees: With Excel spreadsheets split up into different shifts, businesses can keep track of the number of work hours of each employee. It allows colour coding for each employee and also allows including of new employees or changes in scheduling.
Recording financial reports and accounts: Use of Excel spreadsheets facilitates tax preparation and accounting program. Excel has user-friendly data entry tools that make it a great option for monthly accounting. A double entry ledger can be created to enter details of income and expenses, and sales data; track your budget, manage inventory and perform necessary calculations to determine totals and percentages. With these spreadsheets, your accountant will find tax preparation and accounting simpler.
Forecasting sales: Excel spreadsheets enable organizing of data into charts and graphs for business reports and presentation. It has bar charts, line graphs pie charts etc that ensure systematic organization of sales data and visual representation of business data. It can integrate a regression analysis into a line graph – added simply by selecting "Add Trendline" from the chart menu for line graph. It helps in predicting future developments on sales report.
Accuracy is indispensable in the finance and accounting sector, and errors can prove costly. The Excel documentation format helps to maintain accuracy in the entered data. To ensure utmost accuracy, dual entry method can be adopted. In this method of excel data entry, all data is entered twice and this is the only method that can detect errors that are within the normal range of values, but still wrong. Excel can show you where the values differ.
Read our blog on Key Differences on Google Sheets vs. Microsoft Excel