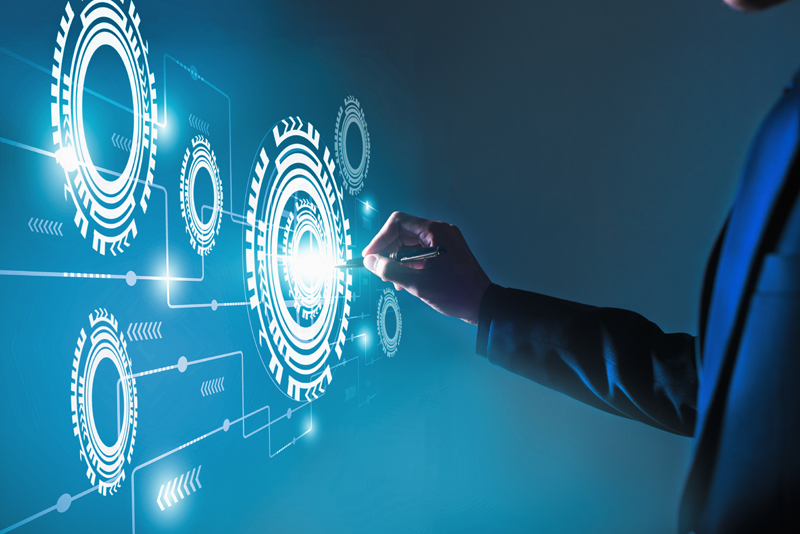 The unparalleled growth of technology has made all businesses search for innovative ways to handle data quickly and efficiently. Utilizing data processing services to handle complex data entry tasks has become a common practice. Automation is the current trend in today's 24/7 world where business demands are real-time and challenging. As information technology is being asked to script business processes into automated workflows, old-school batch processing can no longer cut it. For instance, posting a job to run every night at 2 am was all right some 10 years ago, but today these processes have to be run in real-time and work load automation (WLA) is an important aspect that help companies save time and money. However, over the years, we have witnessed work load automation evolving from the mainframe to distributed services like Unix and Windows and then to include other enterprise resource planning (ERP) platforms as well as other operating systems. Contemporary data application delivery models such as cloud and IT-as-a-service are further disrupting the space and adding complexity to the underlying infrastructure. The move towards DevOps by many organizations may result in more frequent product releases requiring more dynamic IT services.
WLA – A Key Tool to Manage Business Processes
The concept of WLA is also called job scheduling, whereas some still call it batch processing. Although work load automation can be considered as the latest iteration of the IT automation concept, there are several important distinctions that clearly differentiate it from its predecessors. The traditional time-based job schedulers have now been eclipsed by event-based workload automation tools that respond in real time to business orders, rather than completing them by batch processing.
Work load automation is the process of scheduling and managing different tasks related to business processes using software, often simultaneously in a non-stop, sequential order. Workload meaning in software reference is the total amount of processing a computer completes or conducts at any given time. Generally, used in cloud environments, automating tasks makes it possible to easily manage the same without any possible human intervention. For many businesses, WLA has become a necessary component to their daily success. One of the most significant characteristics of batch processing or WLA is – its lack of user or manual interaction. There are a very few manual processes to start it off and this is what makes its more efficient. A large number of tasks are scheduled, rather than being done in real time. Business processes or transactions that require direct execution at a given time or which are based on a certain event have thus become the main domain of workload automation. Regarded as a more advanced version of job scheduling due to its enhanced ability to automate entire systems, the WLA process may involve heterogeneous IT environments as well as distinct job schedulers.
Evolution of the Concept of WLA
Initially, the concept of work load automation was introduced by Gartner in their 2005 "Hype Cycle for IT Operation Management" report. At that time, the scope of IT automation was chained to the manual nature of job scheduling. Due to the dynamic demands of IT, the research company introduced the concept of workload automation. Over the past few decades, the concept has evolved considerably. Most functions are enabled without interaction and completed to meet the specified timing needs. The concept of WLA is considered in situations wherein the –
Work is repetitive in nature
Huge volumes of data need to be processed
Accessing data is done in batches (as opposed to in streams)
Real-time transfers and results are not crucial
Complex algorithms must have access to the entire batch
Tables in relational databases need to be joined
Today's batch processing or WLA uses exception-based management alerts to alert the right people if there are any specific issues. This allows managers the freedom to work without frequently checking in on the progress of batches. The basic idea is that managers need not check in at all unless they receive an alert about a critical exception.
Benefits of Implementing WLA in Business Processes
Businesses live by data and data is delivered by business intelligence and reporting solutions. Integrating and automating data integration and warehousing processes that pass data to these reporting solutions have become critical. The concept of WLA has to operate within the given framework of data volume, time and accuracy levels. Correct and accurate data has to be transferred securely between systems for workload automation to be effective.
Businesses have a variety of custom and standard systems with different batch schedules which need to be integrated to avoid resource conflicts. However, with workload automation, forecasting (like when the job will be complete) with accurate resource provisioning will ensure that the jobs will conclude on time. WLA must be efficiently managed and to work effectively it has to be connected to IT with a monitoring system. IT should make sure of its optimum use and availability of redundancy in case of issues in the existing system. There are a number of reasons why businesses employ work load automation systems. However, it is important to look at the total impact when deciding on new software for the organization. Here discussed are some important benefits of work load automation –
Simplicity – When compared to real-time data processing, implementing batch recessing is significantly a less complex process as it does not require a constant system support for data input. Once implemented, the process doesn't require heavy duty maintenance, making it a relatively low-barrier-to-entry solution.
Easy hands-off management – Once implemented, the managing personnel have enough to do without logging in every hour to check on their batches. The exception-based notification system of advanced automation software makes it quite easy for personnel to do their job without worrying about whether their software is functioning properly and if batches are being completed. In case there is an issue, notifications or alerts are sent to the right people to solve it.
Offline features – Batch processing systems work offline. Therefore, when the workday ends and batch systems are still processing in the background, managers retain ultimate control over when to start the process. Software can be set for overnight processing of certain batches, which provides a convenient solution for businesses that don't want processes like automatic downloads to disrupt daily activities.
Continuous improvement – Once data processing is automated and operational costs are minimized, operators have an opportunity to focus on continuous performance management and improvement. Critical jobs need to be monitored and compared with historical performance levels. This creates a proactive opportunity for business personnel to make tweaks that help optimize performance of the system while avoiding errors that could put the business at risk.
Low cost – Using batch processing can help reduce a company's reliance on other expensive pieces of hardware. This makes it an inexpensive and time-saving solution. The data batch processes are completed in a fast and efficient manner without any user errors, which in turn allows personnel to spend more time on day-to-day operations.
Customer service-focused – When data processing is automated and optimized, from both a cost and job performance perspective, an improved level of customer service emerges.
Workload automation (WLA) of the future is expected to focus on supporting hybrid cloud and multi-cloud environments of every size and shape. These WLA solutions will be able to work with any existing IT automation technology and manage all critical business processes from one central point of control. These multi cloud-based systems will offer a more sophisticated operations visibility, advanced file transfer and security features, and outstanding scalability that will forecast issues well before they arise and use machine learning to solve them.
The concept of work load automation does not mean the end of human resource jobs. On the other hand, it will focus more on value-based roles. Reputable providers of data conversion services analyze the significance of machine learning and its role in identifying data patterns and trends. The implementation of this technology can also help save time and cost. In addition, it makes data entry services effortless by eliminating all possible human errors.