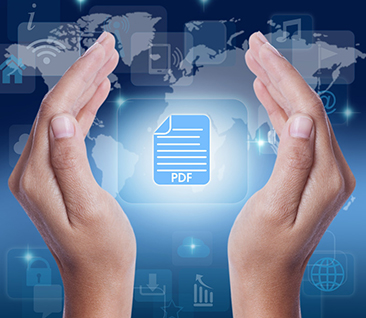 Perhaps the most used format for text storage and document exchange, PDF is much acclaimed for its capability of heavily compressing the original file size based on client requirements. Its many advantages have made PDF conversion one of the most sought after services offered by a document scanning company. What are the unique features of this versatile format?
It is platform independent.
It retains the formatting, colours and image quality of the original file and maintains consistency in all devices.
PDF files are easy to create, read and use.
It offers several security options such as passwords, watermarks and digital signatures.
PDF is multidimensional and allows the integration of various content types such as text, images, vector graphics, videos, audio files, animations, hyperlinks, interactive fields and 3D models.
You may have files in various formats such as MS Word, Excel, and so on which you may want to convert into PDF. There are many ways in which you can convert your files into PDF. Let us look at some of the available options.
If you use a desktop computer and want to convert your files into PDF on Windows, you can use converter software such as doPDF, a lightweight client that can be downloaded freely. Alternately, you can use a plug-in provided by Microsoft Office to convert any file to PDF, and which is available at their official website. Mac users can download PDF Converter Free for their basic needs from Mac App Store.
Users can convert their cloud-stored files and email attachments by visiting the free PDF Convert website. You can upload the files you want to convert and within a short time obtain them in PDF format.
Mobile users can convert their files into PDF from their smartphone using appropriate apps available in the app store and Google Play store for their particular service. Android users have Free PDF Converter that can convert documents, clipped content, web pages, text messages, emails and photos to PDF.
Given the huge popularity enjoyed by PDF and the phenomenal increase in mobile device users, Adobe has a new offering for mobile users. It is estimated that more than 300 million people use the free Acrobat Reader mobile app to view, annotate, send and save PDFs at home and in their offices. Adobe Systems has released a new free scanning functionality in Adobe Acrobat Reader mobile for iOS and Android smartphones and tablets. This scan functionality is powered by Adobe Sensei, a new framework and set of intelligence services built into Adobe Document Cloud. With this, users can now take a picture of anything and turn that "scan" into a sign-able, shareable, storable and secure PDF format. Think of the immense possibilities this opens up!
You can digitize anything – tax documents, shopping bills and receipts, school documents, recipes and so on. It will help you keep track of, organize and simplify your day-to-day life.
In your workplace, you can convert paper documents, business cards, forms, contracts and whiteboard snapshots into PDF and incorporate the same into your existing digital workflows.
You can add signatures or annotations and store PDFs with built-in connections to Dropbox, OneDrive, Google Drive, Box and other storage options without leaving Acrobat Reader mobile.
This is an exciting development indeed, taking into consideration the billions of PDFs Adobe processes through Document Cloud. Any organization can now obtain a comprehensive understanding regarding the data contained in all the documents they have, identify patterns and similarities in content and extract knowledge from that data. This new functionality is expected to especially benefit research organizations that need to process information from multiple data sources.