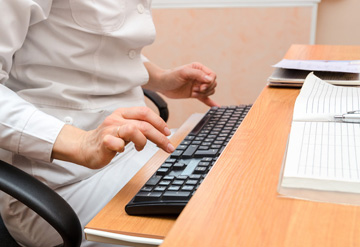 Efficient medical data entry is vital asset for healthcare providers. Information regarding patients' health should be properly managed so that it can be integrated into the treatment and quality care can be provided by physicians and other healthcare professionals. Hospitals and healthcare units have huge volumes of data and with accurate data you can provide better care. The concern many physicians have now is that they have a lot of data entry work to do with new technologies being implemented. Maintaining a patient's chart has become a Herculean task and difficult to manage along with providing patient care.
The way doctors consult patients have changed over the years. More and more regulations from the government such as Meaningful Use, Physician Quality Reporting System, and the Medicare and CHIP Reauthorization Act (MACRA), and the introduction of the EHR system have affected the physician's consultation time with the patients. Physicians' documentation responsibilities include those related to services provided and to accounts receivables. On a personal and intellectual level, physicians are gratified that they are making patients better through effective medical interventions. They are unhappy though, that theyhave to do a large amount of data entry work. The advent of EHR has negatively impacted the physicians and their workflow. Many physicians say that the EHR system involves cumbersome and time consuming data entry. In places where there is physician shortage, patients may see a number of different healthcare professionals even in their primary care setting. Documentation requirements have increased for services such as lab, X-ray and specialty care provided across multiple settings. It has become vital to ensure careful documentation and data entry so that the best care possible can be provided to patients.
Accurate patient data is no doubt a key factor in improving outcomes. Timely medical data entry makes record keeping easier. This ensures that the hospitals and clinics can provide all the information needed on the progress and health of patients.
Since the difficulty physicians have now is in balancing patient care and documentation tasks, a practical solution is to outsource data entry requirements to reliable and HIPAA-compliant data entry services. Apart from hospitals, clinics and solo physicians, these services are also available for pharmacies, drug manufacturers, nursing, insurance providers and so on. This is the best way to digitize bulk clinical data, especially when it is paper-based. Apart from medical records data entry, healthcare providers can outsource processes such as medical claims data entry and medical billing data entry, all of which will be completed with speed and accuracy. When the entire data entry requirements are outsourced and streamlined, physicians get to spend more quality time with their patients. This will help them achieve more job satisfaction along with patient satisfaction.