Businesses have large volume financial data that needs to be kept up-to-date and accurate to ensure good financial health. This helps to evaluate a company's performance and manage risks and business cash flow efficiently. Businesses deal with many financial records like invoices, bills, bank accounts, balance sheets, packing slips, sales receipts and so on. It is not easy to maintain an accurate record of these data as it comes from different sources in different formats. Other factors such as improper management of huge volumes of data, higher chances of entering incorrect values, missing values etc can result in poor financial records and poor business decisions. All this data that is in different formats can be stored in an organized and structured format by scanning it with the help of document scanning companies. An alternative way to store financial data is by converting it into QuickBooks.
Save time and improve accuracy in your invoicing and other data management tasks.
Get in touch with us. Call us at 1-800-670-2809.
What Is QuickBooks and How to Scan into QuickBooks

QuickBooks is a popular accounting software that enables businesses to manage their financial records well. It helps to keep track of different business data like sales, income, expenses, invoicing customers, paying bills, generating reports, and preparing taxes. With QuickBooks Scan Manager, you can easily scan receipts and documents and add them to your invoices, sales receipts, bills, and other transactions.
You can scan the financial documents such as invoices using QuickBooks Scan Manager in two ways:
Method 1: Setting up your scan profile
Open QuickBooks icon and choose Doc, to open the Doc Center
Click on " Scan a Document"
Click on a relevant Scan Profile or click New to make a new profile
Edit name on the profile and then press Continue to proceed
Make changes to the profile settings if needed and save the changes
Method 2: Set up and test the QuickBooks Scan Manager
Highlight your profile and then click on Select
Now select Scanner Setup Wizard from the Select Scanner window
Select the appropriate mode which is typically the Normal Mode
Now check the Perform Tests checkbox and click Next
Select the tests you want to perform in the scanner and select Next twice to start testing the scanner
To continue testing in other modes, check the Repeat this test to check all modes checkbox and click Next to proceed.
How QuickBooks Helps Businesses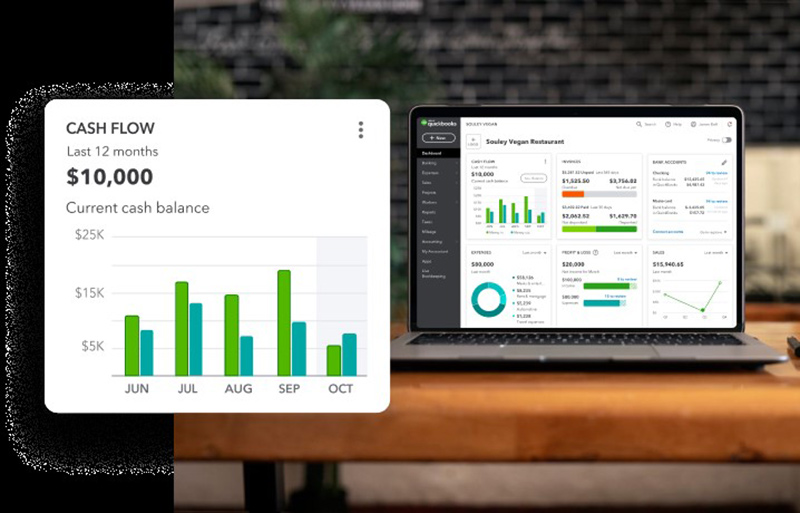 Image Source
Create and track invoices: QuickBooks will record the income and automatically track how much each customer owes you. It helps to create invoices either print them or email them.
Monitor bills and expenses: By connecting with the bank, QuickBooks allows you to keep track of bills and expenses. It helps to track checks or cash transactions. Similarly, it helps to track your payments, and ensure that you pay your bills on time.
Check employees' hours and pay: QuickBooks helps in tracking employee hours and with its payroll function, it can calculate and run payroll as often as you need it automatically. QuickBooks' payroll is integrated with QuickBooks so that your financial statements are always up-to-date as of the latest payroll run.
Track inventory: QuickBooks will allocate a portion of your inventory to cost of goods sold (COGS) automatically, which is an expense account that reduces your income. QuickBooks reminds you to order inventory automatically when quantities are low.
Simplify taxes: One of the main benefits of QuickBooks is that it simplifies tax. Preparing a tax return involves compiling your income and expenses, which is a daunting task. With QuickBooks, you can invite your tax preparer to access your account directly so they can review your numbers and print whatever information they need to prepare your return.
Scan receipts: QuickBooks online subscribers can download the QuickBooks app on their mobile device for free. When you receive a receipt, you can simply take a picture of the receipt, and upload it to QuickBooks Online, and then there will be no more lost receipts.
Accept payments online: Accepting payments online can improve cash flow. With QuickBooks payment, customers can pay online.
QuickBooks is an excellent and powerful software for businesses that simplifies and streamlines the accounting, tracking and reporting processes and for the most part, guarantees that the process of managing your company finances is much easier. So, if you want your business's financial data contained in invoices and other documents to be imported to QuickBooks, then convert it into digital format with the help of document scanning services.