Document management system (DMS) involves the use of a computer system and software to store, manage and track electronic documents and electronic images of paper documents. However, there are some important components required to set up a DMS system. These include a scanner, document management software and storage device. It is recommended to invest in a scanner that can handle bulk volumes of paper, as all paper documents have to be scanned to create a digital version. Organizations should invest in the best document management software to boost productivity through the seamless management of organizational files. After the digitization of documents, it is essential to store them in a unified safe, central storage device. Therefore, companies should invest in a robust storage device to protect documents from any unforeseen events and safeguard vital company information in the best possible manner. Professional document scanning companies implement document management system and partnering with such companies helps eliminate the need to set up your own document management system. This will help you save your money and time.
As per the RESEARCH AND MARKETS report, the global document management systems market is anticipated to reach a value of USD 7.07 billion by 2023 growing at a CAGR of 12.78% over the forecast period 2018-2023. This report also says that the market was valued at USD 3.44 billion in 2017. It contains insights on the solutions offered by major players including the providers of hardware, professional services and integration solutions. Region-wise, the market is divided into North America, Europe, Asia-Pacific, Latin America, the Middle East and Africa. The end users include accounting, banking, commercial organizations, entertainment, government, healthcare, insurance and legal. This report also covers deployment segmentation as cloud-based DMS and on-premise DMS.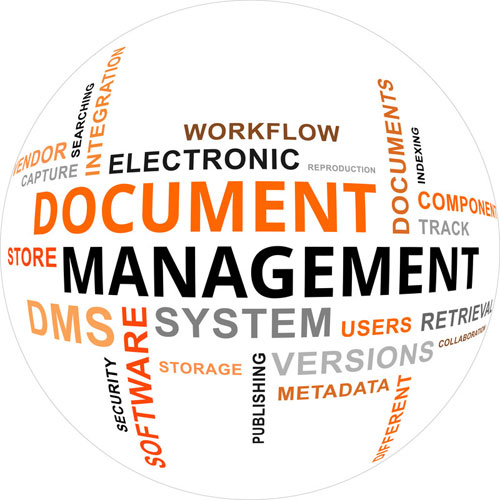 The continuous change in document management system market is due to the need for increasing efficiency in the workplace.
Market Developments
In December 2017, Logical DOC made further progress to strengthen document management security by supporting two-factor authentication (2FA); Google Authenticator and YubiKey have a major role in its implementation.
The key market players are Agiloft, Alfresco Software, Asite, DocSTAR, Ecrion Software, EMC Corp., FileHold, HP, Hyland Software, IBM Corp., inFORM Decisions, Logical DOC, Microsoft Corp., Nextide, Open Text Corp., Oracle Corp., Scrypt, SmartFile, SpringCM, etc.
This report is beneficial, as it provides following information.
Current and future global document management systems market outlook.
Different perspectives of the market with the help of Porter's Five Forces Analysis
Performance of various segments in the market
Segments and sub-segments expected to dominate the market
Latest developments, market shares, and strategies employed by the major market players.
Regions expected to witness expedited growth during the forecast period.
3-month analyst support along with the Market Estimate sheet (in Excel)
DMS helps to centralize all unorganized documents. Unorganized content makes it very difficult for larger organizations to extract business related information and use available data. DMS is very effective to overcome these challenges. Partner with a good document scanning service provider to digitize paper files and then implement a reliable DMS system for the best use of business data.
Read our blog on Document Management Software Market to Grow at a CAGR of 13.09% during 2020-27