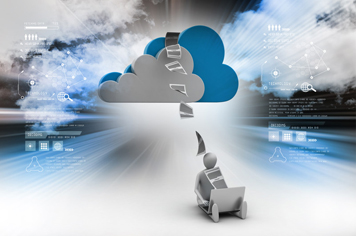 Businesses ride on technology. With the competitiveness of the market they operate in rising to fever pitch every now and then, this could often help deliver a powerful blow to the competition through more efficient and cost-effective processes.
Technology has made innovation closer to the average consumer to such an extent that nothing seems out of reach. This has also influenced the way businesses are designing marketing plans to target their kind of people. With information, and the power of sharing it at one's fingertips, there's no telling what the future would hold. Experts are already debating how corporate functioning could transform, and it's not the too distant future we're talking about.
Cloud Storage and Data Management
For one, cloud computing will experience an astronomical rise in popularity. This has been the age of mega data. Cloud storage has provided a convenient means of getting that data stored securely and effectively. However, while personal clouds take care of the needs of the average user, security has always been a major talking point with public clouds used by companies. And with public and personal clouds predicted to be synced to create hybrid clouds, the instances of data hacking are set to rise.
Corporations will also be faced with the seemingly unmanageable task of storing and dealing with big data. Data overload grinding down network infrastructures wouldn't necessarily be an unheard of thing. But with necessities would come inventions and smarter technologies could come up that would raise the bar in data security, storage and management.
Intelligent Computing to the Next Level
2020 could be that year when there is an explosion of intelligent computing systems that are sensitive to the context and language of users. The Watson system by IBM is an indication of how cognitive devices and systems can get. Other than the corporate field, this technology also has relevance for the medical field as physicians would be able to identify sicknesses and disorders right at the DNA level. This could obviously prompt greater investment by ambitious businessmen, of the likes of Elon Musk and Sir Richard Branson, in addition to increased innovation by tech giants such as Google, Apple, IBM, and others.
Wearable Technology
Google Glass is already here, and that should ring a bell about the destination the future is going to head to – device portability to the next level, wearing it. Smart watches are set to be the next major trend with Apple iWatch. As you've seen, the tech majors are all behind this. The Samsung Gear 2 smart watch is set to come with a PayPal-designed app that would enable wearers to buy products and services with their wristwatch, significantly transforming e-commerce. A 2013 study revealed in Forbes already claims that wearable technology has helped one third of the surveyed American and British adults with their career development.
More Intelligent Predictive Analytics
Businesses have already realized that data alone couldn't make the difference as much as its interpretation and application, and, if that is used to predict trends in the competitive market they're involved in, it could give the vital edge. The predictive score is what matters and influences business decisions. With intelligent computing set to grow, nothing could come in the way of more effective and relevant predictive analytics. This will make its presence felt in all kinds of businesses including retail. It would help marketers plan more effectively, city planners decide on development projects better, and businesses reach their goals faster.
With the maturing of these trends, businesses and marketing are sure to get transformed to a whole new level. The faster companies can cache in on these, the greater their edge in developing streamlined and efficient functioning will be. And, as we said before, you don't have to wait too long for that. You only need to open the door!