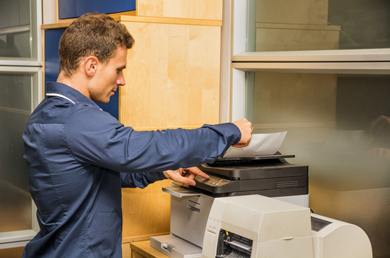 Document scanning is an effective way of preserving important documents. By scanning critical documents, your essential personal and business data is safely preserved. Digitization can save money, boost productivity, and reduce storage space, while also enabling quick sharing of information and ensuring environment friendliness. In the present digital world many organizations are going paperless. OCR (optical character recognition) is a very popular method of scanning documents as well as images. It has the capability of scanning any document irrespective of the size, language or font. You can convert your document into any format like Word, PDF, HTML or XML and make necessary modifications.
Document Scanning Finds Use in Various Business Sectors
Businesses find document scanning and conversion services very useful. A good document scanning company would use advanced scanning equipment and the service of expert scanning professionals to provide the best service to their clients. Once the paper documents are scanned, they become searchable, which ultimately saves valuable time associated with record retrieval. They can be duplicated for secure, off-site storage as a means for disaster recovery. By digitizing important documents, you will no longer have concerns such as lost records and expensive storage facility. Following are some of the areas where document scanning is used widely.
Bulk scanning of documents: Not just a few papers, a large volume of documents can be converted into digital format. Huge volumes of documents can be digitized in minimum time and stored in electronic storage devices.
Scanning of office documents: Business offices have various documents like reports, handwritten notes, bills, images, architectural images and so on. Digitization of these documents into PDF or other digital formats helps in storing and retrieving the data quickly.
Scanning of medical documents: Hospitals and healthcare units deal with many paper documents during their day to day activities. These include lab reports, hospitalization reports, patient registration details, patients' medical records, healthcare administration documents etc. With digitization, physicians and other staff can access the records quickly whenever required. It also improves their overall efficiency.
Scanning of legal documents: Many law firms and other related institutions are now digitizing their legal documents to help in case and trial preparation. It helps the firms to quickly find the documents related to a case and also reduce storage space. The entire documentation process is streamlined and made more efficient.
Benefits of Document Scanning
Saves storage space as digital files require very less space. This will also eliminate the need for buying file cabinets.
Documents in digital format are error-free and accurate.
Digitized files can be copied to various devices, emailed and shared faster.
Easy and quick retrieval of digitized files.
Digitized files have versatile storage capabilities and can store any number of text content and images.
Digitization not only removes the clutter of paper from your office but saves your money and also improves the security of your documents. With the help of a reliable document scanning company you can digitize all your important documents with excellent accuracy and speed. They can handle huge volumes of data and the services are cost-effective too with reliable firms offering customized service packages in keeping with individual client requirements.