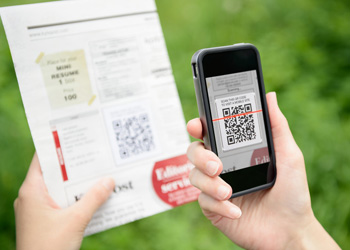 Documents have immense significance for any business, being storehouses of data and this is what makes the service of document scanning companies also very important. When it comes to business documents, the capability to create and share important files immediately is something that is much appreciated. Dropbox is such an application that facilitates online storage, personal cloud, file synchronization and client software. Users can create a special folder on their computers, and Dropbox syncs it in such a way that it appears to be in the same folder irrespective of the device used to view it.
Scan documents: Use the mobile app to scan and organize your important files and have the ideas and the rig right at your fingertips. For business users using an iPhone, searching inside the scans is also possible. The scan can be rotated, the filler can be changed, cropped, or added on a new page.
Edit Word, Excel and Power Point with one tap: The latest Dropbox features eliminate the need to manually switch apps while working with Microsoft Office files. You can start working in Word, PowerPoint, or Excel in a single tap.
Easy-to-use commenting features: With Dropbox all your files can be synced with easy-to-use commenting features and it also allows you to chat. For that all you need to do is just open a file and click on the "comment" bubble to start chatting. The comments can be read by anyone with whom you share and whenever someone comments, a notification pops up if notification button is enabled.
Protect your files with password: Every phone has different types of locks but if you wish to give an extra layer of protection for your files then Dropbox allows you to keep your files safe with a four digit passcode. With Dropbox all your important files can be locked safely. For android version click on the "hamburger" button, change settings and then click on "Configure Passcode" button. For iOS phones click on "Recents" tab and then click "Configure Passcode" feature.
Offline storage: Access to the internet is essential for operating the Dropbox app but it also lets you work offline. Click on the down arrow next to a file in Dropbox file list, and then tap on the option "Make Available Offline" option. However the offline Dropbox files take up a lot of local storage space on your phone.
Storing your files in the cloud has many advantages. It allows you to view your files from any phone, tablet or computer. With the latest Dropbox, document scanning and storage becomes easy and the cloud can provide backup for files.
At least half a billion users are estimated to be doing work in Dropbox. It allows you to work from anywhere, collaborate with others and utilize innovative tools to give life to your ideas. This app is proving to be a great option for those working on their own, with a small team or as part of a big company. Just as document scanning services prove invaluable for business organizations that have bulk document scanning requirements, creative apps such as this are excellent solutions for individual users.