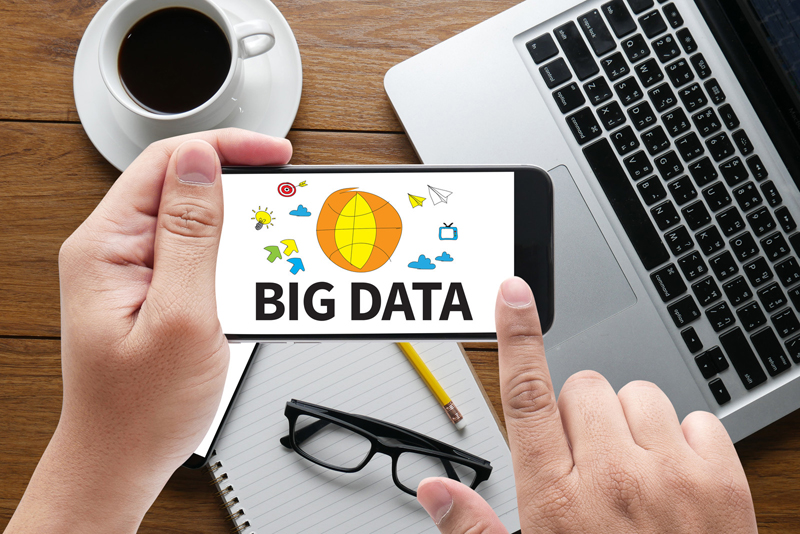 Data comprises facts and figures that are gathered from various sources, both internal and external, which is essential for companies to run business operations. It helps to understand the customers, current market conditions, trends etc and with actionable data businesses can make valuable decisions. As the business starts expanding, the volume of data also increases and this increasing data can be digitized with the assistance of data entry services for easy access and management.
Businesses are constantly collecting data on their customers, market research, trends and patterns which has led to big data. Big data refers to large volume of complex data that cannot be processed using traditional methods. Today, advanced technology, improved algorithms, artificial intelligence, machine learning and powerful computing help businesses process big data.
According to Harvard Business Review, 99% of businesses surveyed said they intend to implement big data analytics and AI in the near future. Big data analytics is done using advanced software systems which allow businesses to reduce the analytics time and ensure speedy decision making. Innovative big data analytics systems provide quick and efficient analytical procedures and this ability to work faster and achieve agility offers a competitive advantage to businesses. Also, businesses enjoy lower cost using big data analytics software.
Amazon Fresh and Whole Foods is an example of how to use big data to drive innovation. Amazon uses big data analytics to improve innovation and product development and to move into large markets. The data-driven logistics offers Amazon the required expertise to enable creation of greater value. With big data analytics, this company can understand how customers purchase groceries and how suppliers interact with the grocer, and this data provides insights whenever there is a need to implement further changes.
Big data can drive business innovation and create a lot of new growth opportunities and following are some of the market predictions on big data for 2020:
The volume of data will multiply as IoT starts growing: Rise in data volume will lead to another milestone. According to a study report, big data will grow to 44 trillion gigabytes or 44 Zettabytes. This could be due to the rapid growth of smart wearables that will fuel the growth by turning behavioral data into meaningful information that streamlines the quality of interaction at touch points.
Automated analytics will be the new change: End-to-end data warehousing process will be automated. With tools like Spark and Hadoop, large data sets can be efficiently stored and processed. Automating process behind these frame works will be a vital part of Big Data in 2020 and automated tools are expected to emerge in future.
Data streams will lead to actionable insights: There is a rising need for capturing and utilizing data before it becomes obsolete. The ever increasing flow of data leads to quick accumulation of data and managing these large volumes of data can be challenging. So streaming of data enables transformation of data. The result is a system that can honor service level agreements (SLA) and handle the huge volume of data.
Prescriptive analytics will become mainstay: Prescriptive analytics helps to focus on what the future holds, suggest the course of action against all possible risks and outcome of decisions taken on the basis of past predictions. Prescriptive analytics includes simulation, optimization, decisions analysis and game theory. It is expected that in 2020 a major portion of big data will come from prescriptive analytics.
Machine learning will grow deeper with big data: Machine learning impacts the decision making process due to the technology in conjunction with data analytics. It can create predictive models for future forecasts more accurately. It enables decision makers to chart out an action plan before any problem arises. Most conventional tools allow organizations to set aside expenses and plan the path towards a goal. Machine learning can derive values from dissimilar data independent of human intervention.
Rise in the growth of data will lead to concerns regarding security issues: As per Big Data statistics and prediction, businesses will have to discard that which do not comply with GDPR regulations. In the initial quarter, there may be some organizations flouting the rules out of which 50 percent violations would involve user's personal data.
Increasing demand for Chief Data Officers: The CDO's role will become indispensable for taking leadership of strategy development along with decisions on clients' digital assets. By 2019, 90% of enterprises were predicted to have dedicated Chief Data Officers. Under the leadership of CDO, the base strategy of organizations will be data-first policy.
Automation will become crucial: Big data will be incomplete without automation. In 2020, automation is expected to relieve humans from performing hazardous tasks, it can cut the running costs and is easy to implement. This would make automation a coveted part of the Big Data landscape.
Algorithm will be preferred more than developing in- house: Businesses spend time, money, and resources to develop algorithms from scratch to fulfil every intended purpose. Sourcing algorithms seem to have greater benefits than developing them in-house.
Big data industry will create new jobs: As big data increases, growing dependency on analytics will pave way for more new roles to be filled by not just data analysts and data scientists, but also data management experts and data architects. More companies are expected to invest in retraining their staff for them to be future ready.
Data entry companies associated with various businesses understand that big data would bring more growth opportunities. Even though businesses can improve productivity with the use of artificial intelligence and machine learning, a certain level of human intervention would be necessary in certain exceptional or ambiguous situations that require common sense or contextual understanding. So, the ideal option is human- centric AI algorithms that can help business leaders arrive at the right decisions.