The PDF format is one of the most popular file formats used extensively in diverse industries including real estate, education, banking, and others. PDF files are easy to create, and can be easily shared with anyone. But PDFs are difficult to edit. To make necessary changes, it is better to convert the PDF to Word. Several free online converters are available to allow the user to convert documents from PDF to Word format. For bulk conversion, it is ideal to consider PDF conversion services, provided by experienced companies. By converting, you can also assure that the documents' content and format remain unchanged as it is transferred. There's no need to retype characters.
Quality PDF Tools to Convert Word Documents
Check out some best quality PDF tools to convert Word documents and share your best work with confidence.
Adobe Convert PDF to Word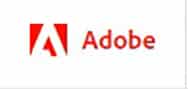 With Adobe Acrobat, it's easy to export a PDF to a fully editable Microsoft Word, Excel, or PowerPoint file. Users can just edit the file, instead of retyping. With its OCR capabilities, this software can convert even the most complicated PDF files. When you convert PDF files with Acrobat, the document formatting transfers too, which includes tables, bullet points, and everything else you want to keep updated.
PDF conversion into Microsoft Word with Acrobat involves these steps-
Start Acrobat and Open the PDF file to export
Choose the Export PDF tool in the Tools pane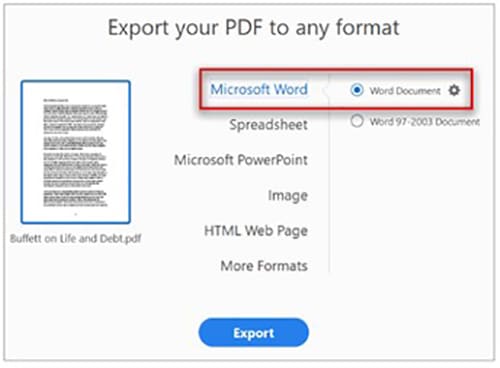 Choose Microsoft Word as your export format, and then choose Word Document.
Select a location where you want to save the file, and then click Save.
Other formats to choose from include Rich Text Format (RTF), plain text, image formats, HTML web page, and other file formats.
Online2PDF

This online tool allows to easily export PDF files to WORD. Furthermore, the Online PDF Converter offers many more features. The maximum file size is 100 MB and up to 150 pages can be converted at once. With its "Advanced OCR" feature, each page is handled as image and the whole text is newly recognized with OCR.

Just select the file you want to convert.
Along with conversion, this tool also allows to merge, extract, rearrange or split pages. Choose the right action to be done.
Finally, click on 'Convert'.
Smallpdf

This platform features a collection of PDF conversion tools to process digital documents and streamline workflow seamlessly. With just a simple drag-and-drop, users can convert PDF to Word within seconds. This converter works on all computers – Mac, Windows or Linux, and there's no file size limit as well.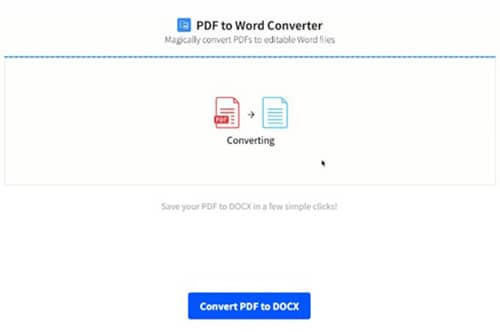 Conversion steps involve
Uploading PDF file to the online PDF converter
Smallpdf will instantly start the extraction process.
OCR will activate if you upload a scanned document.
Wait for the converter to finish and download your Word file.
EasePDF Online Converter

Image Source:
This advanced PDF conversion tool allows users to easily convert PDF to Word without losing formatting. Its speedy batch conversion feature boosts efficiency especially when people have frequent needs to convert PDF to editable Word.
Its auto-deletion option does not save files on the server for more than 24 hours. Files will be cleared up regularly to ensure data safety. Also, EasePDF will not access the files uploaded to the server for causing any data disclosure.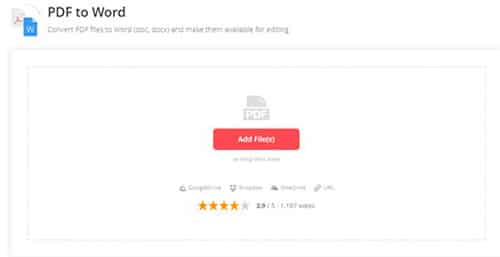 The conversion process involves-
Click "Add File(s)" to upload PDFs to convert PDF to Word documents.
Choose the "Convert" button
Download Word
Converted Word documents can be safely downloaded to local folders offline or saved to cloud platforms. This platform is highly compatible with all systems such as Windows, Mac, Android, iOS, etc., and mainstream browsers like Chrome, Firefox, and more. This software ensures data encryption by applying the 256-bit SSL Encryption technology and highly protects both the files and user data security.
The offline EasePDF for Windows can also manage batch PDF conversions at much higher speed, just within a second.

UniPDF is an all-in-one PDF converter software that produces high quality word documents out of PDF files in batch mode for Windows. This standalone and easy-to-use platform allows faster conversion of PDF file to word document (doc/rtf), images (JPG/PNG/BMP/TIFF/GIF/PCX/TGA), HTML, or plain text files (txt) in batch mode. One of the most attractive features of this software is that it retains the original design and layout of the PDF. Converted files will retain the layout and formatting of the original document, so that users don't have to re-edit the documents.

Conversion steps are-
Add or drag and drop the original PDF file to "UniPDF"
Start the PDF to Word converting process
Open the converted files and edit them as you want
PDF to Word conversion also makes it easy for blind people to read the content easily in screen-reading tools. Businesses can consider relying on a PDF conversion company that can support document intensive business processes, and can meet their collaboration, archiving, and regulatory compliance requirements.