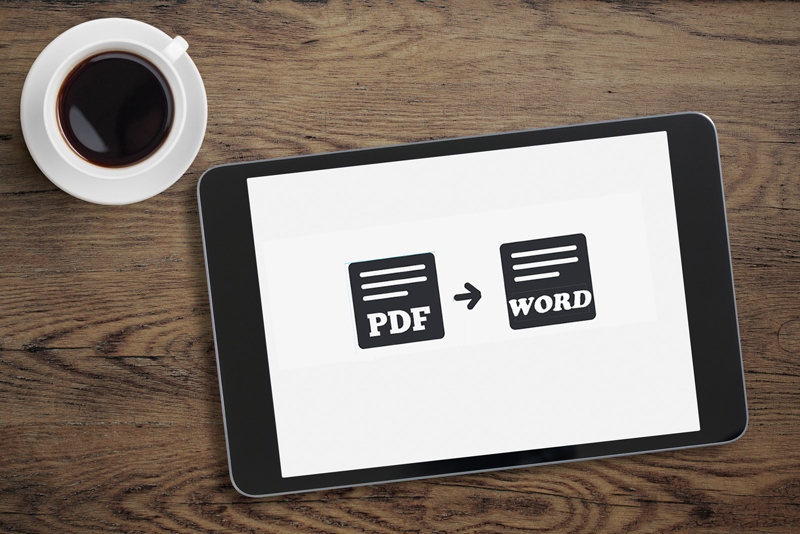 In this present digital world, businesses are always on the go and they are keen to find easy and quick ways to share and receive files. PDF is one of the most convenient file formats and can be accessed on all platforms. Portable Document Format, popularly known as PDF, makes it easier to share and receive huge files between computers and operating systems. However, one of the main disadvantages of PDF is that these files are difficult to edit. Sometimes, employees receive emails from superiors asking them to edit certain files that may be in PDF format. This is why conversion of PDF file into MS Word is important. MS Word is a very popular, user-friendly authoring program that helps to create simple documents. It is widely used in various organizations from professional to legal establishments for creating reports, documents and other publication articles. With the help of a data conversion service PDF files can be converted into Word documents for easy editing. PDF to Word converters are available to convert PDF files into Microsoft Word format.
WPS PDF to Word Converter: This converter works on Windows, has an Android app and an online converter. It allows to convert huge batches of documents and also helps to retain the original formatting of the document. On Windows 10 it retains images, tables, colors, and even non-standard fonts without compromising on the originality. Users often find it difficult to split and merge different sections of a PDF document into one file. But with this converter, you can choose the pages you want to convert into any format or however you want and export a new document in a number of different formats, all with your original formatting and layout intact.
Wondershare PDF Element: This is a PDF to Word converter where you can even sign the PDF documents. It works on Windows and Mac and also has full features like MS Word which gives you control over the document, images and text that you want to manipulate. You can also add comments in the file as well as sign the document once it is ready, and easily share it with collaborators. It also has some advanced features like you can protect a certain section of the document.
Investintech Free online PDF to Word Converter: This is a free converter that does not need downloading of any additional software, no registration for an account or submitting your email id. This converter allows you to simply drag and drop your PDF file and it will be converted as DOCX file. There is no upper limit for the number of pages that needs to be converted and the results are excellent. If your PDF has any custom-made fonts, then there will be some tweaking on the text required. This software can convert both native PDFs and scanned documents with OCR. If you are looking for a quick solution to convert your files then this is the right choice.
Nitro PDF to Word Converter: It is a commercial software used to create, edit, sign and secure PDF files and digital documents. You can upload huge batches of your PDF files, give it an email address to send the results to and it will transform the PDF file into Word, Excel or PowerPoint. Nitro cloud is compatible with any browser. Although it converts files accurately, the converted images are sometimes distorted and there may be random spaces or unexpected line breaks appearing in your final document.
UniPDF: This is a free converter for Windows and it doesn't take long to upload or download files, an issue which is commonly found in other online tools. It has excellent accuracy. However, sometimes the converted text can be dramatically different in size compared to the original, and columns sometimes run into each other.
Advantages of PDF to Microsoft Word Conversion
A PDF converter helps to gather all information contained in the PDF file and convert into a Word document, which makes editing easier. It also helps to keep the layout to the best of its coding abilities.
PDF to word conversion helps to select the pages or a single page that you need to convert and the software can convert those pages out of the PDF document and into a separate DOC file. This is useful especially for writing thesis, so that you don't have to retype the exact words.
PDF documents may sometimes have many images and with PDF to Word conversion the images will show as part of the page. These images can be kept or discarded as per your choice. If you want those images as separate JPEG files then you can paste the images in Paint.NET or Adobe Photoshop.
A reliable data conversion service can help you convert large-volume PDF files into Microsoft Word format quickly and efficiently. They utilize advanced technology to achieve efficiency and accuracy in delivering optimal results at affordable prices.