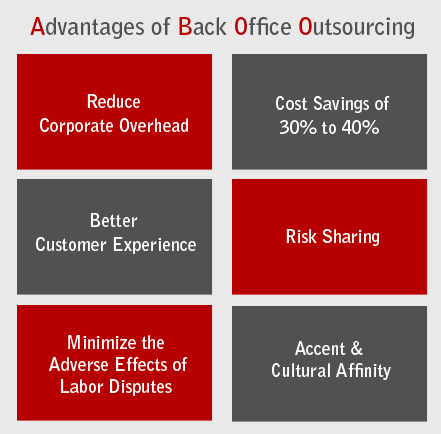 As a businessman, have you ever felt the need to spend more time on strategy? Research has found that managing routine day-to-day activities can take up as much as half of a business executive's time – valuable time that would have been better spent on planning and developing key strategies. Distraction from core activity, for instance, could occur because of focus on in-house operations related to tasks such as data entry, document scanning, book keeping, payroll management, and so on. That explains why outsourcing these non-core back office tasks to countries like India and the Philippines has become the common practice of businesses in the US and the UK.
Advantages of Back Office Outsourcing
There are many advantages of back office outsourcing and back office support solutions. Let's check them out:
Back office outsourcing could reduce corporate overhead since there is no need for organizations to hire staff or incorporate state-of-the-art tools and infrastructure for carrying out these non-core responsibilities. The cost savings in terms of operating costs can be in the range of 30% to 40% which is mega. Moreover, assigning non-core tasks to a third party service provider can help businesses provide a better customer experience. Take Energy giant npower, for instance. The company recently confirmed plans to outsource work to Capita and Tata Consultancy Services (TCS) in India under restructuring of its customer service activities. The aim, it said was to deliver a more "efficient, flexible and improved customer experience". By outsourcing checking meter readings against customers' bills to India, npower believes it can keep call waiting times down during busy periods, keep costs down, and thereby reduce gas and electricity bills.
Risk sharing is another major advantage of back office outsourcing. Outsourcing back office functions ensures the client company and BPO company share the risk involved in carrying out those tasks. For example, in an automotive manufacturing business, if all the work is done in one plant, a labor dispute could badly affect business. However, if manufacturing and related support functions are transferred to outside companies, whether these companies are onshore or offshore, the detrimental effects of such labor disputes can be minimized.
Others reason why India, Brazil, the Philippines, and even South Africa are considered ideal locations for back office operations by companies in the UK are advantages in terms of accent, cultural affinity, similar time zone and operational costs that  almost half that in the UK. Take the example of Amazon.com Inc. (AMZN), the world's largest online retailer. Bloomberg reports that Amazon has set up a call center in 2010 in Cape Town to service British, American and German clients. The company was attracted by the talent available in the South African market, the overall geopolitical situation, and the favorable attitude of the government towards outsourcing businesses. Generally, by outsourcing support services to a professional service provider, client firms can save 30-40% on their operating costs.
When non-core tasks such as document scanning, document conversion and data entry are outsourced it results in bringing down the workload of your employees since they would not have to be worried about these tasks. They can focus on their core responsibilities which can help increase the efficiency of those tasks.
The bottom line is that few companies have the ability to invest in and regularly upgrade equipment, personnel, and process technology which is necessary to compete in highly competitive global markets. They enjoy a huge cost advantage when business processes are outsourced to an experienced BPO company.
However, here is a list of possible risks involved which you need to know about.
Things to Watch Out For
There is the risk of exposure of vital information about your organization to the external service provider. Confidential information can be at risk when outsourcing medical transcription, accounting, claims processing, payroll processing, recruitment, HR management, and other tasks. Closely connected with this is the risk of creating borders that are unclear between the client company and the business process outsourcing company. There can also be issues with the quality of your organization. Inefficient BPO companies could bring about delayed deliveries and inconsistency in the submitted work.
Though these risks are present, most of them are negated when organizations carry out back office outsourcing with the right BPO Company. The advantages in terms of increased productivity and resource savings cannot be ignored for any organization in these competitive times.