It is really difficult to go paperless. Experienced document scanning companies can help convert all paper documents into electronic format, thereby helping to banish paper clutter from your life. If you are planning to do it on your own, the following tools will help you go paperless.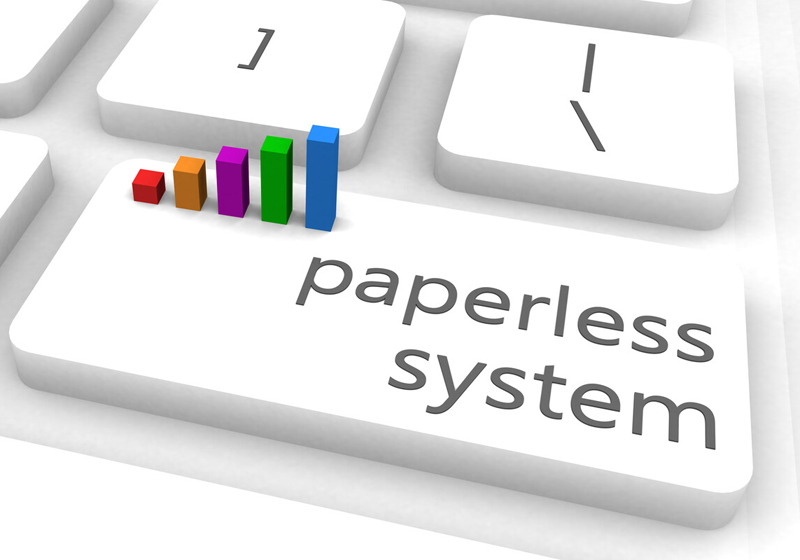 To-Do List App – If you are considering going paperless, then one of the best practices is to move all your tasks and lists to an app. In fact, to-do list apps are more efficient than paper lists. A to-do list app provides reminders of upcoming due dates and notifications when someone else completes a task.  With this app, you can rearrange your list at any time. The following are some of the best to-do list apps.
nTask – This is one of the best task management tools created for individuals and teams. It comes with a simplified, user-friendly GUI that allows you to navigate a powerful set of features. This app allows you to create tasks and subtasks and schedule them as a single time or recurring tasks. You can list down the things to be done through checklists. In addition, you can create projects and associate multiple tasks under it.  You can organize, prioritize tasks and monitor task status. It has options including progress reports, timeline and Gantt Charts that allow you to keep projects on track. This app helps you save time with powerful search and filter options. It allows you to search for tasks, projects, meetings and do lots more. It has pre-saved filters that helps save time and effort on end-users' part. It also helps you stay in sync with updates and keeps you and your team on track through reminders and alerts.Image Source : https://www.ntaskmanager.com/
Todoist – This app allows you to create, organize and prioritize tasks, create subtasks and dependencies as well create projects and subprojects. With Todoist, you can label tasks, customize through color codes and add due dates to keep track of the tasks.  Through Todoist's AI-powered feature Smart Schedule, the app suggests optimum dates for scheduling and rescheduling existing tasks. In addition, Todoist Karma allows you to get points for completing tasks using advanced features, and meet productivity goals on a weekly and monthly basis. With this app, you can monitor your progress through graphs with differently colored projects.Image Source : https://todoist.com
Any.do – It is one of the easiest applications to create and manage your to-dos. It contains simple tasks and subtasks folders which help in the quick creation and checking off the tasks when done. It comes with easy drag-and-drop option for files. It has voice-entry feature, which allows you to create a to-do list of tasks by speaking into your smartphone and then create your tasks for you, just like a virtual personal assistant. It has a simple UI/UX design which makes it extremely easy to understand and helps the user to quickly grasp the functionality.Image Source: https://www.any.do/
Scanning App – A scanning app helps convert important paper documents into digital files. Document digitization allows you to shred or recycle the original paper documents or file them away safely. The items that need to be digitized are paper tax filings, identification documents, official certificates, warranties and receipts, recipes and even non-paper documents such as the details and instructions printed on the underside of your home Wi-Fi router. Document scanning service providers help scan and convert paper based documents into digital format. Scanning apps turn the camera of your phone into a scanner. Mobile scanning apps are convenient and portable. With this app, you can snap a picture of anything anywhere. The best scanning apps can detect the edges of the item you are scanning, the type of item as well as whether you are scanning a page from a book or a business card.  In addition, the best scanning apps include optical character recognition (OCR) technology, which allows you to copy and paste the text from a document, within a minute or so of scanning a document. A good scanning app will be able to compile multiple pages into a single file. The following are some of the best scanning apps and are available for both Android and iOS.
ABBYY FineScanner Pro – It turns your mobile device into a powerful all-purpose mobile scanner & document manager, allowing you to quickly capture images, create electronic documents in PDF and JPG, and apply OCR to recognize texts for further editing and sharing.Image Source: https://www.abbyy.com
Scanbot Pro – It is one of the best mobile scanner apps for documents and QR codes.  It helps create high-quality PDF or JPG scans with just one tap. Scanned files can be sent through email or as a fax to be uploaded to iCloud Drive, Box, Dropbox, Evernote and other cloud services.Image Source: https://apps.apple.com
E-Signature (Electronic Signature) – If you are planning to go paperless, then you should be able to sign documents without printing them. Therefore, you should use an app that will allow you to create a digital signature and apply it to files.
Here are some examples of software that includes e-signature tools.
Adobe's Acrobat Reader – With this program, you can sign the PDF directly. It gives you a few different ways to sign a PDF. No matter how PDF is set up, (whether as an interactive form or just a static file), it allows you to sign a PDF. If the PDF is an interactive form, you should sign in the predefined field for your signature and add it electronically. But, if the PDF is not designed as a form, then you can create a signature on any type of computer. If you want to sign your name with a finger or a stylus, then you should do that on a touch screen device.Image Source: https://get.adobe.com
DocuSign – This electronic signature application enables people to send, sign, and approve documents, materials as well as transactions and manage nearly every agreement from almost anywhere in the world.  It speeds up the workflow or approval with its fully secured digital signature technology. With this app, businesses can now enjoy faster ROI (return on investment) as it eliminates the need to spend time waiting for a paper contract. It also helps businesses to increase productivity and achieve targets faster.Image source: https://www.docusign.com/
The first and foremost thing you have to do is to create a signature. In fact, this is often the hardest part as signatures tend to look sloppy when made with a mouse, finger and touch screen, or stylus.  However, you have to do this step only once. Once you create and save a signature, you can use it over and over again.
File-Syncing – A file-syncing service makes all your documents available to you, regardless of the device you have at hand.
Here are a few popular file-syncing services:
Dropbox – Dropbox allows you to store and share files, collaborate on projects, and bring your best ideas to life. It allows you to store and access files from any device, share files with anyone, even if they don't have a Dropbox account. It helps you get real-time updates on shared files. By using Dropbox, you will be able to know any time when someone makes a change, leaves a comment, or moves your work. It also helps turn receipts, whiteboards, and notes into PDFs with doc scanner.Image Source: https://www.dropbox.com/
Google Drive – It is a safe place for all of your files that puts them within reach from any smartphone, tablet or computer. It allows you to safely back up all the Files in Drive such as your videos, photos and documents. You can easily invite others to view, edit or leave comments on any of your files or folders. GoogleDrive allows you to safely store your files and access them from anywhere, search for files by name and content, easily share files and folders with others, quickly view your content, set access levels for who can view, comment or edit, quickly access recent files, see file details and activity, enable viewing of files offline, use your device camera to scan paper documents and access pictures and videos from Google Photos.Image Source: https://www.google.com/drive/
Many file-syncing programs allow you to save offline copies of documents to your devices.  This is useful especially in a semi-emergency, such as insurance certificates, an ID, or names and phone numbers in a phone tree.
Document Sharing – The best way to send digital documents is to share them through a cloud-based service. All you have to do is put the files you want to share into a folder in your syncing or cloud storage app and right-click to get a link that you can share. The recipient can download the files from that link.
Partnering with a professional document scanning company helps scan and convert all your paper-based documents into digital format, thereby eliminating nearly all the paper in your life.