This is an update to the blog Top Business Process Outsourcing Trends to Dominate in 2020.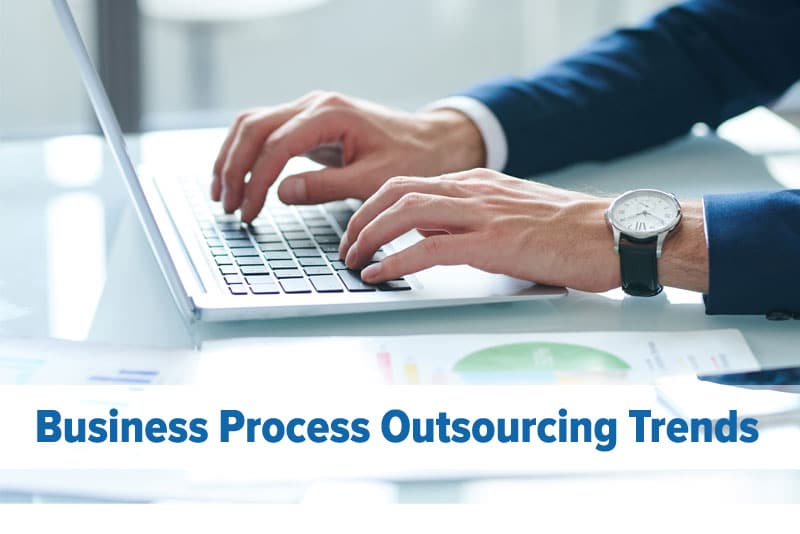 If you would have to point out the fastest growing industry in the world, it has to be business process outsourcing (BPO). Grand View Research in 2019 stated that, as 2025 ends, the global BPO market could hit USD 343.19 billion. The predicted CAGR rate was 7.6%. While the Covid-19 global pandemic might have affected that growth, there is no taking away the fact that the demand for outsourcing is rising.
What Makes Outsourcing Essential
This isn't restricted to Fortune 500 companies alone. Start-ups and medium sized businesses are also increasingly seek the services of outsourcing companies to keep in touch with new technological trends such as artificial intelligence (AI), robotic process automation, cloud computing, etc. The need to incorporate advanced technology for more streamlined performance is leading businesses to seek professional assistance as they focus on their core tasks. No chances can be taken when the competition is intense. These technologies brought in by business process outsourcing companies can particularly benefit businesses through streamlined performance, secure data storage, easy information access, and real-time customer engagement. This improved performance also comes with lower operating costs.
Technological advancements are reshaping the BPO industry. The Covid-19 pandemic has highlighted the need for efficient remote workplace management. 2020 is coming to an end and many industries see it as a year that is best forgotten. Market research reports indicate that 2021 could see some distinct trends in the BPO industry, some of which we'd already have witnessed this year:
Data-driven Cloud Services
Forbes research states that 77% of outsourcing companies host at least one cloud app. Innovations such as machine learning and artificial intelligence require data for implementation. Cloud- based solutions use these technologies for understanding hidden patterns in customer behavior. This understanding enables businesses to provide better service to your customers. Business process outsourcing companies would need to provide cloud-based technology for data analysis and management to add greater value to their services.
Solutions Leveraging the Power of Social Media
Social networking isn't just a great marketing platform, it can also be used to gauge customer expectations. Outsourcing companies need to offer social media solutions for offering improved customer support and building an enhanced online presence. Social media analytics can also help in gauging customer behavior, which eventually results in better service. There is significant potential here.
Automation to the Next Level
Automation of processes is on an upward trend, and it is predicted that it will only get stronger in 2021. Automation streamlines functioning and improves speed and performance. Robotic process automation brings robots into the equation to carry out repetitive processes that are necessary, but can cost time and energy for your workforce. It enables your employees to focus on your core tasks and improve productivity. Machine learning and artificial intelligence contribute a great deal to improving automation. Robots can also handle customer service. Outsourcing companies would need to prove themselves capable of offering automation, or risk losing clients.
Fostering Remote Working Environment
The shift to remote work became essential with the spread of Covid-19. Outsourcing providers adopted advanced technologies to ensure that staff of their client organizations could coordinate working from remote environments effectively. Cloud storage is part of the equation, along with services such as video conferencing technology, recording transcripts, internet services, etc.
Advanced Security Demands
The more remote the working environment is, the greater is the need for security. With security threats getting increasingly complex and prevalent, high-tech security is essential. Businesses will expect more advanced and customized security solutions from their outsourcing partners
Business process outsourcing services could get more intelligent in the years to come. Businesses stand to benefit more with each innovation.