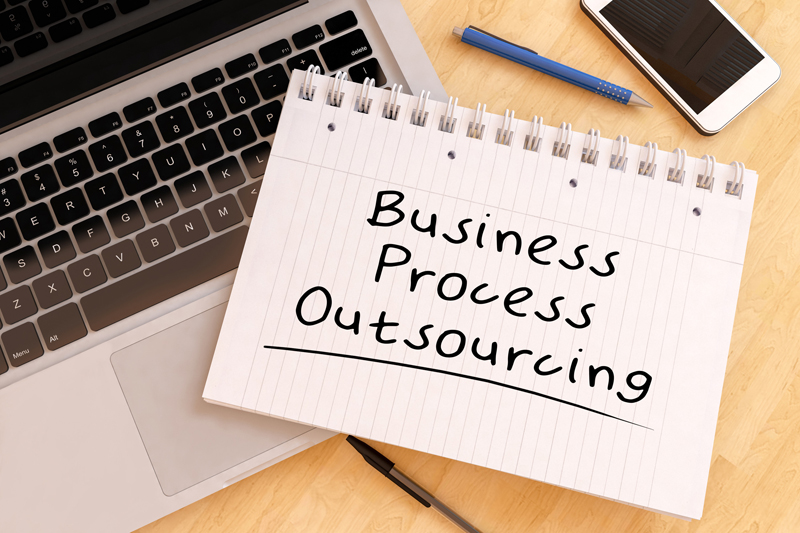 The business process outsourcing (BPO) industry is regarded as one of the fastest growing industries that significantly affect the economic growth. From fledgling start-ups to massive fortune 500 companies, businesses of all sizes and services are introduced and seek benefits to get ahead of the competition. Nowadays, outsourced processes and their demand continues to grow as technology advents such as Artificial Intelligence (AI) and other mobile technologies emerge. Each year, various outsourcing trends come out to stir up the industry. This superior growth of advanced technology and globalization has changed the way businesses function and business process outsourcing solutions have been found to be immensely beneficial. However, the goal is to promote a better user experience and move along with the technology trends.
According to Grand View Research, the global business process outsourcing market size is expected to reach USD 343.19 billion by the end of 2025, growing at a CAGR of 7.6% from 2019 to 2025. Business process outsourcing is no more limited only to large enterprises. In fact, medium-sized enterprises have also started adopting the practice of business process outsourcing and the trend is expected to gain traction over the forecast period as BPO service providers continue to introduce innovative services. Robotic process automation (RPA) technology is expected to benefit the BPO market by opening potential opportunities for revenue growth. Implementation of social media management tools focused on real-time customer engagement and cloud technologies may also play a pivotal role in driving the growth of the BPO market over the forecast period.
Driven by competition, innovation, and advances in technology, the BPO industry is continuously gaining momentum. Furthermore, the trend is expected to continue over the forecast period as the need to reduce operating costs, synchronize processes, and get access to qualified professionals prompts more and more enterprises to outsource their business processes. Here discussed are some of the key, emerging business process outsourcing trends that are expected to dominate the industry in 2020 –
Adoption of Cloud Computing Is Becoming Standard – Cloud computing works using a network of internet-connected, remote services to manage, store and process data. The technology helps BPO service providers to increase the speed of production, gain greater quality control and reduce costs. Recent research reports show that 94 percent of enterprises are using at least one cloud service, though most organizations leverage five or more. Overall, 83 percent of enterprise workloads are carried out in the cloud too. Although leveraging cloud tech isn't a new trend, having it become the standard is, and it boils down to two big reasons – continuity and cost. The technology ensures universal access and instant computing support and system access for business purposes as and when required. Reduction in development costs, capital expenditure and costs aligned to business demands are other prominent benefits cloud computing can offer to the BPO industry. BPO service providers can also leverage the benefits of cloud computing to reduce the time required for processing data-intensive business processes. As such, cloud computing in BPO can potentially enhance the workflow of data processing while reducing the total turnaround time.
Teaming Up with AI Technology – Artificial Intelligence (AI) technology could gain potential control across industries. AI being regarded as one of the most advanced technologies, business process outsourcing providers need to extend their efforts to produce skilled workers to use AI or infuse processes with the said technology. Contrary to the negative views in AI technology, the human workforce and tech advents could work as a team.
Leveraging Automation – Data is no longer restricted to just technological companies as diverse business processes or sectors (ranging from insurance, restaurants, and product management companies) are now using data to improve their marketing strategies, enhance customer experience and understand business trends. Businesses are continually looking out for smart and efficient ways to analyze data. Organized, error-free data is the key to accelerating the growth of a business. However, maintaining data on a daily basis can be tiresome and using data processing services to handle the diverse data entry and analytics needs has become a common practice. Automation has become a big buzzword in the business world. Automated systems play an important role in digital transformation, enabling organizations to optimize business processes and enhance operational efficiency. With the advances in automation technology trends, buzz words like hyper-automation are growing, meaning that businesses are now shifting their practices towards creating "people-centric" smart workplaces. Businesses can benefit immensely from hyper automation like – automated business processes, greater compliance and productivity, reduced errors and risk, advanced analytics, increased team collaboration, greater employee satisfaction, high workforce engagement capability and more.
Increased Focus on Security – Industry specialists anticipate that more and more businesses are going to concentrate on addressing the security challenges in 2020. In recent years, security threats are getting more prevalent in outsourcing. High-tech security systems will now become an industry standard. This awareness is going to propel businesses and outsourcing ventures to keep on experimenting with security systems to deal with the dilemma of security threats. Reports from an outsourcing study done by Deloitte (2019) identified that 64% businesses intend to concentrate more on setting up security standards or finding a concrete solution to address the security threats.
Multi-tasking and Multi-sourcing Gains Momentum – As efficiency gains are skyrocketing for those who work with top-notch BPO firms, more are cultivating teams with multiple skill sets to keep workflows moving. For instance, bilingual representatives were quite rare in call centers, resulting in bottlenecks for others. This has changed and moved to a model where all or many representatives are bilingual. Organizations are getting great results from their BPO firms, and as such, are returning to the same providers for solutions for other business process issues. For example, many start with a single service, such as customer contact centers or data capture, and then build the number of services being outsourced overtime to amplify the results.
High Accountability in Services – The skyrocketing demand for business process outsourcing services has resulted in a number of newcomers entering the market, offering to slash costs further for organizations. Unfortunately, these inexperienced providers often fail to deliver services as they guaranteed. The new trend is that businesses are now carefully examining their service contracts to ensure they have visibility into what the business process outsourcing company is achieving and accountability measures in place when expectations go unmet.
Shifting to a More Customer-Centric Process – Apart from the technical concerns in teaming up with AI technology, focusing more on a client-centered approach is a trend. In fact, improving your client's experience never goes out of the valuable approaches in business.
Offering a More Skilled Workforce – The demand for a more skilled workforce is one of the most important trends in outsourcing. As more technology advancements emerge, business process outsourcing companies must strive to provide training and skill boosters for their workers. This makes room for more chances to adapt easier to changes. Hiring the right staff to aid your business is a crucial step; it will also benefit your brand on a larger scale.
The growing trend among organizations to focus on core competencies and avoid any excessive expenditure on non-core competencies is expected to fuel the growth of the business process outsourcing market. In today's fast-paced BPO industry, the basic need is to be able to adapt according to the current changes in the economy. Business process outsourcing firms that offer BPO services must cater to wider possibilities when it comes to technology's openness to change. Investing in a professional business process outsourcing company could help business organizations improve productivity and efficiency in the long run.