With growing data volume and fierce competition, businesses need to constantly evaluate the information available to gain insights necessary to survive in the race. Professional data entry services help organizations to streamline the available data and use it in the most effective manner.
Apart from using data efficiently and making better informed decisions, future-proofing your business is also essential for survival. Future-proofing is the process of anticipating the future and developing methods to minimize the effects of shocks and stresses future events may bring. Future-proofing helps to protect your business against any negative effect. Use of innovative, emerging technology is a very important consideration in this regard, and this will help defend yourself against the technological advances your competitors may be making.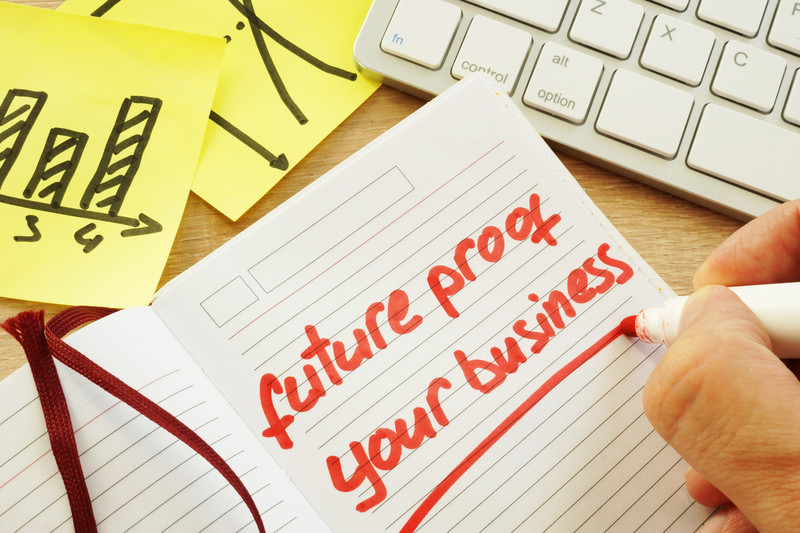 Following are some tips to future proof your business:
Consider the impact of the Internet: With the emergence of the internet, businesses are now able to access markets on a global level. It is important therefore to be aware of how it can affect your management strategies. Whether engaging in an outsourcing contract or introducing changes in your management structure, streamline where you can and focus on your employees. Employees in an organization are the best tools to future-proof your business. When employees are happy and more focused, they are more likely to see any issues before it can cause any negative impact.
Ensure privacy of your customers: Now that everyone is connected and online sales are growing phenomenally, ensuring customer privacy is the moral and legal responsibility of every business. Under the Data Protection Act 1998, safeguarding your customer's privacy is essential and with the General Data Policy Regulation (GDPR) passed in May 2018, anyone wishing to trade with Europe will have to abide by the new data laws. This ensures more customer protection and keeps the data safe and private.
Focus on retaining your customers: It is important for any business to provide the best experience for customers. Your brand might be trusted but customers are inconsistent, so efforts for customer retention are necessary. While attracting more and more customers, ensure that you are retaining your existing customers. Failing to close on a potential client or allowing a dormant customer to fade into history will let your business down.
Diversify your product offerings: Majority of the companies achieve success with one product. But this is not a safe strategy. To survive in this competitive world, make sure that you diversify your business and reduce the dependency on one part your business so that a negative impact on any one division of your business will not affect the entire company. This is a good technique to future proof your business.
Rethink past strategies: You may have implemented many strategies but failed to engage with new customers. This means that the strategies you used to acquire the existing customer base may not be useful to get new customers in the future.
Keep track of important things happening on a regular basis: To stay ahead of your competitors, you must regularly keep track of what is happening in developed countries and with other businesses. There are many blogs and other write-ups that provide information about the techniques and strategies used to withstand any negative impact.
Consider future trends possible in culture, values, and lifestyle of people: Identify the present cultural assumptions regarding your industry niche, and think how these might change in the future. Focus must be on adapting your unique products in keeping with future lifestyles and systems. For this, a clear understanding of who your future customers will be is important.
Consider who your future partners will be: This is also very important because the right partnerships can help solve emerging problems across the industry. Partners can also contribute to inventing and improving technology systems that are important in the future.
Ensure transparency: This is the digital age and for a secure future, businesses need to be transparent. Openness is vital when communicating online, regarding the strategies you follow, and the way you run your business.
Understand that remote working may be the trend: It is estimated that the demand for office space is likely to be cut over the next 5 years. Costs for office space will increase with less space being available. Businesses must understand how to work remotely in the best way possible so that they are prepared for the future. Since productivity is all important, understanding how to work remotely is bound to have a positive impact on the future of your business.
Ensure a mobile-friendly business: Mobile is the future and if you want to become a market leader, use mobile technology effectively. Consider ways in which you can increase the mobile friendliness of your business.
Protecting your company from any future setbacks is important. Future-proofing your business helps to minimize the risk of being overtaken by time, and with properly organized data businesses can make better and quicker decisions. The right business partners including professional data entry companies are a major consideration. Future-proofing your business is a continuous process of improvement – this should be based on strategic thinking for the long term and the desire to learn should act as the catalyst in the process.