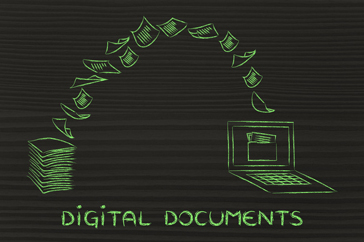 The modern world has and needs advanced technology and equipment capable of sending information to any part of the globe at the click of a button. This kind of information dissemination and access is possible only with digital data, and that is what makes document scanning and conversion so important in the present day world. Though most organizations are moving towards a paperless office, there still remains a prolific quantity of paper records containing a huge mine of valuable information. A viable document scanning and digital records management solution should undoubtedly be an intrinsic part of the overall archiving strategy of business organizations.
Why Digitize?
In this digital age where time is a precious commodity, document digitization saves time. You, your employees, and consumers need not spend long hours trying to locate a required document.
You can have legible and accurate copies of the original documents.
Documents of any size can be scanned.
Scanned documents can be accessed easily even by multiple users in different locations, organized systematically and protected efficiently.
Information can be shared across various platforms and copies of the scanned data can be stored in flash drives, CDs or other storage devices.
With any time access and sharing, productivity increases.
Now scanned files are accepted by most organizations instead of paper documents. This facilitates the processing of agreements and applications and ensures that copies of important documents are instantly available to people who need it.
With document scanning, your files become searchable.
You are ensured enhanced security and customized access.
You can create backups. After scanning, your documents can be duplicated and safely moved to multiple locations to reduce the risk of disasters and facilitate disaster recovery.
Considerably reduce storage and other related costs.
Industries like healthcare, banking, insurance and various other sectors are struggling to settle a balance between digital data and physical data. Not just business organizations, individuals can also scan their important documents.
What to Digitize
Every business will have a huge pile of documents that need to be digitized, but it is important to determine what information should be digitized and what data should be shredded. Consider the relevance and future use of data that should be digitized. In some cases, important paper documents should be scanned and the originals kept in locked storage space.
You should safely maintain various records like tax records, mortgage records, bank statements, transaction statements, employee records etc and these data should be kept forever.
In the case of individuals, some documents like birth certificate, marriage license, vehicle titles, house deeds and mortgage documents etc need to be kept forever, and documents like medical records, tax documents, warranty documents and receipts etc should be kept only for few years.
It is always important to shred documents that are not important because it ensures security of your data and prevents strangers from accessing them.
Ensure Your Business Is Future Ready
If you are planning to digitize your documents, ensure that you utilize reliable document scanning services to benefit from customized service at affordable rates. Now, document scanning has become one of the basic needs of any business that can ensure your business is well-prepared for the future. In this important step forward, a dedicated document conversion company can be of immense support ensuring integrity of your files and easy reference capabilities.