People love the concept of being able to complete tasks using any device nearly anywhere in today's technology age. This trend has significantly impacted book reading habits among people as well. Although some avid readers still prefer the traditional paperback or hardcover editions of books, for a larger audience eBooks are increasingly popular since they are more convenient and there are numerous free ebook reading apps available. Today, many publishers use ebook conversion services to turn their print books into digital versions.
The world of publishing has undergone a major change thanks to e-books. Ebooks can be read on a tablet, smartphone, computer, or other digital device. They are lightweight and convenient. A library can be at your fingertips if you have an eBook reader device. The ability to store thousands of books on a single device makes eBooks a huge space saver. EBooks are more affordable and more environment- friendly than paperback books because there are no production or delivery charges.

15 Free Ebook Reading Apps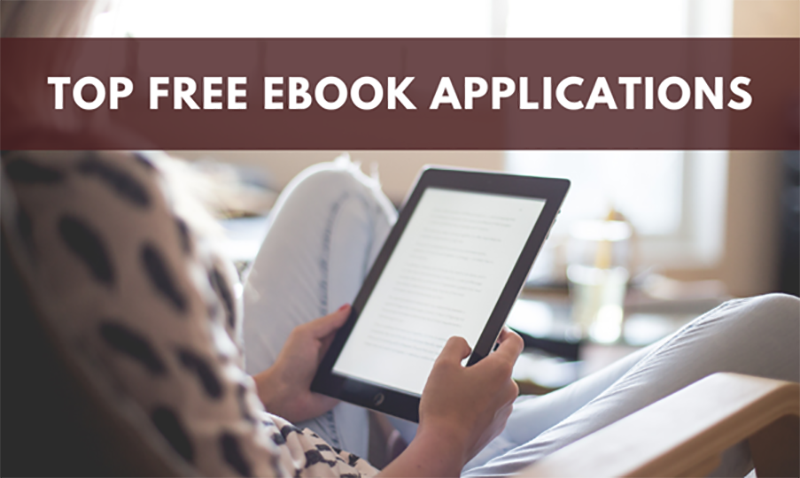 You'll never run out of books to read again if you keep your charger nearby and download one of these top-notch free ebook reading applications on your Android or iOS device, smartphone, or tablet.
Kindle: Kindle is one of the most popular reading apps for free, introduced by Amazon to help readers download books, articles and such interesting content.This reading app has an inbuilt dictionary and text highlight option to ensure a great reading experience. Kindle ebook app is directly linked with Kindle store from where you can download books for reading and sharing. It is a convenient reading option also because of its availability on almost all the mobile platforms.
Nook: Nook is one of those reading apps for Android and iPhone and also syncs with other devices on the same network in the cloud, making it incredibly simple to use. On this free ebooks app for Android and iOS, you may download publications like newspapers, articles, novels, and other pertinent materials. In addition to the numerous customization features it offers, such as zooming, changing the font, quick searching, etc., users find this free reading programme to be convenient to use on small screens.
Goodreads: This is one of the largest reading communities. On Goodreads, there are many free books to choose from. Although there are many paid books available as well, this app is quite well-liked by individuals who want some of the top recommendations. You can play trivia, view quotes, and even take part in prizes. This is an online community where practically any book can be found, making it a reader's heaven.
Scribd: Users from all across the world read ebooks online using the Scribd app. Through this reading software, you can download books, documents, periodicals, and audio books. This eBook app's distinguishing feature is online document sharing in multiple formats. It's interesting that those who enjoy writing can post their work and share it with users all over the world using this free reading software.
Kobo: This is undoubtedly the app to keep an eye out for if you're searching for a way to connect with your social network and receive helpful tips, suggestions, and more. Kobo has a built-in online bookstore where you can browse a huge selection of books, both free and paid. One of this app's best features has to be the variety of file types it supports, including epub, CBZ, CBR, and even PDF. Your social networking connections can like and remark on your reading activities.
Google Playbooks: To read all of the Google ebooks that are available, use the free Google Playbooks app. In addition to books that you may buy online, there are also novels that you can download for free. The book will be downloaded and saved immediately in your Google Books section; all you have to do is choose the book. Over a million book titles are accessible for download on the app, making it one of the largest collections of ebooks.
Inkit: The free ebook reading app Inkitis is most well-known for books, particularly the most popular and up-and-coming ones. It's true what you just read! If you enjoy reading novels, look through the many lists and reviews to decide what to read next. Your search history and reading preferences will be taken into account when making the finest recommendations for the subsequent book you should read.
Aldiko: Download the free Aldiko reading app to get books sent to your phone's personal library for quick access. By adjusting fonts, margin size, brightness, page turning, and other reading preferences, this ebooks programme will improve your reading experience.The built-in capabilities of this reading programme also allow users to add bookmarks, change the size of the screen display, and organize their library through tags and collections.
Readera: This is a handy reading tool that can open just about every ebook file type, including PDF, EPUB, Microsoft Word documents, and some I've never heard of. Here is a guide on how to read a DJVU file. It automatically recognizes downloaded books and has programmable reading preferences. It works with Android mobile devices.
Bookfunnel: Free chapters, short tales, and even novels are a terrific way to find new authors. Immediately syncs with your Kindle Fire. It works with Android and Kindle.
Libby: By just attaching your library card, this app enables you to access anything in your local library's database, including ebooks, audiobooks, and even periodicals. Even if Overdrive was created by the same firm, this software is more user-friendly and, let's face it, more attractive. Both Android and iOS support it.
Wattpad: This network is a fantastic resource for finding new favorites because it enables authors to introduce eager fans to intriguing new works. It's designed for social reading and lets you take notes while reading to share your ideas. It runs on Microsoft, iOS, and Android.
Audible: Amazon offers a variety of levels for their audiobook subscription service, allowing you to scale it to fit your listening style. It works with any Amazon device, iOS, Windows Phone, computers, and a lot more.
Ibooks: Apple's online store for both audiobooks and ebooks is called IBOOKS. It is easy to use and available on all Apple devices.
Profilic works: This network, which syncs to the majority of eReaders, is set up similarly to BookFunnel to assist readers in discovering new authors by offering free promotional readings. It runs on iOS and Android.
People no longer need to drive to a bookstore or library because there are so many free ebook reading apps available. No one needs to spend hours looking through the numerous bookcases or waiting for their order to be delivered. People are currently obsessed with eBooks because of their ease of access, efficiency, and a number of other features. Additionally, eBook conversion services improve the publication's aesthetics and appeal, adding value to the content.