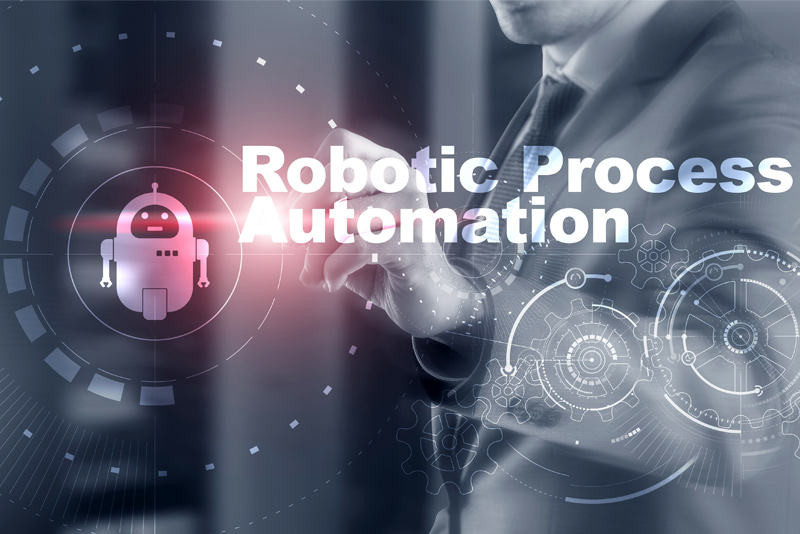 RPA is a type of business process automation based on software robots that perform tedious or time-consuming business tasks to speed up enterprise operations and reduce costs. RPA bots can interact with any system or application to perform a large amount of operations in desktop and cloud environments. By easing digital transformation, and freeing resources to focus on process improvements, it offers greater return on investment (ROI). Reliable RPA services can enable businesses to speed up digital transformation.
According to a report from Fortune Business Insights, the global robotic process automation market size is expected to grow from USD 1.61 billion in 2021 to USD 7.64 billion in 2028. The market that was worth USD 1.29 billion in 2020, is expected to grow at a CAGR of 25.0% during the forecast period 2021-2028.
To continue their business after the lockdown, most companies are relying on digital systems to automate both back-end and front-end processes. The adoption of RPA software is expected to mitigate the impact of the pandemic across businesses. This automation technology is also considered one of the finest software to boost work-from-home and remote location productivity, improve business situations and help companies overcome the economic recession.
The healthcare industry is expected to experience positive growth in the forthcoming years. In the healthcare sector, the rising number of COVID-19 cases has increased the demand for RPA. As manual registration process is time-consuming and more prone to errors, hospitals have started deploying automation solutions for front desk operations such as registering cases, tracking health records, and maintaining the treatment status. Bots can also automatically schedule patient appointments and assist in handling the increased volume of medical supplies.
Key factors that are expected to drive the RPA market growth are –
Increasing adoption of advanced technologies
The demand by organizations to handle complex unstructured information
Increased demand to automate any business functionality from end-to-end
Also, the rising deployment of Platform as a Service (PaaS), Infrastructure as a Service (laaS), and Software as a Service (SaaS) offerings for cloud computing, and customer relationship management is expected to fuel the growth of the market.
However, infrastructure and customization issues associated with RPA may restrain the market growth.
Segmentation
The market is segmented on the basis of deployment, operation, application, industry and geography.
By deployment, the market is categorized into on-premises and cloud segments. Owing to in-house ownership, the on-premises segment is expected to lead the market. At the same time, the cloud segment is expected to be the fastest growing in the forthcoming years owing to benefits such as lower infrastructure cost, ease of deployment, and reduced operational costs.
The operation segment is divided into rule-based and knowledge-based. The rule-based operation holds the largest market share as it efficiently performs repetitive tasks within the workflow and process-related applications with less or no human resources intervention. The knowledge-based operation segment is expected to grow at the highest CAGR during the forecast period, mainly after the integration of automation with cognitive technologies.
The application segment is further divided into administration and reporting, customer support, data migration & capture extraction, analysis, and others. The administration and reporting segment captured the maximum share as the automation software can quickly and efficiently automate most of the work of the administration and finance departments. Offices can free up their staff to focus on adding value and supporting business growth.
The Analysis segment is also expected to exhibit the highest CAGR during the forecast period as it helps companies analyze operations, namely, service trends, invoices, reports, and other day-to-day work. Data migration and capture extraction helps extract essential data that is required for handling customer queries from the database with less time.
By industry, the market is categorized into retail, manufacturing and logistics industry, BFSI, healthcare, IT and telecom, hospitality, and others. Owing to the rising use of RPA for regulatory reporting and balance sheet reconciliation in banking and insurance companies, the BFSI holds the largest market share in the market. Financial services firms can use RPA to monitor and control various interfaces and ensure seamless execution of transactions. Healthcare is anticipated to showcase the highest CAGR in the coming years, as RPA tool is increasingly used to implement accurate and fast automate processes, such as clinical data interoperability, admissions and discharge, and health plans.
The growing digital transformation in the IT and telecom industry is also likely to drive the demand for software during the forecast period. The manufacturing and logistics industry is also set to grow in the near future, owing to the rising data complexity.
Geographically, the market is fragmented into five major regions, North America (U.S. and Canada (By Application), South America (Brazil, Mexico, Argentina and Rest of South America), Europe (U.K., Germany, France and Rest of Europe), the Middle East & Africa (GCC, South Africa, Rest of the Middle East & Africa), and Asia Pacific (China, Japan, India, Southeast Asia and Rest of Asia Pacific).
Owing to the growing adoption of automation and process management solutions by large as well as small and medium enterprises, North America accounts for the major market share.
Also, the United States government is encouraging all the other agencies to deploy automotive solutions to streamline their work processes, and this is expected to foster the growth of the global market in the region.
Due to the rising demand for automotive solutions from every industry present in the region, Asia Pacific is anticipated to be the fastest-growing region during the forecast period.
China and Japan are expected to dominate with the maximum market share, whereas India is likely to exhibit rapid growth in the upcoming years.
With the growing adoption of advanced technologies, the industries in South America are focusing on automating their business processes.
Key players in this market include Automation Anywhere (California, U.S.), Blue Prism PLC (Warrington, U.K.), IPsoft Inc. (New York, U.S.), Kofax. Inc. (California, U.S.), Nice Systems Ltd. (Ra'anana, Israel), NTT Advanced Technology Corporation (Kanagawa, Japan), Pegasystems, Inc. (Massachusetts, U.S.), Redwood Software (Houten, Netherlands), Uipath SRL (New York, U.S.), and OnviSource, Inc. (Texas, U.S.). These players are further expanding their operations by collaborating with cognitive technology providers and offering new solutions and services to their customers Professional BPO companies are also investing in advanced technologies such as RPA and AI to handle high-volume tasks easily for any business.