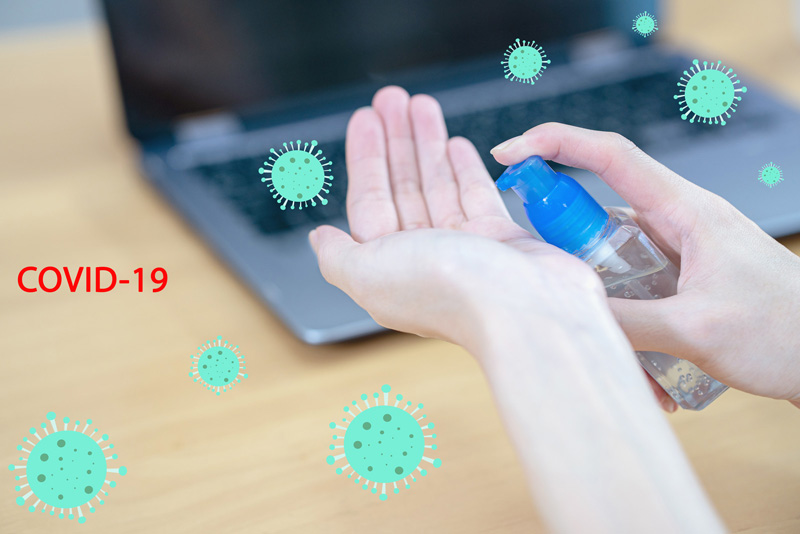 As the new coronavirus COVID-19 is spreading rapidly across the globe and throughout the United States, the government has declared shutdowns and social distancing to stop further positive cases. Being a severe respiratory disease that can spread from person to person and since no immunizations are available to prevent this sickness, the ideal approach to prevent this ailment is to prevent exposure to this virus. Therefore, many businesses, schools, airlines, public transport and so on are temporarily shut and people have been asked to stay at home. Employers are confronting difficult questions regarding how to handle safety and health rules, travel restrictions, leave and accommodation, immigration, and other employment issues. Businesses that are working virtually such as business process outsourcing companies need to ensure that they are prepared to deal with the impact of the coronavirus in the workplace.
Even though there are legal requirements that are relevant in the current pandemic scenario, there is no one-size-fits-all solution or advice for businesses. The actions that may be practicable and suitable for a large, global business may not be so for others. Specific legal advice will also be required for employers in such unique circumstances, which might provide alerts on tangible recommendations to respond to the coronavirus, including steps necessary to comply with applicable law. Employers are advised to monitor and adhere to the evolving guidance from the Centers for Disease Control (CDC), the WHO, as well as that provided by federal, state, and local governments in determining whether additional steps are necessary as the situation evolves.
As of now, employers are beginning to adapt to the working conditions and shutdowns due to COVID-19, and they have to think about what they can or should be doing to ensure the health and safety of their employees. Moreover, they should also think about how the teams will be working remotely as the engagement and overall productivity could dip during this period. Further, beyond certain legal requirements, employers should consider the unique nature of their organization and tailor their response to their circumstances, and seek legal advice for specific situations not covered by this alert.
Here are certain actions that employers can take to support the health and wellbeing of their employees.
Boost your corporate communications: Forbes reports that "28% of employees, that is, nearly 3 in 10 employees, have reported their employer still has made no changes in response to the COVID-19 outbreak. Although it's barely been two months since the first US case was reported, it's crucial that employees receive clear communication from corporate leadership about the organization's approach to the new landscape with the virus in order to feel safe in their jobs and work efforts. Even if no changes are necessary for the day-to-day functions of business, employees want to be informed and reassured around this".

It's very important for you to respond the situation very gracefully, as everyone responds to stress differently. Share information only from credible sources such as the CDC and WHO, and do whatever you can to keep your corporate communications neutral from political viewpoints. By doing so, you may put in an effort to reduce unnecessary scandal, panic, or misinformation. Focus mainly on health and safety, and for that share health guidelines to your employees to reduce any internal potential spread of the virus. Also, make sure you communicate to your employees regarding how this outbreak impacts your business.

Here is a process flow to help you keep your communication personal, clear and supportive:

Open with acknowledgment such as intention of the letter and express your top priority. In times like these, the health and safety of your employees is priority, so your opening should look like, "COVID-19 is a serious concern, and your health and wellbeing are of the utmost importance. This is why…"
Make sure you share how the current outbreak changes will impact the business and your employees. Address what changes directly impact your employees such as work from home, furlough, take-out versus dine-in transition and so on.
Share your further steps and establish communication with them. Identify what changes upper management has already taken, and what steps are coming forward as a result.
Maintain your communication with your employees and always present them with options for additional support.
As many employees may be anxious, scared and stressed, offer access to psychosocial services for employees and their children.

Revise your sick policies: On April 1, 2020, the U.S. Department of Labor announced new action regarding how American workers and employers will benefit from the protections and relief offered by the Emergency Paid Sick Leave Act and Emergency Family and Medical Leave Expansion Act, both part of the Families First Coronavirus Response Act (FFCRA).

FFCRA helps the United States combat the workplace effects of COVID-19 by reimbursing American private employers that have fewer than 500 employees with tax credits for the cost of providing employees with paid leave taken for specific reasons related to COVID-19. The law enables employers to keep their workers on their payrolls, while at the same time ensuring that workers are not forced to choose between their paychecks and the public health measures needed to combat the virus. The Department's Wage and Hour Division administers the paid leave portions of the FFCRA.

According to a Glassdoor survey, 16% of employees indicated their companies offered additional leave (paid and unpaid) due to the concerns around COVID-19. Implement amendments to your leave policy specific to COVID-19 and any similar outbreaks that extend the leave time for these unique circumstances.

Accept working remotely: At first, many companies have been resistant to the concept of remote work, but they are now being forced into it and have no choice but to adjust to the change. Virtualizing business activities has many advantages, that include:

Cost savings: Reducing the need for employee workspace saves money on overheads (expenses such as commercial building leases, utilities, insurance, etc.)
Flexibility: Virtual business organizations can react faster to changes in the marketplace.
Happier employees: Working from home creates a better work/life balance for staff.
A larger employee base: Since employees can work anywhere, organizations can provide employment in rural locations or areas of high unemployment.

Forbes reported 60% of employees reported that they feel confident as they can continue to execute their jobs effectively, particularly the younger generation (ages 18-34). However, 22% of employees are concerned about going "stir crazy" from being mandated or encouraged to work from home, as everyone is looking for human interaction. A good solution is to offer to host a virtual team happy hour or help set up coffee one-on-one meetings for employees to stay connected and perhaps get to know each other on a more personal level (forbes.com).

Some ways to make a virtual team happy hour engaging include:

Hire a motivational or keynote speaker virtually who can host a Q&A session with your staff.
Host a learning club which offers up a book, online course or training for employees to do during the week and discuss together.
Invite a new team member each week to answer a list of questions, keep it light and use this as a way to get to more personally know your staff.
Apart from these, to ensure compliance under the Occupational Safety and Health Administration (OSHA) Act, the National Labor Relations Act, and any other applicable state and local laws regarding employee protections, employers should address employee safety concerns on a case-by-case basis, which we had already discussed in this blog.
Businesses must stay compliant with the ADA and all applicable state and local laws. It would be ideal for employers to keep track of rapidly emerging developments and develop an emergency action plan. Even if you work remotely, you should provide appropriate training and support to managers and maintain open communication with the workforce. Experienced providers of business processing outsourcing services will follow all safety practices to protect their employees. Do all the needful to ensure your team is productive, supported and most importantly, healthy, because, a protected staff is a protected business.