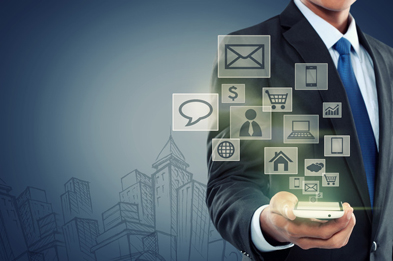 Mobile app development is getting more and more relevant with smartphones and tablets being the devices preferred over laptops, not only for casual browsing but also business operations. This trend is directly proportional to the need for real-time data.
In the coming years, the mobile device could be the protagonist of a gradual change in the way things are being done. The seeds of this growth have already been laid and its effects are being felt in business functioning and sales strategies.
App Development for Improved Business Processes
Need for Real-time Decision Making
The speed of business decision making has been accelerated thanks to the availability of real-time data with the increasing automation of business processes. Decisions need to be made, notifications responded to, and approvals issued in an instant, and probably, in situations beyond the physical boundaries of the office. That's where the mobile device comes in. Businesses need to adapt to the increasing use of mobile devices or risk being left behind.

It is now becoming easier to add inputs to a business process through a mobile device than on a laptop since mobile app creators have the default goal of creating a simpler, faster and cleaner interface that will get the job done easily and provide a pleasant user experience. This only strengthens the trend towards mobile devices.

Better Coordination among Staff
Mobile devices facilitate better collaboration between staff members within and outside the physical office. This proves crucial in businesses where employees have field work, meeting prospective customers and being armed with data, such as in the insurance business. Real-time data input also takes place, and that information can be shared by the employee with others then and there.
App Development for Better Sales Strategies
Engagement Rather than One-time Sales

On the sales front, brands would focus on engaging users or potential customers multiple times through mobile – by way of reminders or some other kind of interaction. An example would be your bank giving you a reminder every morning of the free cash you have. That's the direction, experts believe, brands will be heading to – not selling and forgetting, but continuing to engage in a manner useful for customers that also serves to ingrain the brand in their minds.
Mobile Payments

A classic example of engagement is enabling users to make payments through their mobile phone. This trend is set to keep growing. It is significant that Apple Pay now supports cards used in 220,000 outlets in the US and they now represent around 90% of the purchase volume of credit cards in the country. People would soon find paying for daily items convenient through mobile and merchants would capitalize on it.
Rise of Wearable Technology
Smartphone technology is set to advance further and will feature in new environments. There is just going to be no limit to the possibilities where smartphones would prove to be indispensable. Wearable technology has already made efforts to enter the stage with Google Glass and Apple Watch being prominent examples.
While these trends are some of the most common likely phenomena, there could be more revolutionary changes in the horizon that would make a mobile device (in whatever form it appears) indispensable. Is your business ready for it? The groundwork must be laid and user-friendly apps are the way to engage users and make your business or brand more likeable.
With the expanding role of the mobile phone in improving business processes, customized mobile app development make a significant impact on the way your company functions.