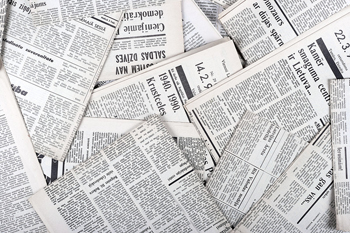 Digitization efforts over the last decade have been ambitious and far-reaching. Today, many institutions are striving towards digitization, for greater accessibility and preservation of their valuable documents. The Indiana State Library, the largest public library in the state of Indiana, is one of the latest to join the league with the conversion of Indiana's historic newspapers into electronic format. This project is part of the 2016 state bicentennial.
According to the report on this venture, the prime objective of the digitization of historic newspapers from every county of the state is create a historic collection for Indiana that highlights state history as well as local history. Other major objectives of the project include:
Increased access to unique materials reflecting the cultural heritage of Indiana
Improved knowledge about Indiana's history among the local residents as well as educators, researchers, and students
Efforts for Historic Newspaper Preservation in Indiana
A project called 'the Indiana Newspaper Project' was initiated in 1980 by the Indiana Historical Society (IHS), a nonprofit organization that preserves and maintains state history to preserve oldest newspapers. Around 9 million pages of historic newspapers were stored in microfilm reels. The contents in these microfilm reels had to be subjected scanning and indexing to convert them into electronic format. In 2011, IHS entered into a agreement with Newspaper Archive to convert more than 2.5 million images from the Indiana Newspaper Project into digital format and provide access to them on a website co-hosted and supported by Newspaper Archive.
The efforts to preserve historic newspapers in Indiana began long ago. For over a century newspapers, including The Times kept copies of their printed work using microfilm and has about 2,100 reels of microfilm in addition to microfilm records. However, with microfilm equipment becoming obsolete, The Times recently began to look into options to preserve the material digitally. The newspaper's Editorial Page Editor happened to learn about the Indiana State Library's Digital Historic Newspaper Program and as The Times had the same goals, decided to partner with the Library for the digitization venture.
Financial support came from the National Endowment for the Humanities which offered grants to each state for the digitization of newspapers. Both the Indiana State Library and the Indiana Historical Society received two cycles of grants for converting newspapers from 1826 to 1923 into electronic format. With these funds and support from outside vendors for scanning, digitization and archiving, the Indiana State Library project is all set to become a big success.