Being a document scanning company with years of experience in assisting diverse financial institutions with their document management, we know that large banks have to deal with millions of paper and digital documents every day across their corporate offices and numerous branches. Digitization is the only option left for such banks handling such huge set of paper documents each day. Storing old physical documents in file cabinets and boxes off the bank's premises can not only cost storage space, it can also increase the chances of missing relevant documents. Handling this huge data is a growing challenge.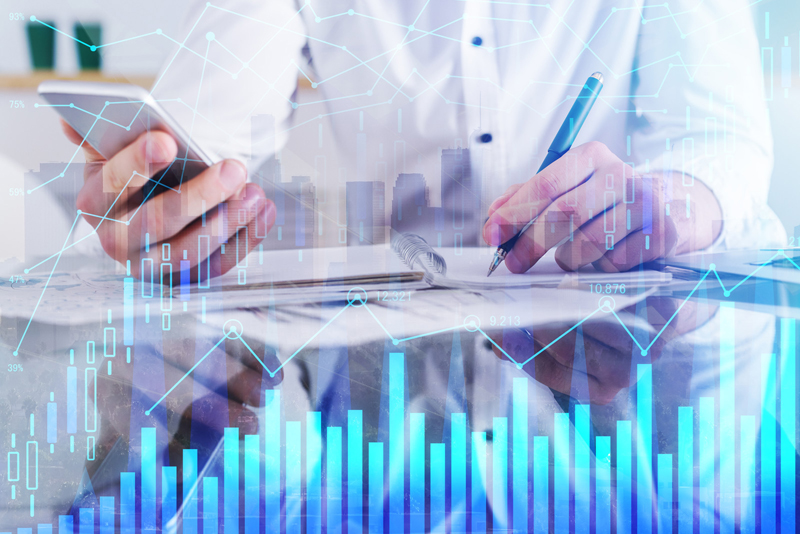 Searching data is a major concern in banks
Bank employees spend most of their time in finding information relevant to them. In the case of manual documents, this could even take weeks or months, and the same process should be repeated to find different information at a later date. Often they search for documents to generate customer analytics, solve customer support inquiries, and to remain compliant with local and regional laws.
Manually searching through paper documents, microfiches, PDF scans, and digital forms in a variety of file types is time-consuming. Artificial Intelligence options such as natural language processing (NLP) and machine vision can help. Finding where that information is located is paramount for banks. It is also critical for bank's HR or customer service department to quickly find out all of an employee's or customer's information.
Banking and Finance Industry Adopting Digital Solutions
According to a report from Adroit Market Research, the global digital transformation in banking, financial services, and insurance market (BFSI) is expected to reach USD 121.70 billion by 2025.The key factors that are driving the growth of this market include increasing adoption of smartphones and smart devices, growing digital payments, the introduction of digital currencies and the use of big data tools to analyze a large amount of financial data.
Key highlights of this report include
The implementation of cloud computing in BFSI has increased the overall efficiency of the industry and these services are helping banks focus on enhancing their product portfolio and offer quality assistance.
The adoption of new technologies such as blockchain and artificial intelligence are witnessing strong demand in the industry and are expected to grow at an exponential growth rate during the forecast period.
AI and Banking
Document scanning service in banks makes it easy for data to be easily accessible to other departments in order to be useful. While microfiche scanning and digitizing could save employees time, allowing them to focus other core activities and enhance the customer experience, artificial intelligence (AI) could be used in banking for diverse purposes – document search, document digitization and information extraction purposes.
Huntington Bank Benefits from AI Platform
For instance, Huntington the best-performing bank across multiple states in the U.S. has added up an artificial intelligence enhancement to its digital platform called Huntington Heads Up. Features of this AI platform include alerts when your balance might not cover upcoming charges based on typical spending; subscription payment alerts, including when free trials are ending; and protection on double charges from vendor. It also provides various personal insights for customers into their financial wellness as they set and reach their goals, based on their spending and saving habits.
The most recommended AI solution for bank is Machine Vision OCR.
Optical character recognition (OCR) software helps to convey the information accurately by recognizing letters and characters by shape and reproducing them in a digital format in the same order they were written. It can also digitize all information from scanned documents and save the information to a database for customer information and important records.
How Banks Can Use OCR
OCR technology can be used to digitize documents such as checks for remote deposits, details on a credit or debit card, paper applications for mortgage loans and credit cards, and bank statements for customers.
Customers can also benefit from the bank's OCR technology with smartphone apps through which they can scan checks in order to make a deposit remotely. Employing OCR at ATMs help to accurately digitize the personal information on a bank card, which is to be verified by a security system.
Customer's application for mortgage loans and credit cards can also involve a high volume of paper documents. OCR software helps to scan paper applications along with various other forms of paperwork. The software could be trained to recognize new text arrangements and alert a human monitor about the change in format.
Banks could also use OCR as a means of stronger transaction security and risk management. OCR can be used in conjunction with other automated operations such as RPA and natural language processing (NLP) to add another layer of risk assessment for any paper document.
Mortgage agreements and contracts
Banks can also use AI platforms to digitize mortgage agreements from paper. This will allow employees to read through them faster and thus save their time. An AI-based document search or information extraction application allows the employee to find information such as mortgages of a certain amount issued within a certain date range, those issued in a certain geolocation within a certain date range and agreements containing specific clauses or iterations of those clauses.