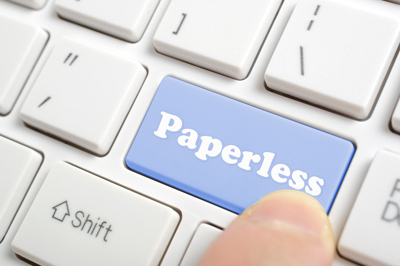 Healthcare organizations have to deal with a lot of paper documents containing patient data, financial data, and human resource data. Managing these paper files efficiently is a cumbersome process. To address this, many healthcare facilities are adopting digitization of clinical files and electronic health record systems. It is reported that EHR use by office-based physicians rose from 18% in 2001 to 48% in 2009, and finally to 78% in 2013.
However, some healthcare facilities, including behavioral health organizations lag behind others in adopting the new technology, due to reasons such as limited opportunity for Medicaid EHR incentive or ineligibility to get federal incentive to subsidize purchases of electronic health record (EHR). Despite these challenges, behavioral health physicians are moving ahead with some new ways to eliminate inefficient paper processes from their workflow.
Measures to Remove Paper Clutter
Document Scanning of Old Clinical Data
Scanning a year's worth of paper documents into a new system can help not only to address storage challenges but also to avoid shuffling between nursing, counseling and medical staff records. With a proper medical document management system, it is possible to prevent loss of medical records and other vital documents. If you are not a large firm with in-house document scanning solution there are several document scanning companies that are HIPAA compliant who can either do it at your office or at their facility and purge the records if needed.
Advantages of digitizing important clinical data are:
Scanned electronic documents can be preserved for a long time
Save space and money
Reduce administrative time in searching for clinical documents
Allow clinical staff to access files simultaneously
Electronic Billing
Implementing an electronic billing system in place of paper billing statements has proven to be effective in improving efficiency, patient safety, and reducing healthcare costs. It helps to easily obtain reimbursement for services rendered. Benefits of electronic billing include:
Eliminates the need for paper claim submission
Electronic reports can be kept as proof of claim receipt, which makes it easier to track the status of claims
Faster transaction time
Validation of data elements on the claim form can be done easily. Moreover, the system reduces the chance of data entry errors that may occur with the use of paper claim forms.
Quick processing of claims
Compliance
Keeping track of the compliance and training needs of staff is difficult in a paper world. Electronic papers can help in keeping track of details such as when treatment plan paperwork is due or when notes have to be signed. Apart from this, electronic records facilitate confidentiality compliance checking.
Electronic Signatures
Capturing client signatures is a major hurdle for organizations planning for complete digitization. However, now electronic systems are available that allow clients to sign their treatment plans electronically using a module and a signature tablet.
Online Scheduling
Medical files in digital format allows clinical staff members to arrange clients' appointment schedules easily, as they can have access to client files on a 24/7 basis. With this arrangement, hospital members can remind the client or the family of an appointment date even when the clinician is at the client's home via a smartphone, laptop or tablet.