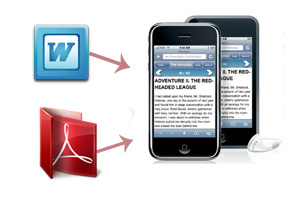 Until now, entities in the e-Publishing industry had to select from different formatting options when converting a book into digital format to be read on various mobile devices such as Kindle, Sony Reader, Nook and iPad. The eBook conversion industry didn't have a common formatting standard that would help customers read eBooks in one format in different eBook readers. Things have now changed with International Digital Publishing Forum (IDPF) coming forward with a free open e-book standard called ePub. This has been widely accepted in the e-Publishing industry. An ePub file can be read on devices such as iPad, Sony Reader, Nook, Adobe Digital Edition and even on Smartphone devices such as Blackberry and iPhone.
Basic ePub conversion consists of a basic formatting check, conversion of client-supplied file in DOC, TXT, RTF or HTML formats into ePub, cover image insertion and creating an interactive table of contents. In addition, you can convert ePub format into other formats such as PDB, RTF and MOBI and run them on devices which include Barnes & Noble and Kindle.
For your eBook conversion, consult an established BPO company that can offer you efficient ePub conversion services that have proven immensely beneficial to authors, publishers, businesses, universities, and libraries. Send your MS Word, PDF, InDesign, RTF, Quark, HTML and XML files to your ePub conversion company, and they will convert them into digital eBooks and other publications according to your requirements. Make sure that your ePub conversion service provider complies with all standards put forward by IDPF.