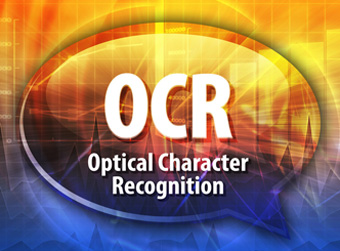 Document scanning and imaging for digitization purposes has become an essential element in any business organization. Digitization is widely used in many sectors such as insurance, legal, medical, media and entertainment and other business sectors. Digitized documents ensure safety, easy storage and quick retrieval of data. It also allows editing of digitized data using advanced software.
Today software systems are available in the market that can convert images into editable text. These advanced software help in avoiding the lengthy process of having to type out the entire document and then edit it. Optical Character Recognition is a technology that allows converting any image file into Word file.
What Is Optical Character Recognition?
Optical Character Recognition is a technology that enables you to convert different types of scanned documents, PDF files or image files into editable and searchable data. OCR works in two different ways:
Pattern recognition: It is the basic way of recognizing characters. It reads the input character and compares it with all the characters stored in the database. The one that matches the input character is selected, processed and the output is generated. There is a shortcoming for this method – if the input character is not clear, the output will not be clear and accurate.
Feature recognition: This technology was developed to address the disadvantages of pattern recognition. In this method, instead of comparing the whole character, the strokes / features of individual characters are compared. This enables the software to recognize the correct character. So, even if the quality of input is low, the output will be generated properly.
How to Use OCR
OCR technology requires some tools to convert a document into editable format. There are many tools available that can exploit the power of OCR and perform the conversion process. These tools are available online and some need to be downloaded. You can find free online tools via Google search and Onlineocr.net/ is one of them.
OCR tools can also be downloaded. Downloaded software does not require an Internet connection to function. You can convert image files into the required text format using this conversion software. The quality of the output and its accuracy depend on the quality of input file.
Document Scanning Companies Can Be of Assistance
OCR technology finds great use in the public records domain, making it easy for people to easily find their birth records, or even look up the criminal records of a person. This technology is beneficial for the legal system, which has to deal with countless cases. When legal documents are scanned and converted, it helps in retrieving the documents quickly and efficiently.
OCR scanning allows businesses to file documents accurately.
e-documents can be tagged, filed and retrieved in many different ways quickly.
Businesses get to enjoy cost savings of maintaining data in disks instead of maintaining huge storage facilities for paper documents.
There are many document scanning and imaging service providers that offer OCR technology at affordable rates and provides output according to the needs of the customer. These document conversion solutions enhance knowledge-worker productivity; improve efficiency of business processes while also improving information security.