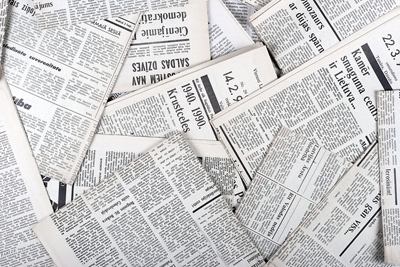 Many national and local programs have been implemented in recent times for chronicling historical newspapers via digitization. Projects that have made headlines include those in Tennessee, Missouri, Indiana, California and North Carolina. Here are the highlights of these ambitious and successful ventures:
The project of the University of Tennessee Libraries and the Tennessee State Library and Archives (TSLA) focused on digitizing carefully selected newspapers of the Civil War and Reconstruction Era. New duplicate negatives were created from the microfilms of these newspapers and were then digitized and made available through Chronicling America, the government website that enhances access to America's historic newspapers. The second phase from 2012-14 focused on newspapers published during the Gilded Age (1870s to 1900).
The newspaper resources of the State Historical Society of Missouri are available in microfilm as well as digital format. Online access to Indiana's historical newspapers is also growing with Hoosier State Chronicles, a website operated by the Indiana State Library, allowing the public to freely search and access more than 30 historic Indiana newspapers. The papers cover more than 80 years of news, from 1840 to 1922. California's digital newspaper collection features up to 74,530 issues comprising 616,761 pages and 7,037,798 articles. The State Archives of North Carolina completed a project to digitize its collection of newspapers from microfilm in 2009. These materials include papers dating from 1752-1890s and comprises a total of 23,483 digital images that can be searched with keywords.
Creating Digital Newspaper Archives
Original newspapers are available in their various forms such as paper, analog microfilms created from the original paper format, and digital versions of newspapers, usually newer and in PDF format. For the digital versions, scanning is not necessary, but the archiving project would include processes such as the creation of METS/ALTO objects for compliance with the XML standards maintained by the Library of Congress, access systems, and measures for digital preservation.
Scanning: Newspaper images are scanned in batches to produce TIFF images. The process can be performed either in-house or assigned to a professional document conversion company.
Image clean up: Scanned images are subjected to clean-up, which include splitting 'two-up' images, cropping borders, de-skewing, and de-speckling, processes that an OCR vendor can efficiently perform
Quality Assurance: Documents are checked on a staging site
Loading images for online presentation: Loading the digitally converted objects for online presentation forms the third stage
Importance of Digitizing Historic Newspapers
Newspapers are a key research tool for school students, casual readers, university faculty, historians, professional genealogists, and any other type of researcher
They contain a wide range of material and provide deep insights about the communities in that particular state or locality
They are a rich source of information about the civic, political, cultural, and social events of the periods they are related to.
Historic newspapers offer a detailed view of the past of the country, something that that few other sources can offer
Digitizing newspapers and making them available online does not mark the end of the process. The collection should be nurtured and maintained to attract visitors and encourage them to engage with the digitized content.