Digitization has become indispensable in this electronic era and any business will find the digital transition easier with the support of an experienced document scanning company. Now, eSignature or electronic signature is becoming more prevalent especially because it is fast, safe and legally binding.
Electronic signature software makes it easy to digitally sign documents such as PDFs. Such software also helps preserve the document's confidentiality and ensures security. The following are some of the commonly used eSignature software.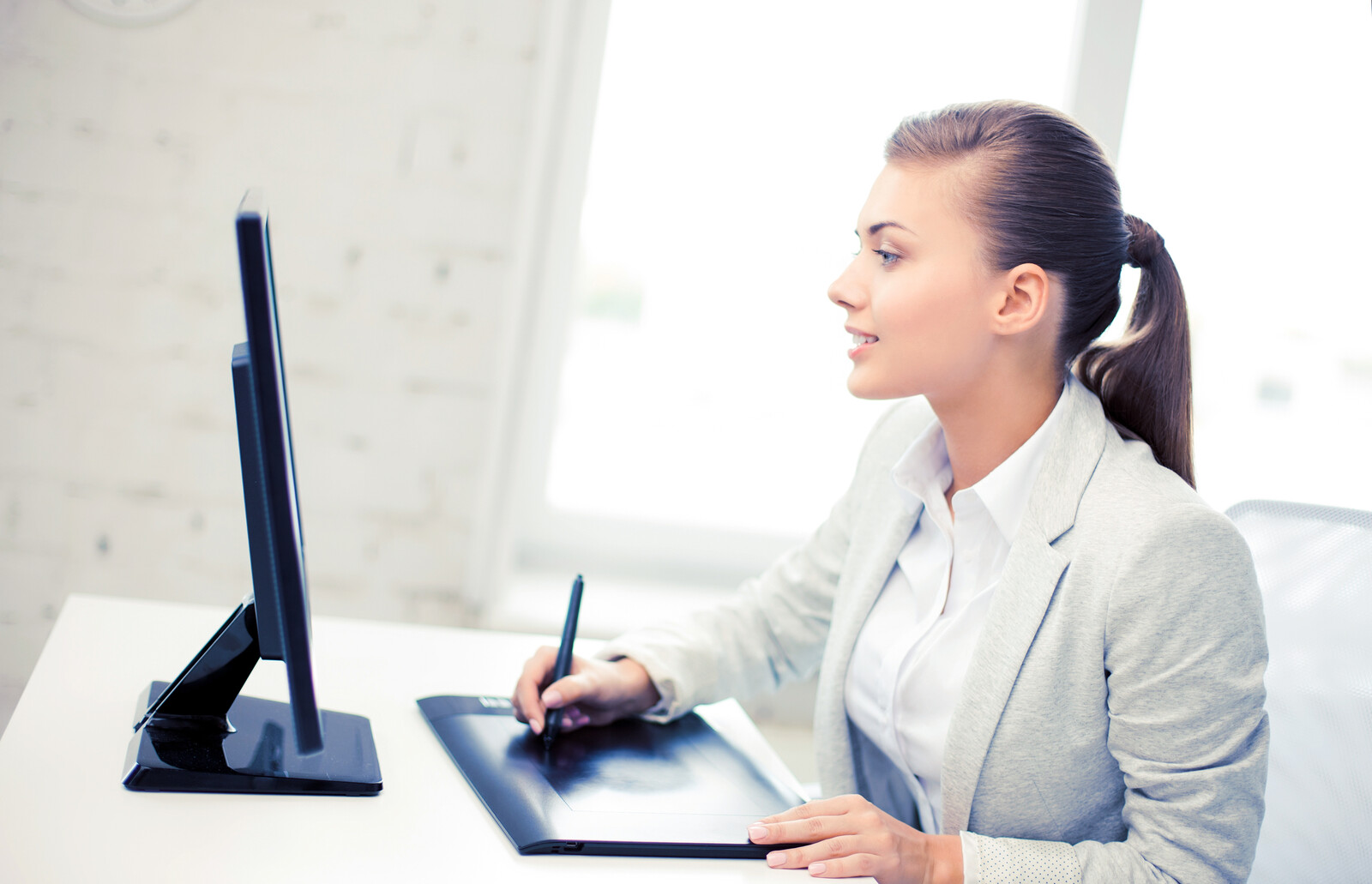 DocuSign – This cloud-based electronic signature solution can be used to sign various types of documents including business contracts, school permission slips, agreements and approvals. You can upload documents, email them to the people that are required to sign, and specify the order in which they should sign. It is also possible to add tags which indicate where each recipient needs to sign. You can embed signature fields into websites and applications as well as into documents. Your dashboard will display the status of each document sent for signing. This helps users to view which stage the document has reached in the signing process and send reminders for pending signatures. This software also allows users to send and sign documents in multiple languages.
 Features of DocuSign
The following are some of the features of DocuSign software.
Highly-rated mobile apps for iOS, Android, and Windows allow you to sign from anywhere even when you do not have internet access.
Helps users know where the agreement is in the signing process. You can set automatic reminders and receive notifications at every step.
Allows you to add standard fields to your agreement like a signature or date or you can create and save custom fields.
Helps save time and standardize processes by storing frequently used agreements along with their custom fields, recipient routing and other settings.
Adheres to the most stringent US, EU, and global security standards, and uses the strongest data encryption technologies available.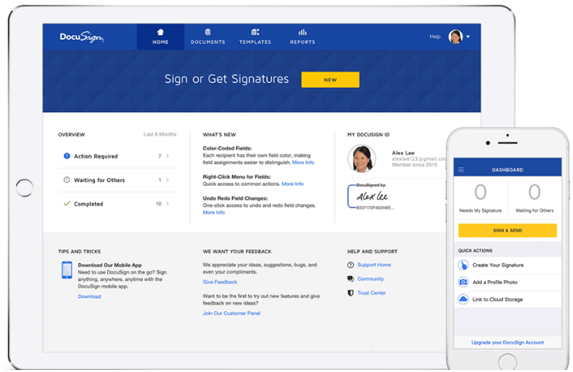 Source: https://www.docusign.com/
eversign Software – This software enables users to prepare, deliver and sign legally binding documents online. The key features of this cloud-based digital signature solution include in-person signing, audit trails, a document editor, contact management tools etc. It provides users with built-in templates for contracts and forms which can be pre-filled with custom text, drop-down menus, checkboxes and other elements. It allows signees to complete forms on desktop or mobile devices. After signing, the documents can be stored in the eversign account; you can schedule them to auto-expire, export them to a private location or permanently delete them from eversign systems after a certain deadline.
Features of eversign software
The following are some important features of eversign software.
Enables customers, employees, partners or contractors to sign documents directly on your PC, tablet or mobile device.
You can either type your name or upload an existing one, or the eversign system will generate a beautiful-looking signature for you.
Keeps track of every past and present transaction, storing a complete and detailed audit trail.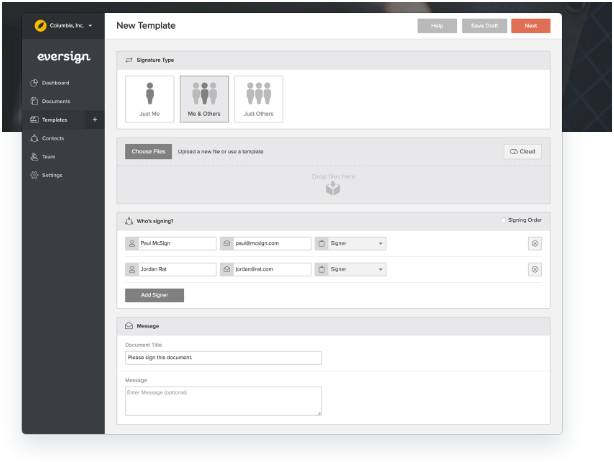 Source: https://eversign.com/features/templates
SignNow – This cloud-based e-signature solution provides form templates, email notifications, two-factor authentication and several export options. It has built-in templates that can be used to set up the document, and customized as per user requirements. It maintains an audit log that displays the entire document creation and signing history for verification purposes. It also allows users to view details such as IP addresses, date of signing as well as the device used for creating or signing the document.
 Features of SignNow Software
These include:
Informs you about a document's status by sending notifications and you will receive an instant notification once your document is signed and completed
Manages your documents by setting an automatic expiration date
Allows recipients to forward the documents to others for signing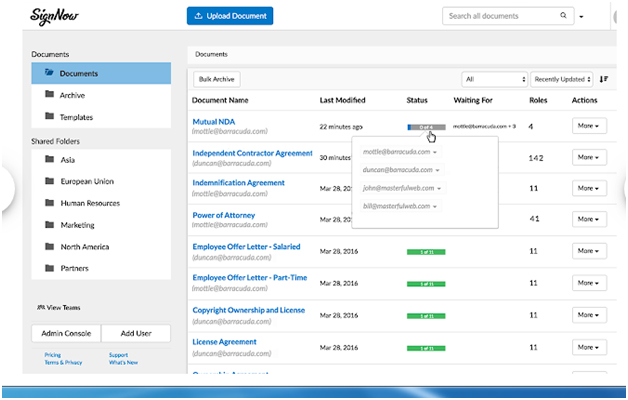 Source:https://gsuite.google.com/marketplace/app/signnow/444055178144
PDCflow – This software allows users to receive e-signatures from customers. It can be used by multiple users within the organization to request e-signatures. It allows users to create multiple templates with authorization language for different payment scenarios. It can be integrated with payment workflows and stores proof of each signature along with payment details. This cloud-based digital signature solution enables organizations to pull audit reports and authenticate signatures using various parameters including email addresses, mobile numbers and time and date stamps. It offers cloud-based security and is compliant with PCI Level 1.
Features of PDCflow
 Here are some of the features of PDCflow.
Provides your customers minutes, days or weeks to sign and complete payments or documents.
Allows the entire staff to send and receive documents and e-signatures.
Builds and saves workflow templates for documents, thereby allowing you and your staff to send repeatedly.
Delivers documents securely and obtains a legally binding signature.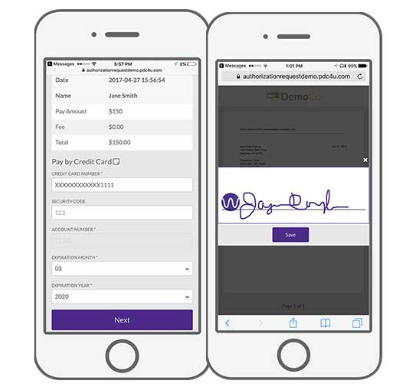 Source: https://www.pdcflow.com/
All these eSignature software are suitable for organizations of all sizes and almost all industries.
Also read our blog about common myths associated with eSignature.