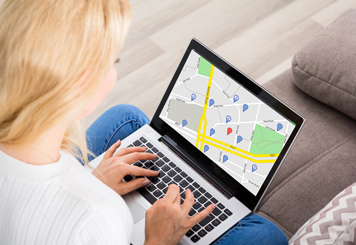 Data inflow is continuous in any business organization, adding to its information stores. Data entry is highly labor intensive and time-intensive, and outsourcing data entry allows organizations to run their business operations efficiently at low cost and also make optimum use of their resources, maximize time and move forward with the core activities. To put data to good use, it is important to make sense out of it and that is where data mapping comes in.
Data refers to plain facts and statistics collected during various operations in an organization. The data can be used for measuring or recording business activities for both internal and external purposes, and it helps to analyze the growth of the organization. Data mapping is the process of specifying how one data or information set relates (maps) to another.
With the introduction of Google maps, Uber etc data mapping has become highly significant. In the transport sector, Google Maps is using data to let users know whether parking is easy or limited at their particular location. Uber has started collecting mapping data for their drivers to inform them of traffic patterns, and accurate pick-up and drop-off locations. Data mapping is helpful in disaster zones to ensure aid and to deploy relief workers effectively to the right areas.
What does this mean for the geospatial industry? Geospatial technologies include the GPS and other global navigation satellite systems, remote sensing, location-based services, and geographic information systems among others. In this industry, there is immense growth in demand for advanced analytics tools including Big Data. While the market for precise mapping data solutions is increasing, the technology needed to process the increasing data sets is also getting more complex.
Extracting value from data helps in improving investments and efficient management of resources. Here are six principles to follow that can help geospatial organizations to optimize their mapping data.
Creating data: The first and foremost step is to extract location data from the organization's records through processes like automated feature or character recognition. Physical assets such as buildings, land or infrastructure which are usually captured from imagery through 2D or 3D scans and non spatial information including finance, customer or logistical records that are coded against existing geospatial data sets are the major sources of data. Geospatial experts constantly expand their database to ensure that the data is up to date.
Updating the data base: Inaccurate or outdated data can have a negative impact on the value of data. Refreshing data constantly is time consuming and expensive. There are good refresh programs that include elements of automated change detection and management that help in updating data cycle.
Data management: Managing data involves processes like storing the data effectively, integrating the data sets with other applications, and migrating data on to a new system.Organizations will have to consider whether the data is better stored in a hosted system or whether they should go for on-premise storage.
Data analysis: Data analysis helps in finding new value in data that was previously ignored or overlooked. For instance, the Bank of America is analyzing its mapping data to save money using location as a basis to make informed decisions on where investments should be prioritized.
Delivery of value: Value can be realized only from having a successful delivery strategy that defines how the organization intends to distribute, publish and share their data.It is important to ensure that the data is delivered in a way that can be used and understood by all stake holders.
Working together: To maximize the value of available data, consulting a third party provider would be ideal. This ensures data consistency and a seamless working relationship.
The importance of data cannot be understated as it provides the basis for gaining valuable information. A reliable data entry company provides accurate entry of data, along with data streamlining and management which helps businesses to make the best use of valuable information.