Converting printed books into eBook formats has now become easy with advancements in digital technology. Most modern publications created on word processors are easier to convert. OCR technology can ensure high accuracy if the source is of high quality. However, the conversion process still poses some challenges. What if the source content is not of high quality? What if the source contains math equations? Outsourcing the process to eBook conversion services can streamline the process and ensure accuracy.
eBook Conversion Challenges
Source Content Quality
If the source is old, faded, has intricate font, contains multiple languages or warped images, it is difficult to convert. Content from older sources will need specialized scanning equipment and expertise to deliver high quality files. Conversion of books that do not lie flat when opened, have brittle pages or tight bindings that prevent viewing needs effective collaboration between the librarian, preservationist and the conversion vendor and publisher.
Scale and Variety of Material
Converting a large quantity of material with a lot of variety is more difficult than converting material that is similar. For every specification, technology needs to be configured, workflows have to be changed, and staff needs to be trained. When all of the source material are similar, it becomes relatively easier to convert. Processes become easier as the staff becomes familiar with the material. To address this issue successfully, you may nee to prioritize content at the very beginning and associate with a flexible and creative partnering service.
Major Challenges in Ebook Conversion and Their Solutions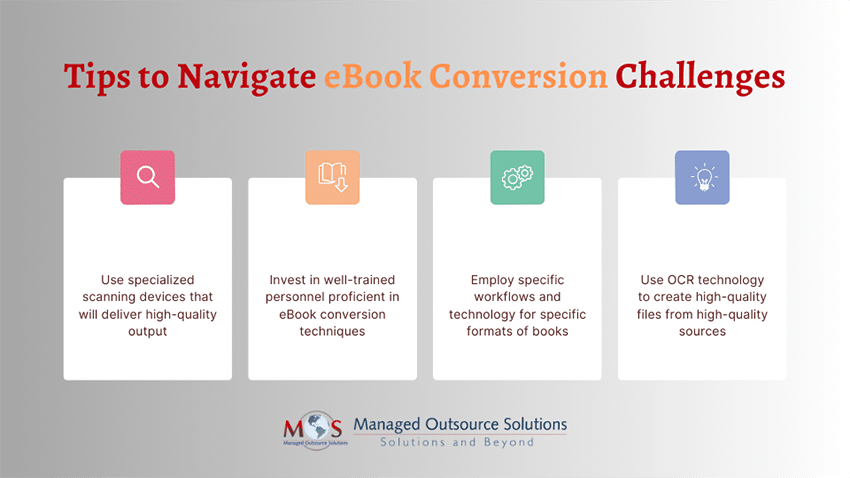 Handwritten Material
Reading handwritten material is a challenge even to OCR technology. Some scripts are hard for the human eye also. Older documents with intricate or damaged text or and even more recent documents with untidy scripts can be very difficult for OCR to read.
Keying and proof-reading methodologies, though difficult, are the best means to convert handwritten material to digital format.
Accessibility
When eBooks are made accessible right after their creation to a large number of readers, it makes the product more useful for the consumers. Publishers can make substantial savings in the long run.
Publishers and service providers already use HTML coding to enable accessibility. There is a level of expertise required to make Web PDF, EPUB, MOBI etc. to have all the right accessibility features. This includes adding HTML with the comprehensive structural semantics in the WAI-ARIA requirement (Web Accessibility Initiative-Accessible Rich Internet Applications).
Math HML
Conversion of text with math equations can be tough. Coding is not a big issue as majority of the content is in the MathML format. The real problem lies with the distribution part. MathML is rendered differently by different platforms. The final output may not meet your expectations. That's the reason why MathML is not used in the final publication. This is an issue that publishers are still tackling.
These are some typical challenges associated with eBook conversion. Experienced providers of
document conversion services can tackle most of the challenges associated with the process.
Have your eBooks converted to your desired format.