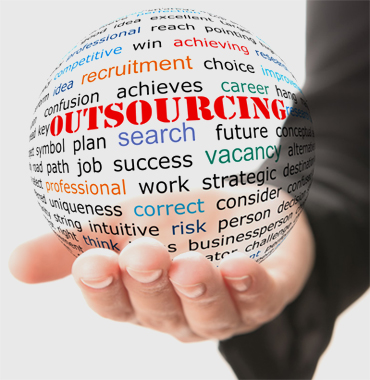 Outsourcing basically means asking a third-party vendor to work for you on a contractual basis. Outsourcing as an idea has evolved through decades, but gained popularity in recent years for the many benefits it offers. Companies that outsource their certain aspects of their business need to be aware about the '3R's' in outsourcing – Reduced Cost, Risk and Reward.
Reduced Cost
Reduced cost and big savings is the one among the main factors that encourage companies to outsource.
Infrastructure Cost: Business Process Outsourcing eliminates the need for infrastructure investment, as the entire responsibility of carrying out the business process and setting up the necessary infrastructure rests with the outsourcing partner. This also eliminates the extra burden for infrastructure upgrading and maintenance.
Staffing Cost: Reduced labor cost can reduce production cost. For low-level or back office tasks, the cost of outsourced labor is much lower than what would have to be paid to workers to get the job performed in-house. Besides this, by contracting out the work, the costs associated with hiring additional staff, such as training, health insurance, employment taxes, and retirement plans can be eliminated.
Risk
There are risks involved when you allow a third party to handle some aspect or element of your business. You may have concerns as whether you have selected the right BPO company to perform the task and whether they can provide services to meet your expectations. Any business owner look to outsource should be aware about the following risks:
Some business functions cannot be easily outsourced. Only a qualified vendor with adequate experience can handle certain critical tasks.
An outside vendor may not be as effective as a full-time employee. It is advisable to have some control over the outsourced project to ensure quality services at affordable cost.
There is the chance that employee morale will be affected when you outsource job that were done internally to an outsourcing firm.
If the contract is a long-term one, it would limit flexibility and you cannot opt out if you want to.
Rewards
Outsourcing allows you to have access to latest technology. A professional BPO company would allow you to take advantage of advanced technology.
Provide access to high quality staff at affordable cost
Professional team on your project
Frees up regular employees so that they can focus on core business activities.
Maximize the benefits of outsourcing by teaming up with an established BPO Company. Like any other business venture, proper planning and research is mandatory before selecting an outsourcing partner, whether onshore or offshore.