Regarded as one of the biggest buzzwords in the world of business – digital transformation is all about implementing new technologies to improve the efficiency and productivity of an organization. It also involves understanding and evaluating how key business operations can be done more effectively.
Involving application in various fields of business, Artificial Intelligence (AI) is one such technology that involves creating intelligent systems that can mimic human actions. The technology helps reduce human effort and provides more precise and quality results. As the chance for the occurrence of error is limited or even nil, many businesses are attracted towards the implementation of these technologies. Reputable and experienced business process outsourcing companies can help you apply such technologies effectively in your business.
Whether it's for business sales or marketing, customer communication needs to be prompt. If your business is not delivering smooth engagement, customers would definitely never stick with it. The importance of AI-powered chatbots becomes evident at this juncture as they can automate customer communication and augment the support in a big way.
According to market research by Statista, the size of the chatbot market is forecast to reach around 1.25 billion U.S. dollars in 2025. In fact, 35 percent of consumers want more companies to use chatbots to improve their communication strategy and deliver a better experience. They are being used by organizations of all sizes to provide better service to their customers and automate processes.
Chatbot Benefits for Businesses
When it comes to forging good customer relationships, chatbots can be an incredibly useful tool. This tool can be used to build strong connections by engaging and interacting with the customers or users visiting a business website. Round-the-clock availability, and prompt and consistent response have increased the popularity of chatbots across industries. Integrating chatbots, can not only positively impact customer communication but also drive business growth. Integrating chatbots with AI and machine learning capabilities can help redefine customer service in a unique manner. Here are some top benefits of using chatbots for businesses –
24/7 customer support
Reduce customer service costs
Fewer errors
Increase customer engagement
Improve lead generation
Balance automation with human touch
Streamline customer on-boarding process
Offer customers intelligently curated recommendations
Automate answers to common questions
Top Ten Chatbots for Your Business
IBM Watson IBM's Watson chatbot tool uses artificial intelligence technology to drive business functions. Like many other chatbots, when you set the tool up you buy defining intents and entities. Then, you give examples for each of these. After deployment, IBM Watson takes examples it gets from real-life users and attempts to utilize those using the established entities and intents. Further, it is possible to train the bot by correcting any instances where intents and entities have been identified improperly.
Botsify This tool was designed to allow users without technology experience to design chatbots. It comes with templates that can be effectively used for specific industries (for example, like healthcare or restaurants etc.). In addition, users have an option to develop their own unique templates, without using the already inbuilt template. The ability to capture user responses and save them to a unique form is one of the most interesting features of Botsify. This enhances data collection potential as responses can be easily exported using the web-interface tools. The chatbot tool integrates with both messenger and Alexa and offers a tiered pricing plan. However, there is a free version for very small businesses without much user interaction.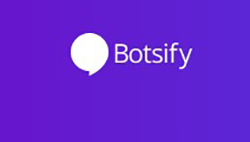 ChatFuel This tool allows business owners to create chatbots to interact with their customers on Facebook. This means customers can receive immediate responses and businesses don't have to constantly monitor their social media feed. Users can build their own or purchase development services directly from Chatfuel.

Amazon Lex Amazon Lex is a fully managed artificial intelligence (AI) service with advanced natural language models to design, build, test, and deploy conversational interfaces in applications. This tool uses Amazon's well-known Alexa's deep learning capabilities to build chatbots that can be used for any application for any business. Working for both voice and text, this tool has speech recognition as well as sophisticated, natural language capabilities. You can use the Amazon Lex console to create and deploy speech or text chatbots directly to new or existing chat applications, web apps, and mobile apps like Slack, Kik, Facebook Messenger, or SMS. In addition, it can also communicate with Marketo, Zendesk, Salesforce, and other tools.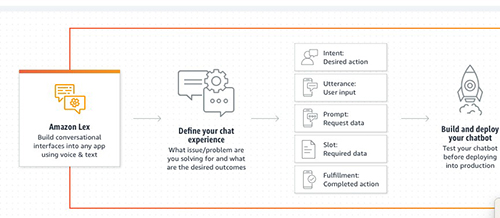 MSG.AI This is an AI-enabled tool that allows businesses to automatically provide customers with the answers and information they need via website, messenger apps, mobile, and email. This tool engages customers throughout the customer journey providing information on pricing, recommending products, and otherwise developing the customer through the sales funnel.
Botique.AI Botique.AI specializes in AI chatbots and conversational machine learning digital agents. Their bots use both Natural language understanding and Natural language processing algorithms for customer assistance. This tool can be easily customized and allows users to set and track metrics through its analytics tool. This chatbot tool comes in three different versions. There are the premium and business packages that are paid, and designed for medium to large businesses. In addition to these, there is also a free package that is ideal for small businesses. Other benefits of this tool include – easy and intuitive with keyword suggestions, alternative question suggestions, and analyzes and offers multi-language support. It works on multiple channels including, web, Email, SMS, and Facebook messenger.
Landbot.io – Landbot allows to build your own chatbot from scratch, or to use one of its many templates. This tool can be integrated with a variety of apps including, Slack, Facebook, and Twitter. Once the chatbot is built, you can install the HTML snippet on the website.
Dialog Flow – Owned by Google, Dialog Flow develops natural language technologies. Its conversational interfaces work with a wide variety of devices like – smart speakers, automobiles, phones, and mobile devices. Dialog Flow offers two packages – an enterprise edition (which is paid) and standard (can be used at no cost). This tool has integration capabilities with Alexa, Facebook Messenger, and Google Assistant. It uses NLU modules to interact with clients using natural, conversational language.
ItsAlive – This is an easy-to-use tool that allows users to develop a Facebook chatbot. This tool requires no development experience and provides users with the opportunity to engage with their existing Facebook followers automatically. It utilizes keyword detection, and then responds with relevant content when followers use those keywords.
Collect.chat – This tool uses a simple, drag and drop interface that allows users to build chatbots for their websites. These are then implemented to answer basic customer queries, and to collect data for future sales and marketing purposes.
Artificial Intelligence is the future face of technology. It has a wider scope for development in the near future. An increasing number of organizations have started adopting these technologies and they are showing interest in incorporating them in their business.
AI-powered chatbots are gradually transforming the contours of customer communication. One of the significant aspects of many chatbot platforms available today is that they have been designed for business professionals and not software developers. They are adding a new dimension to different aspects of a business whether it is customer service, lead generation, customer insights and customer support scalability. Back office outsourcing solutions provided by reputable providers can make use of these technologies to carry out various business processes more quickly and efficiently.