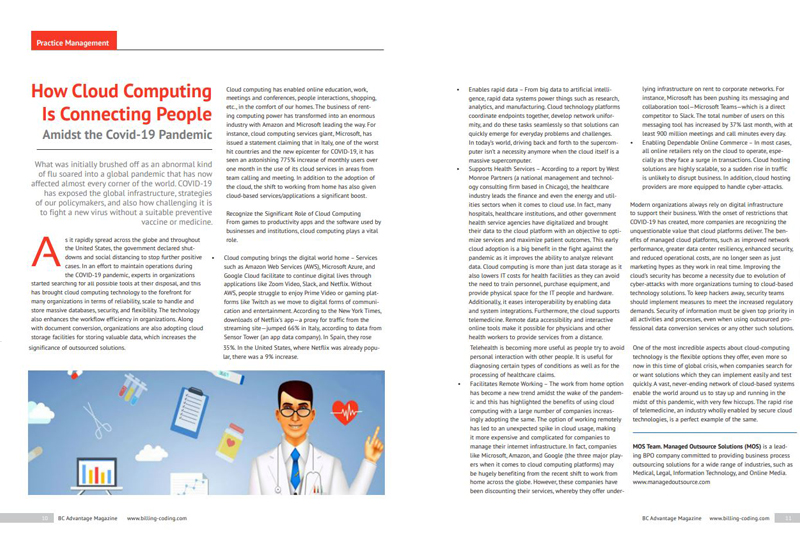 Managed Outsource Solutions (MOS) is glad to announce that prestigious online publication BC Advantage Magazine has published its article "How Cloud Computing Is Connecting People amidst the COVID-19 Pandemic" in its July-August 2020 issue. The article discusses the role of cloud computing and how it keeps people connected, especially during the COVID-19 pandemic.
As the world grapples with the pandemic, where social distancing and lockdowns are the new norms across the globe, organizations are pushed to go remote and rely on online and latest technologies in every aspect of their operations. Cloud computing is a technology that helps businesses to boost their productivity and improve their continuity plans by managing data and services via remote work.
The MOS article discusses why cloud computing is more relevant today than ever before. It provides a detailed insight into a wide variety of subjects of topical interest such as data conversion and digitization, data management, and the Internet of Things (IOT), to name a few.
Cloud computing plays a crucial role in day to day life by bringing the digital world home (through Amazon Web Services (AWS), Microsoft Azure and Google Cloud), enabling rapid data networks to help address everyday problems and challenges, supporting health services, facilitating remote working, and promoting highly scalable, secure solutions for e-commerce.
The article highlights the significance of widespread adoption of telemedicine, an industry wholly enabled by secure cloud technologies. Benefits offered by managed cloud platforms include:
Improved network performance.
Greater data center resiliency.
Enhanced security.
Reduced operational costs.
Managed Outsource Solutions provides business process outsourcing (BPO) services for a wide range of industries, such as Medical, Legal, Information Technology, and more. Led by a team of professionals with extensive experience in helping organizations manage and leverage their documents and data efficiently, MOS is focused on delivering client-centric BPO solutions. The company provides a wide range of data conversion solutions that lay the foundation for businesses looking to use the cloud as a platform for digital transformation. MOS's data and document conversion services are focused on making data both accessible and actionable, enabling its clients to make faster decisions, improve customer experiences, and optimize business processes.