The advent of advanced technological innovations has made every industry highly volatile and more competitive than ever before. There is not even a single industry operating today that is not impacted by the sheer effects of technology, particularly when it comes to Big Data. Big Data is bringing massive industrial changes across the board, including in Truck Fleet Management. Fleet management involves managing data related to vehicle acquisitions, maintenance, repairs and disposals, while ensuring compliance with the applicable laws and regulations. In short, fleet data management is a complex process (with a number of ever-moving parts), which can make use of BPO services to improve efficiency and gain significant savings.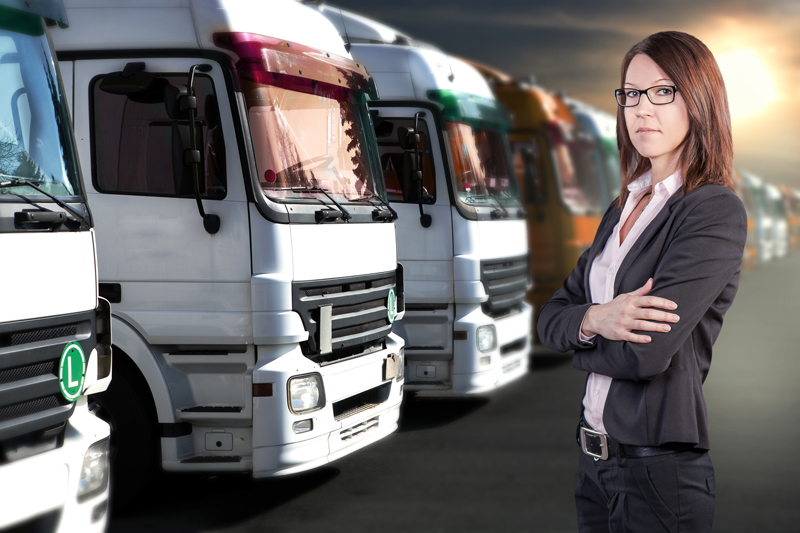 Big data – categorically one of the most popular buzzwords in the business world – is the technology coordinated activity separation of all areas of the business to get applicable insights. Big data platforms automate fleet management technologies (like predictive analysis and machine learning) and enable fleet managers to make informed decisions about daily operations, such as driver performance and behavior, vehicle condition, asset and driver locations, route information, fuel use, preventative maintenance, and more. The technology is helping with higher cost savings, greater safety and risk mitigation, and most importantly making road trips safer for drivers.
Read on below to learn the role of Big Data in upgrading truck fleet management –
Use of Fleet Vehicle Management Software – Fleet managers in the industry nowadays can utilize Big Data to understand each and every aspect of their vehicles. For instance, vehicle fleet management systems like Fleet Trax provide GPS monitoring for managers and make it possible to have constant access and communication with a fleet. Having complete and clear information about the truck's data (including routes taken, details about the driver) allows fleet managers to make sure that the trucks are on the correct routes and are running on time. Mining this data has allowed truck fleet management companies to not only enhance their operational strategies, but also save money. This boom in fleet vehicle management software demonstrates the pace at which the industry is advancing and signifies the potential of utilizing the software in different ways.
Improves Driver Safety and Behavior – Big data technology enables fleet managers to accurately understand the behavior patterns of their drivers, and coach them accordingly. Onboard Telematics – sensors installed in fleet vehicles – provide data on how drivers typically use their vehicles. From braking too harshly to speeding patterns or blocking the use of phone calls or texts while on the road, sensors will provide real-time feedback to fleet managers about the sub-optimal behavioral patterns of the drivers. Telematics – sensor technology allows fleet managers to view all the aggregated data to find patterns and correct any overarching problems in the fleet. For instance, companies with fleets, such as UPS, have seen the benefits of implementing this technology. Fleet managers can check all the data about behavior patterns and make guided decisions to correct serious problems in the fleet and alert the driver about the same. For example, if the truck's tire pressure is too low, if the fleet needs maintenance or if the driver needs training, the fleet managers can alert the drivers about all these issues so that the drivers can then stop and fix the problem, rather than risking a breakdown, which could endanger many lives.
Improve Routes – A fleet management company can check their customers' data to better understand the delivery and pick up costs at each location. By understanding which specific customer locations are more expensive, it is possible to reduce loading and unloading times at these locations. Having better routes can also help improve customer service. For instance, if you are receiving a call from a frequent customer and if you know which truck in your fleet is nearby to the customer, you can dispatch a truck to your customer at the fastest time possible at the least possible cost.
Improved Maintenance and Repair Scheduling – Big data also enables more precise maintenance and repair scheduling for fleet vehicles. Fleet managers having real-time access to fleet vehicles means over-all better performance of fleet vehicles. By capturing data specific to each vehicle in the fleet, a manager can quickly identify problem spots like – problematic engines, low batteries and inspection reminders and fix it immediately. In addition, appropriate vehicle maintenance can be scheduled at the optimal time. Automated maintenance models can analyze vehicles part by part and assess when that part might need to be replaced or tuned up, instead of wearing down the part beyond repair.
Huge cost savings for fleet management – Predictive analytics and safety features means fewer accidents. According to an article by Automotive Fleet (2018 statistics), accidents account for about 14% of fleet expenses. Predictive maintenance allows fleet managers to understand the lifetime value of parts and vehicles, which helps in saving resources and cost in that area. Late deliveries, paying drivers for overtime, replacing vehicles, etc. can add up the cost but by minimizing downtime fleet managers can reduce the cost to a great extent. In addition, combining GPS data with gas prices along fleet routes too can add to savings. For instance, if a fleet driver knows when to stop and fuel at a low-cost provider, the savings would be considerable.
Enhanced Fuel Management – Fleet managers can utilize big data management to monitor not only the total fuel costs for the company but how fuel is being used. For example, vehicles that spend excessive time idling will consume more fuel than what is actually required. In addition, the way a fleet schedule is managed could also expose flaws in routing, leading to inefficient fuel consumption. Big data helps fleet managers pinpoint the exact causes of spikes in fuel costs. For instance, an Online Fuel Audit and Reconciliation tool developed by EFS can help carriers better navigate and manage their overall fuel expense using an internet-based application. This invaluable tool offers solutions like – daily fuel reconciliation, fuel price verification, individual transaction verification, mobile fuel price discovery and executive management reporting that allow fleet managers to control fuel costs and save valuable time auditing and reconciling fuel purchases.
Electronic Log Books – Another significant change caused by big data is the use of electronic log books in truck fleet management. A federal rule was enacted in December 2017, which required truck operators (of vehicles made before the year 2000) to use electronic logging devices to keep records of duty status. When compared to traditional paper log books, electronic log books are more efficient and help keep accurate track of driver-specific statistics like records, hours of duty, and are easily accessible by both the drivers and managers. These electronic log records give the company a better view of what is actually happening out on the highway and prevent driver fatigue. In addition, these log books help ensure the safety of fleets, save money for companies and the industry (on the whole), and eliminate excess paperwork.
Big Data has become an integral part of the industry, thanks to the standardization and optimization it provides for managers to run their fleets efficiently. Big data provides fleet managers with accurate information to make informed business decisions related to the most urgent matters of fleet operations. Due to the vast amount of information and analytics available at their finger tips, this technology allows fleet managers to access, analyze, and strategize their fleets more precisely (than ever before). In addition, it allows them to leverage their data to help improve fleet performance and bring in greater profits.
The pace at which the world is generating data is astounding. Data collection is usually an easy task. However, collected data is valueless unless it is properly managed for useful information and analyzed to boost business benefits. With the growth in information, businesses are learning to analyze and manage complex forms of data across industries and Big Data can prove to be beneficial at this juncture. In order to make the entire process of data entry faster and accurate, most industries are utilizing data entry services. A professional data entry company uses the latest technology and software to process high quality and accurate data within short turnaround times.