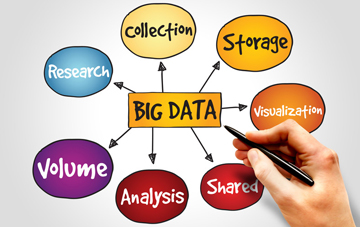 Big data is a term for data sets that are large or complex and traditional data processing application software is inadequate to deal with them. Most companies need to handle big data and make use of data cleansing services to obtain clean and actionable data. To convert existing paper documents into digital format, businesses find data conversion services very useful. Big data works and offers businesses solid return on investment. According to the Boston Consulting Group, using Big Data in sales, marketing, supply chain, manufacturing, and R&D can provide businesses 20 percent to 30 percent gains.
The way in which organizations use their data is changing alongside the changing data analytics tools and technology that are highly advanced. It will be interesting to consider some of the significant trends you can expect in the Big Data market.
Insight-driven Organizations: Organizations have started to leverage the insights revealed by big data. The focus is now on mining data effectively with the help of data mining and data cleansing services to meet specific organisational requirements and for precise targeting of services and products. This insight-driven approach will help improve customer experience, competitiveness, security, and efficiency of operation. Companies are gradually adopting a DevOps like model to Big Data project known as DataOps. It is an approach to build a self service data platform for delivering insight-driven business decisions across the organization. Automation of companies will make data teams more efficient and makes the streamlining of business faster. Employees get to work in a better environment, which in turn results in better productivity.
More start-ups to make data actionable: According to Alex Lesser, vice president of PSSC Labs, the success of a company in any industry depends upon the data they accumulate. Making sense of the data and providing the necessary time-sensitive information to stakeholders is now critical and many start ups have evolved to help in this initiative. Starts-ups have advanced technology and various storage tools that were not available two years ago.
Importance for data governance: As the organization grows with modern data architecture and data lake initiatives, many quickly realize the importance of data governance. Understanding the data, accessing the data and integration into the data lake helps identify the data issues earlier. Reusable business rules that can be deployed anywhere like source data stores are becoming critical due to multi- platform and cloud deployment environment.
Rise of the cloud: Companies are increasingly making use of cloud services and it used for big data by all industries. Cloud service came into practice a few years ago and many new companies have adopted cloud storage. Large amounts of data are produced by each companies every year and hence cloud based storage is more practical and efficient. An IDG survey shows that 44% of applications used by Fortune 500 organizations are already on the cloud, and by the end of 2017, more than 50% of IT applications will move to the cloud. More and more data is originating therefore completely portability of data from on premise to cloud and ability to run in hybrid cloud environment is becoming more important.
New Technology: Another important trend is the demand for analytics tools that are simple, flexible and capable of handling diverse data sources. Such tools are also required to handle huge volumes and velocity of data. No doubt, Hadoop will continue to be popular because of its capability to store an extremely large volume of data at a significantly lower price point. Moreover, its popularity and demand will increase with the increasing share of unstructured data in the data warehouse.
Introduction of autonomous data platforms: As more and more data flows into an organization, an autonomous data management platform is essential. Such platforms can intelligently automate tedious manual data management tasks. Since machines are performing in this model, all processes become faster, cheaper and more reliable. As a result, data teams can focus on more strategic, high-value business outcomes.
Professional data entry companies clearly understand how significant big data is and how it facilitates innovative ideas and techniques across diverse industries. To ensure growth and innovation, businesses have to leverage big data analytics to its full potential.