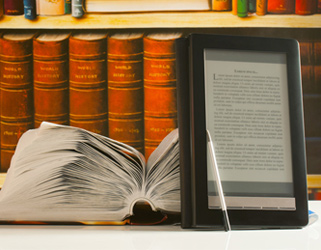 Digital conversion of library materials, usually with the help of a professional provider of digitization services, has rapidly increased over the years. So is there a case for digitization? Electronic conversion or digitization is expected to add value to the physical collections in a library. It is an excellent way of providing access to library materials. The advantages offered by digitization are unique.
It enables greater access to collections of all types and wider dissemination of unique collections will in turn encourage scholarly use.

Interested people can access historical materials for genealogical or local history research, recordings of famous court proceedings, old maps, photographs and so on.
With the right technological tools and effectively designed user interface, you can search, browse and compare materials in many innovative and useful ways.
A digitized text or image can be easily integrated with and linked to other relevant materials to provide a rich archive of materials. The Blake and Rossetti Archives at the University of Virginia's Institute for Advanced Technology in the Humanities provide an example of this approach. Both archives integrate searchable collections of images, texts, glossary materials, and commentaries. There are also advanced imaging applications to zoom in on manuscript images.
The access to digitized material can be provided in all formats – spoken word collections, music and so on. An example of the former is the collaborative project based at Michigan State University-they are creating a significant, fully searchable online database of spoken word collections spanning the twentieth century. This is expected to be the first large-scale repository of its kind. It will contain the Vincent Voice Archive, recordings of the spoken words and sounds collected by G. Robert Vincent who started recording voices in 1912 at the home of US President Theodore Roosevelt.
An example of the latter is The Experience Music Project in Seattle, which comprises a collection of materials promoting and illustrating the history of popular music.
Prevents the original object/file from damage: Many old and fragile manuscripts such as the Beowulf Manuscript at the British Library have been digitized. The library carried out high-resolution imaging of the original, which created digital images that can be subject to advanced imaging analysis. Scholars could understand the original while protecting the original. Another example of this type of project is the Making of America project wherein digital versions of brittle copies of 19th-century journals were made accessible online.
Helps in research and education: Many institutions provide educational modules on their websites based on their collections, which can be used for research and higher education.
State library Digitizing WW1 Queensland Soldier Portraits
In a recent project in Australia, the State Library of Queensland digitized the portraits of around half the number of soldiers of Queensland who served in the First World War. It took about three years for the State Library to digitize 30,000 portraits of soldiers and these portraits can be searched online and downloaded as high resolution images. The digitization project was done with the help of staffs along with 30 other volunteers. The State Librarian said that the digital portraits represent individual Queensland stories of husbands, fathers, sons, friends and brothers. They have received feedback from people who used the powerful resource, who said that this is the first time they have been able to see photographs of their family members.
Undoubtedly, digitized assets will raise the profile of an institution. These collections demonstrate the institution's commitment to education, public access and scholarship, and would help with obtaining funding and other necessary resources. To ease the process of digitization, save costs and ensure professionalism and speed, many institutions tie up with document conversion companies that can handle huge projects such as this with ease and efficiency mainly because they have advanced technology and technically skilled personnel to provide the required services. Outsourcing the conversion process to a reliable company would prove cost-effective to the organization since the expenses involved in purchasing sophisticated scanners and recruiting technicians to operate the same can be avoided. In addition, outsourcing would also help save valuable time. A dedicated digitization services provider would ensure that the deadlines set for project completion are met efficiently.