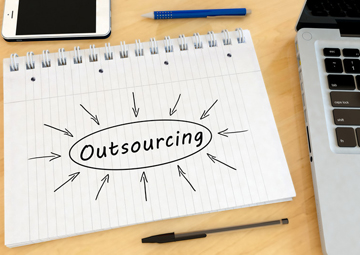 As businesses starts to grow, the mode of operation also tends to change from traditional techniques to modern and technology-oriented ways. This transition is referred to as digital transformation which helps businesses to improve their productivity, and has become imperative for all businesses, small, medium or large. Digitization signifies business transformation as it is not just about embracing new technology but about a change in organization's working culture using innovative ways. Leaders and IT teams in an enterprise should work hand in hand to meet the business requirements and march towards continuous improvement. The need for digitization has increased the demand for back office outsourcing services and such other outsourced solutions. The major advantage of delegating some of your business processes to another reliable service provider is that you save considerable time, which is of great value.
In any organization, IT is an important part and has to be well managed. If not, IT systems could cause serious trouble. All aspects of IT from hardware components to software handling require skill and expertise. This may not be available in-house and may be very expensive to implement. That is where IaaS (Infrastructure as a Service) technology becomes relevant. This enables you to outsource your software and server infrastructure and focus on business competencies. With outsourcing, you don't have to purchase software, servers or data centers because these are available on an on-demand model or rented.
Outsourcing Advantages
At present, outsourcing IT is easier and more rewarding because third-party vendors are capable of offering services that are scalable according to your requirements without huge infrastructure investments. Take the case of data centers that can provide cloud computing, convergence, and hyper convergence technologies, disaster recovery, and database analytics among other services. With strategic outsourcing, small and medium-sized companies can compete with larger companies and benefit from the security, resources, and strategic planning they need. When you choose to transfer your server and network infrastructure administration, you get to enjoy safe and reliable operation of key parts of the IT infrastructure necessary to provide information support for the various business activities of the customer.
Here are the added benefits of outsourcing:
Less instability: Businesses deal with various data and it is important to strengthen the security to protect critical data from data breaches and hackers. Many businesses utilize tools to process work orders or inventories management and outsourced services take the liability off your shoulders and puts sensitive data offsite. The existing tools can be used for simple integration, allowing the best of both words.
Better stability: As the business grows, the activities also keep increasing and sometimes there aren't enough people to monitor the activities in the organization. This can lead to major losses when you seek to hire contractors and deploy fixes while they lose business. Outsourcing these tools enables better stability due to cloud applications that can be distributed on multiple servers. Always one server is used to backup and run your application.
Reduced costs: Server infrastructure is an expensive affair, and utilizing outsourced solutions will bring you a great deal of savings. You can reduce the amount of mission-critical infrastructure owned and controlled by your company. Since outsourcing is typically done on a fixed, monthly fee basis, you can avoid spending heavily on IT resources, and paying and hiring ex
Scalable: As a company grows, they could face a lot of problems that need to be addressed. Among the new requirements are new servers, storage devices, software and other IT elements. New networks may be needed, and the new systems must be compatible with your current systems, and new data must be able to aggregate with the old data.
Easy to use: Some outsourced tools go through usability tests and are much easier to use as a result. The criteria for judging whether the suite is useful to your business and the ease of use and customer support should also be considered.
Better disaster recovery: Outsourcing vendors including data centers are well-equipped to have the company IT up and running in real time because they have practical plans in place. They routinely work on disaster recovery since they do it for many other clients. Planning involves finding out what data and applications are most important, and having the right hardware architecture in place and ready backups of essential items. In addition, outside providers will have software that is capable of correctly reloading the old applications, data, network connections and so on.
Increasing On-shore Outsourcing Trend
Outsourcing software requirements is an increasing trend, and many American companies are utilizing third party vendor services both onshore and offshore, the former gaining in popularity now. IBM, one of the U.S' leading examples of the offshore outsourcing model has plans to hire 25,000 more workers within the United States over the next four years. The growth of offshore software work has slowed down as a result of onshore outsourcing, to nearly half the pace of recent years. Infosys, another leading software company has plans to hire 10,000 workers in the U.S. over the next 2 years, with centers in North Carolina and Indiana.
Some lesser known domestic outsourcers are:
Nexient, a software outsourcing company headquartered in Newark, California. The company employs 400 people and has plans to hire a few hundred more over the next year. Its centers are set up away from the coastal high-tech hubs such as New York and the Bay Area with a view to attract skilled people who are looking for tech jobs in the Midwest area, where living costs are much lesser.
Rural Sourcing is another domestic outsourcer of software solutions with 300 employees spread over 4 delivery centers. They hope to hire a hundred more workers this year.
Techtonic Group focuses on nurturing onshore talent, and provides unique training programs for software engineers. The company has hired 90% of their training academy graduates, and many of them later became employees of the company's corporate customers. The company plans to expand to 10 new cities in the next 3 years and hire 100 developers in each city.
Outsourcing Server Infrastructure – Major Players
Rapid change and diversification are the direct consequences of the fast growth of technology. Now the new data center model is called Hyperscale Computing, as a Forbes article points out. This expression signifies the huge scale of data center infrastructures the four companies Facebook, Amazon, Microsoft and Google have established as well as the range of computing, processing, and storage technologies they have developed to serve their users. With large and small companies choosing to outsource their servers and storage, these 4 public cloud vendors are selling them access to their servers and storage via IaaS (Infrastructure as a Service). They are associated with industry initiatives such as the Linux Foundation Project's ODPi and the Open Compute Project (OCP), which promote the development of leading-edge hardware and software technologies. Key processor companies that power the computing activity of these 4 internet companies include ARM, Nvidia, and AMD; and major hardware vendors HPE, IBM and Dell EMC.
Amazon's AWS: One of the first companies to offer computing infrastructure as a service, it is the largest Public Cloud provider and enjoys a dominant market position, generating $12.2 billion in revenue and $3.1 billion in operating profit, and continues to grow. Its data center infrastructure is organized into 14 regions, with plans for four more this year. Each of these regions has 2 to 5 Availability Zones, each of which has from one to eight data centers. Its data centers in turn, range from 50,000 to 80,000 servers, and much of its data center technology and server design are customized.
Microsoft's Azure: It is the second largest Public Cloud provider and is said to have had $2.7 billion in revenues in 2016, and its market size has been sized at 11%. The Azure platform has 38 regions and over 100 data centers and 12 million organizations in its user directory. More than 90% of its servers use designs it has contributed to the Open Compute Project via its Project Olympus. Azure platform users are provided access to a rich set of computing capabilities that are adequately coupled with its other Enterprise offerings.
Google Compute Platform (GCP): Google cloud platform has been sized at around $1 billion in 2016, $1.5 billion in 2017, and $2.0 billion in 2018. This platform offers the complete range of Cloud services and has established services for Big Data, IoT (Internet of Things) and Machine Learning. It enhances Google's core computing infrastructure that is optimized to support its search business. At present, its Cloud infrastructure is established in 6 regions and 18 zones, with more than 100 points of presence.
The above three platforms have their own unique approaches to the devices and technologies they use to provide IaaS solutions to their clients.
Amazon's AWS uses customized ASICs, storage servers, and server chipsets to provide personalized data center infrastructure to Enterprise and non-Enterprise clients.
Azure offer x86 solutions of Intel and AMD, ARM64-based solutions of Cavium, Qualcomm and others via its Project Jupiter, as well as Nvidia's HGX-1 GPU-based system optimized for Machine Learning.
Google's GCP provides a comprehensive range of services using its proprietary TensorFlow algorithm and TPU processors, combining a range of processor solutions wherever needed. Their IaaS solutions are each distinct, but are seamlessly accessible to their customers' infrastructure needs.
Businesses can now outsource infrastructure to more than one efficient Public Cloud provider. Outsourcing software and server infrastructure is beneficial for businesses in the long term, as any company providing outsourced solutions will agree. The most important consideration is to find the right company to work with, a company that has been properly vetted and can offer the IT services they need.